Find the best online tie dye classes to help you get incredible results and make beautiful projects.
Are you looking for a way to learn new tie dye techniques but don't want to spend time going all over the Internet only to find that many of the places you look don't have good directions?
I have done that myself! Finally, I decided to treat myself to some actual classes and I couldn't believe the difference it made!
My skill level has increased so much more since doing this.
Whether you are just looking for a new hobby, or want to learn specific skills to up your game on your current favorite craft, I have found classes are 100% the way to go.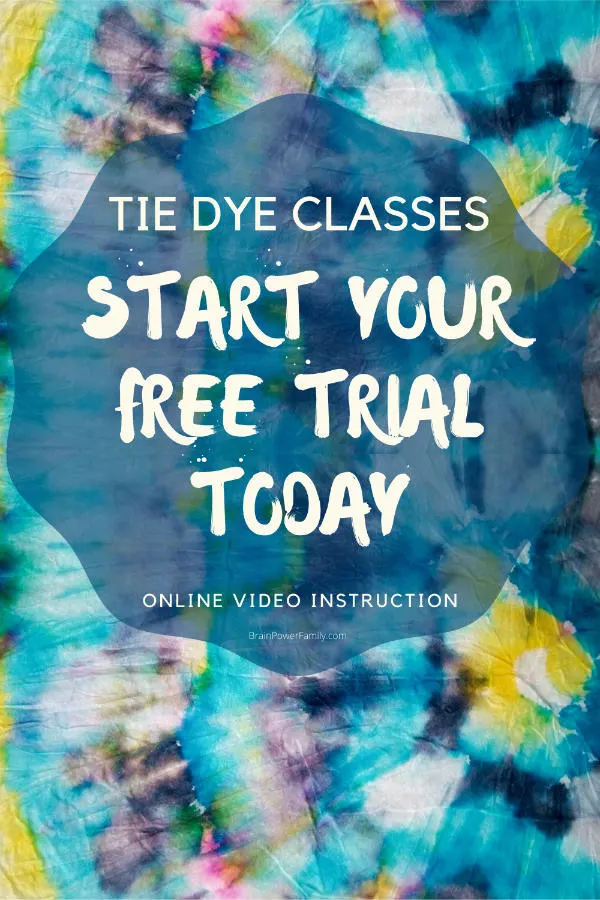 This post may contain affiliate links which means I may receive a small amount, at no cost to you, if you make a purchase through a link. All opinions are my own and I share things I think would be of interest to you and your family.
Now that I am into tie dye, I decided to see if there were any good classes out there that would help me learn some new and interesting methods.
I especially wanted to learn shibori techniques, but I found some others neat ideas as well.
Here are the ones I think are the best and guess what?! You can get a free trial so you can actually take all of these classes for FREE! How cool is that?
Click the button below to start exploring now, or scroll down for more details on the specific tie dye classes I found.
Tie Dye Classes
I'll cover the current offerings that are currently available for dyeing and what you will learn. All instruction includes videos.
Don't forget! You can take all of these classes for no cost at all with your two month premium free trial!

After you sign up through our link, you will be able to access all of them. Simply search for the title after you register.
Colorful Gifts: Create Hand Dyed Pouches and Bags Class
If you are looking for an easy way to get you started on tie dyeing, then I think this would be a good choice as it is beginner friendly.

You will learn to dye tote bags, gift bags and pouches which you can make for yourself or give as a gift.

Learn textile dyeing in this fun and creative class.

Great for beginners.
Ice Dyeing: A Modern Take on Tie Dye Class
Trending! This technique is super popular right now and I know why.

The results are SO fantastic. I really love how items turn out with this new way of tie dyeing.

You are going to love it!
Tie Dye Canvas Shoes Class
How about adding some color to a pair of shoes? Perhaps you have an old pair that needs to be spruced up or want to get a summery look to a pair of kicks, this is the one to try.

The tie dye ombre look is hot and you can learn how to do it yourself instead of paying big bucks for pre-made shoes.

Plus it is so satisying to create something with your own two hands and a bit of creativity!
Create Your Own Hand-Dyed Tote Bag Class
Learn 4 different easy shibori patterns through video instruction.

You will be making a tote bag but of course you can choose to dye anything you like.

Plus, once you learn the technique you can apply it to all types of clothing and fabric. I love the dots myself!
5 DIY Shibori Techniques Using Indigo Dye Class
Oh my! You are going to love this one! She teaches you how to use indigo dye as well as how to fold and twist fabric to get five beautiful designs.

Shibori is a Japanese technique that gives tie dye a new twist since you create shapes on the fabric.

Indigo dye is a natural dye so perfect for people who do not want to use commercial dyes.

Her classes are top notch and she is well loved by her students as you can tell by all the great reviews.
Natural Dyeing Transform Cloth Class
I am also adding this one in because honestly, it has everything you need to know about dying naturally.

You can get rich gorgeous colors with natural dyes and she will show you how to do it by explaining what food waste items will work the best to produce excellent results. Her low impact dye extraction methods will send you on the way to a new way to look your old items.

If you have a stained item that you love, you can revitalize it, or, grab something from a thrift shop or your closet and give it a new life.
What do you think? Are you ready to dive into these incredible tie dyeing classes?

If you like to make things you should totally check out all the other craft instruction beyond the ones I shared here. Enjoy!
I hope you enjoyed taking a look and that you found a couple you would like to try. If you need dye, check out our tie dye kits and natural dye kits posts to find the best ones to use with these classes.