If you decided that you have to get in on the tie dye trend and are looking for a list of the best tie-dye kits out there, here you go.
Tie dye is, as I am sure you know, a popular craft. It has been popular for a very long time as I remember doing it when I was in Girl Scouts (ahem – quite a long time ago!)
This is the perfect craft to do with kids for a fun backyard craft activity. I picked the best kits out there right now. If you want to do one item yourself or plan to have a bunch of people over for a tie-dye party you will find what you are looking for in this list.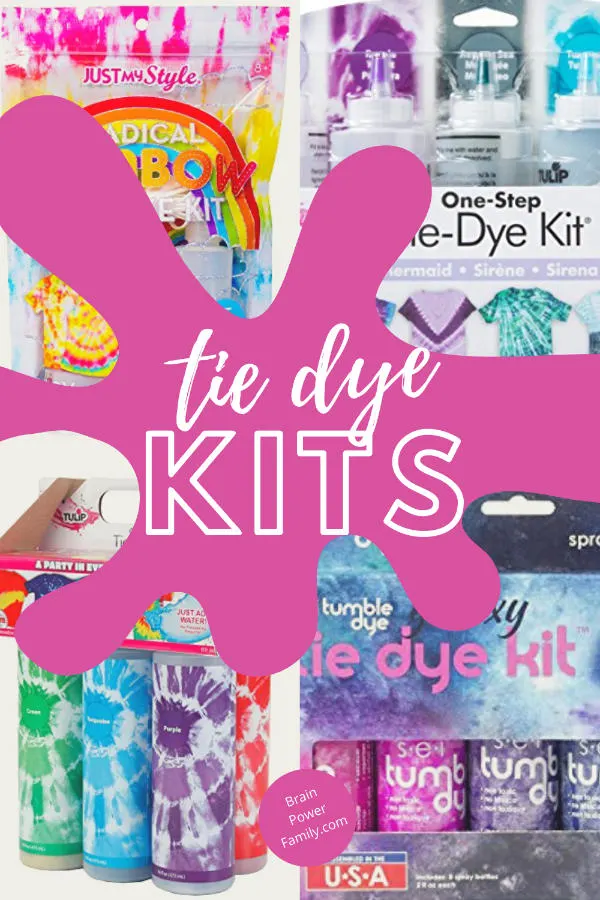 This post may contain affiliate links which means I may receive a small amount, at no cost to you, if you make a purchase through a link. All opinions are my own and I share things I think would be of interest to you and your family.
I am also pulling together a bunch of blank items to tie dye so be sure to check that out as well. You can do this technique on a lot of different items but there are a few things to be aware of.
You are going to have the best luck with 100% cotton fabric or items so keep that in mind when you are choosing items to dye.
Not all kits are created equal so let's jump right in to the very best kits you can buy. (See also this selection of natural dye kits in case you want to go that route.)

Oh, and before we get started, here are some tie dye ideas for you to try after you purchase your kit.

Pick the one that fits your needs and then go check out the color selections available. I'll mention that in each entry so you know what they are.

The Best Tie Dye Kits
We found the very best tie dye kits so you and your kids can have fun with this popular and time-tested craft!
Photo Credit: www.etsy.com / Momma Osa
Just look at this craft kit! It is such a nice one.
You get 3 of your favorite color dyes, 1 T-shirt in your size, 1 pair of socks in your size, 2 pairs of medium gloves, 15 rubber bands, 2 full color inspiration sheets and she even throws in bonus items shown in the picture.
Great for giving as a gift, or for if you only want to do a couple of projects for one person. This is so nice.
Photo Credit: Amazon / Tulip
This kit is so easy to use because you do it in the microwave. The best part is it only take 2 minutes!!
It comes with 4 colors of dye, microwavable containers, and technique tips. I love the tropical look of this kit.
Great for people who want an easy to use kit or those who want to try this fun craft idea.
Photo Credit: Amazon / Just My Style
What a fun idea! This kit is called Radical Rainbow and includes everything you need to tie dye. This kit allows you to create 15 DIY Projects.
Includes three rainbow colors, gloves, rubber bands, bottles and they even threw in an iron on rainbow transfer for extra fun.
Great for rainbow lovers and those who want to do a several projects.
Photo Credit: Amazon / S.E.I.
This kit is great for guys or gals who are into camo. I grabbed this one because the bottles are ready to go with no mixing. You spray, let dry, heat set with an iron and you are ready to go.
There are 5 different color sets including Camo, Girly Girl, Multicolor, Shibori, and Spring. You can do between 6 - 12 projects with each one. Try using stencils for a neat look (see info on Amazon)! Comes with 3 spray bottles and with pre-mixed dye.
Great for those who want something a bit less messy since you spray the dye on. Also nice if you want a variety of smaller kits that are reasonably priced so you can try different colors.
Photo Credit: Amazon / Tulip
Tulip has a line of one-step kits that are so easy to use and get great results. This is the mermaid version and I am seriously lovin' the colors in this one! They also have a few other choices available in this size.
It comes with 5 bottles, 5 dye packets, 8 gloves and 40 rubber bands. You can do up to 30 projects.
This one is great for those who want an all in one kit that is easy to use. Also for those who are working with a small group of kids..
Photo Credit: Amazon / Tulip
This kit is the same style of the one just above but it has more colors and instead of up to 30 projects you can do up to 36.
So, basically only 6 more projects but you get 7 additional colors. Also comes with 8 pairs of gloves, 40 rubber bands and a surface cover (or, in other words, a plastic sheet lol).
Great for those who love a lot of color choices! Also for small groups.
Photo Credit: Amazon / S.E.I.
This awesome galaxy kit is by the same brand as the camo one show above. It is also spray on tie dye method.
It includes 8 colors in 8 pre-mixed spray on bottles and dyes up to 8 shirts. I think it would look amazing to add this sparkly fabric paint on top to give it a real galaxy look.
Great for galaxy or space fans as well as those who just want to use spray to get the look.
Photo Credit: Amazon / Tulip
Create up to 72 projects with this XL kit. They call this the block party set so you know it is good for groups.
Includes 6 bottles with dye, 6 pairs of gloves, 50 rubber bands, and inspirations flyer. Just add water to the bottles. Colors include green, yellow, orange, red, turquoise blue and purple.
Great for larger groups, block parties, family reunions, birthday parties etc.
Photo Credit: Amazon / Tulip
Like the one above, this one is for groups. It can dye 36 projects but this one has 18 bottles with 14 colors!
Comes with 18 bottles with dye (just add water), 90 rubber bands, 6 pairs of gloves and surface cover, all in a nice plastic storage container.
Great for people who like a lot of colors and for groups. Also, for those working with younger kids who want to dive in now! Because there are so many bottles it lets a lot a kids work on their shirts at the same time.
Photo Credit: www.etsy.com / Anna Joyce
This is an ice dye kit which is basically tie dye using ice. As you can see on the box, it produces some beautiful designs.
Comes in a variety of color choices including Tiger's Eye (dark purple, rust brown and sunny yellow), Galaxy (yellow ocher and dark eggplant purple), Reef (sea foam and celadon greens and pop of deep teal), Wildflower (warm tan and orchid purple), and Peonies (hot peony pink and misty gray.) Wow, they are all great!
Includes a 26 X 26 100% cotton bandana and enough dye for other projects you may want to do as well.
NOTE: you will be working with soda ash and reactive dyes in this one.
Best for adults or teens who want to try traditional tie dye with a twist and for gift giving. Go take a look at the things people made with this - so beautiful!
Photo Credit: www.etsy.com / Shop Adroit
I had a hard time finding a natural tie dye kit but I didn't give up! I know some of you really want a natural option so here you go.
Learn the basics of natural dyeing with textile art project. This is a turmeric dye which results in a lovely, sunshiney yellow. Includes enough dye to do 5 small projects.
You get organic turmeric powder, ready to dye project of your choice (Pillow Cover or Tote Bag,) one pair of gloves (when in stock,) rubber bands, clothes pins, craft sticks, and a manual with colorful pictures and easy-to-follow instructions.
Check her listing for what else you need but you will likely have them at home.
Great for those who want an organic, natural option or for gift giving.