Do need some tie dye ideas? Well, then you have to see these! We found some awesome tie dye options that you are really going to l.o.v.e!
They are so colorful and give that awesome groovy vibe to plain white items.
It is definitely time to step things up and dye your way to a cool new item to give as a gift or keep for yourself.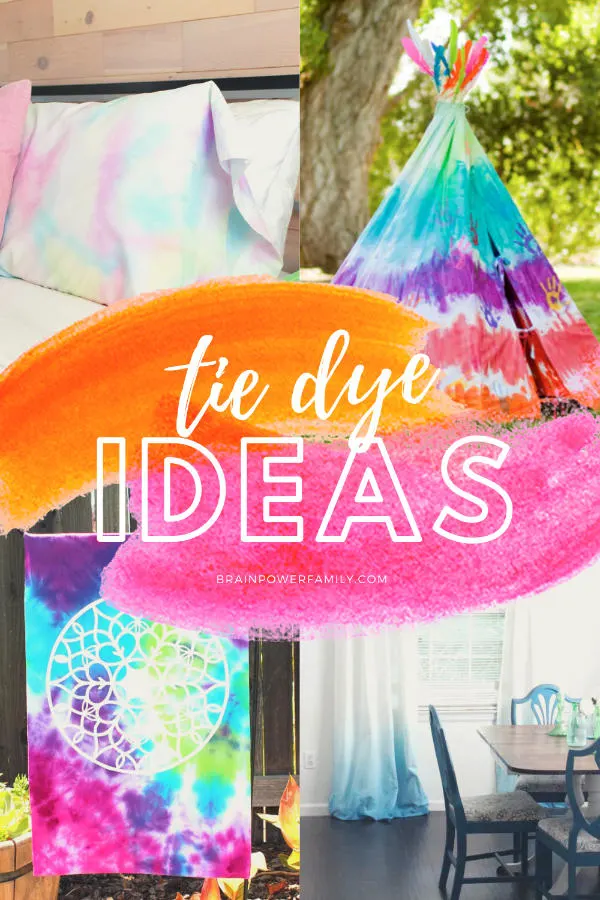 This post may contain affiliate links which means I may receive a small amount, at no cost to you, if you make a purchase through a link. All opinions are my own and I share things I think would be of interest to you and your family.
Be sure to get your kids involved because the incredible thing about tie dyeing is the reveal at the end when you open up the item and see what it looks like. They will be so excited!
Be sure to take a peak at:
Tie dye kits for the best ones out there and
Tie dye blanks for white items to use in your projects.
Tie Dye Ideas
You will go crazy for these tie dye ideas. I know we did!
Tie Dye Clothing Ideas
Photo Credit: vanessachristenson
Need something for baby? This pretty bodysuit is done in an ombre style with white at the top going down to dark pink at the bottom.
It is easier to achieve than it looks.
Photo Credit: jedicraftgirl
This classic spiral is super fun in bright purple and navy colors. I love how saturated you can get tie dye to be. The trick is to leave the dye on for 24 hours or more without disturbing it.
Photo Credit: doodlecraftblog
I couldn't pass up this patriotic shirt. Perfect for a holiday or any time you want to show your love for the U.S.A.
Photo Credit: myfrugaladventures
I liked this idea but wasn't sure if they would hold up to water after being dyed.
I then found out that you can set the color with either vinegar or heat if you are concerned so decided to go ahead and include it because . . . super cute idea!
Photo Credit: cutoutandkeep
White jeans take on a completely new look with a bit of dye.
Love how there is a bit of splatter to them.
This scarf is so versitile. You can use it as a scarf, in your hair, or as a belt. No matter which way you decide to go, you will be looking good in this summery accessory.
Tie Dye Home Decor Ideas
Photo Credit: cheapcaribbean
Wow, right?! The colors on the towel are bright and really pop!
You are thinking about the beach now, aren't you? Whether you use it for the beach or in the backyard, this one is a winner.
Photo Credit: skiptomylou
One can never have too many bags to choose from that is a fact.
This little gem is so very colorful and is made from a t-shirt! So very easy to do.
Photo Credit: happinessishomemade
I saw this and loved it right away. I would not have thought of using dye on a garden flag but it totally works and is such a colorful addition to one's yard.
She actually upcycled a tshirt but you could just dye fabric if you like. The white medallion is a transfer added over the top of the fabric.
Tie dye doesn't always have to be done in bright colors. Just take a look at this lovely subdued pastel set of pillowcases.
Sooo pretty.
Photo Credit: remodelaholic
Look at these curtains . . . gorgeous!
Take something simple like a pair of white curtains, and turn them up a level with this ombre dip dye technique. The puddle of fabric makes these even more luxurious looking.
Photo Credit: ilovetocreate
Wow! This is so cool, isn't it?
There is nothing like a play house for your kids. Honestly, it makes the best gift ever. There are not too many things that get used more than their very own space.
Hope you enjoyed all these colorful tie dye ideas that crafters are loving right now!

Don't forget to check out online tie dye classes for new technique ideas!

Are you planning to make something to give them as a gift or are you making something for yourself?