There is nothing like a homemade cake to bring the love.

When you want to bake a cake for a Star Wars fan, and you are NOT a professional cake decorator, you need some good and easy Star Wars cake ideas that you can actually make at home!
We found them for you. I see so many cool cake ideas out there but honestly, many of them are way too hard and I certainly can't spend 48 actual hours creating a cake. Busy mom here!

I needed recipes and designs that were actually something I could pull together.

After a lot of searching I found that there are plenty of neat DIY cake designs and decorating ideas so I am sharing them with you as well.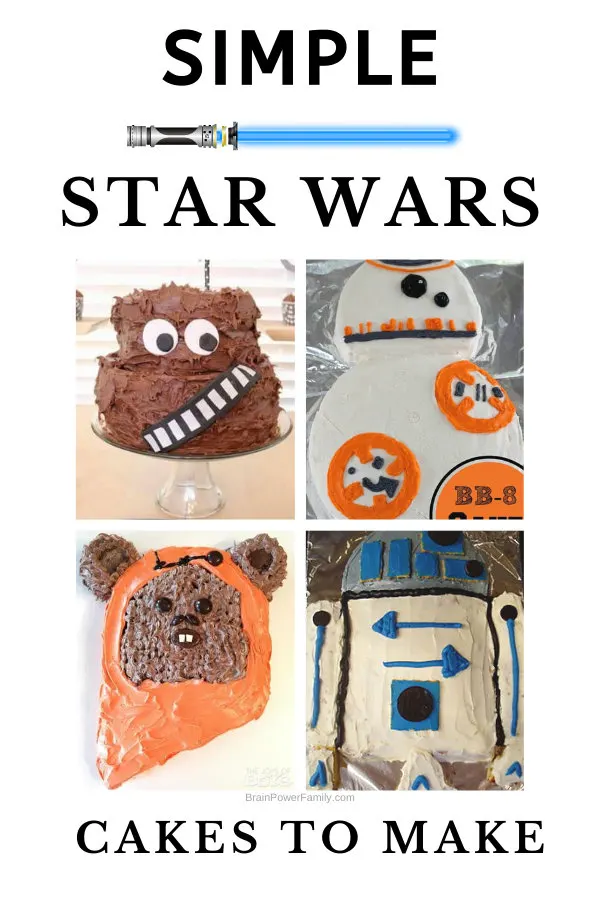 This post may contain affiliate links which means I may receive a small amount, at no cost to you, if you make a purchase through a link. All opinions are my own and I share things I think would be of interest to you and your family.
We are big Star Wars fans and even celebrate on May the 4th for Star Wars day. These are great cakes to make for that day or for birthday parties or any day you need to bring a bit of SW fun into your family's life.
Be sure to stop by our Star Wars cupcakes post as well for more design ideas you can try.
Easy Star Wars Cakes
You are going to love these easy to make, homemade Star Wars cakes. You will look like a rock star cake decorator! No one else needs to know that they are actually quite simple to do!
Just use piping for the light sabers and cut out some fondant stars or put on little frosted cookies and you are pretty much set to go!
This is beyond simple, isn't it? But it looks great! She took a stencil, layed it on the cake and sifted powered sugar on it.
She did have to cut out the stencil but honestly . . . how easy!
Depicting the light force vs the dark force, this one is super simple. If you don't want to use a horseshoe pan, just use a regular sheet pan instead.
Grab some figures, wash them well, and stick them on top of the cake. You cannot get much easier than that!
Photo Credit: mimisdollhouse
Chewbacca is the star here and oh how cute he is. This is the easiest one I could find. It is simply layers of cake, with easy decorating.
She does use fontant but it is just rectangles and circles so, not too tough at all.
Bonus - the frosting is suppose to look messy so it resembles fur.
Photo Credit: eggshellgreen
Here is another version of a Chewbacca cake. I couldn't decide which one I liked better and this one is flat in case you didn't want to go with the layered cake.
A little bit of fondant is used but you could also use frosting or cookies to do the same thing.
Photo Credit: thecherubscloset
This homeade R2-D2 cake is made with standard round and rectangle cake pans.
R2-D2's squares and rectangles are done with frosted graham crackers!
Photo Credit: thejoysofboys
Can't leave out the Ewoks! This cute cake just uses frosting to get the effect.
She uses a piping bag for the fur but you could simply rough it up a bit with a knife if you didn't want to go to the trouble.
Photo Credit: jonesing2create
Ok, so technically this is an ice cream cake but I am including for two reasons, one because they are yummy and two because you can do the same treatment on a regular frosted cake.
She uses a Han Solo Carbonite mold for the top.
Photo Credit: momvstheboys
I had a hard time finding an easy to make BB-8 cake but finally found this one which is really nice.
It starts with 2 round 9 inch pans. The best part is that it is a no fondant design and only uses frosting for the decorating.
Photo Credit: sugarswings
This looks like it is tough but is isn't! You only have to cut Yoda shapes (she used a cookie cutter) out of baked cake and stick them in a bundt pan, add batter and bake.
Keep it a secret and reveal the fun surprise when you cut into the cake!
Photo Credit: yummycrumble
Wampas are ice creatures and what is better than coconut to make an icey look? Nothing I can think of. You frost everything except the eyes and mouth and then pack on the coconut. This design is easy to decorate.
If you want to, you could leave the blood off. I'm a boy mom so the blood is considered cool and essential lol
Ok, I went back and forth on whether or not to include this one because everyone's idea of what is easy is different.
I'll tell you that I think this is a doable cake and that if you want to bake a Death Star cake this is the one to try. All the other ones seem to be for people with much more experience.
She used the cake pan below to make the round shape. You may be able to use an oven-safe bowl instead.
Products to Help You Make Star Wars Cakes
Includes stormtrooper, Darth Vader, X-wing fighter, Millennium Falcon, R2-D2, Han Solo, Boba Fett, and the Death Star.
Some of these placed on a cake would look pretty cool. Make them out of chocolate or white chocolate and decorate if desired.
Photo Credit: amazon / wilton
This is the pan to use for the Death Star. It has a lot of uses and isn't expensive.
Photo Credit: amazon / merchandiseonline
If you would rather have a shaped Darth Vader, try this cake pan!
If you make a chocolate cake, you don't even need to do anything but put it on the table!