If you are a big Potter fan, you are simply going to love these Easy Harry Potter Cupcakes!
Harry and the other characters from the wonderful book and movie series are featured in these homemade cupcakes that are perfect for book, birthday or any HP party.
You are going to love all of the decorating ideas!

Remember you can mix and match ideas found here.

Make your cupcakes at home or use store-bought and decorate them yourself. Either way they will be the hit of the party.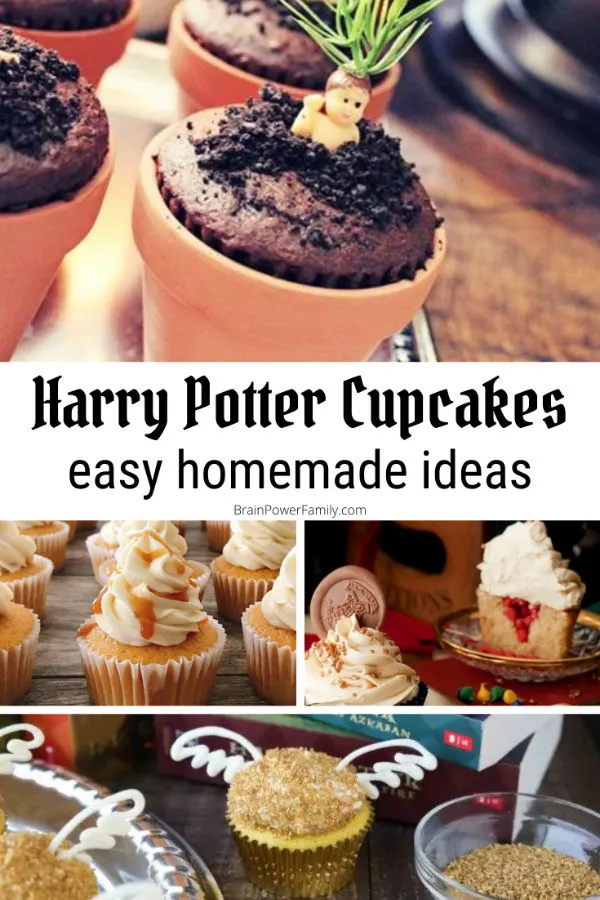 This post may contain affiliate links which means I may receive a small amount, at no cost to you, if you make a purchase through a link. All opinions are my own and I share things I think would be of interest to you and your family.
Harry Potter Cupcakes
Winning cupcakes Harry Potter fans will go wild for! These magical decorating ideas will transform a plain cupcake into a party favorite.
Photo Credit: cupcakediariesblog
You could not get any easier than these! Pipe a super simple lightening bolt with yellow gell or icing and dessert is done.
Photo Credit: hipfoodiemom
Oreos and m&ms transform a basic frosted homemade cupcake into an owl!
They are really fun to make, I will tell you that. Even Hedwig would be impressed.
I grabbed two different sorting hat cupcake designs. This is the first one and it is the most basic. You can decide which one you are up for. I liked them both.
When your guests bite into their sorting hat cupcake, their house is revealed! How cool is that?
Photo Credit: littlesugarsnaps
This one admittedly take a bit more work if you go for the butterbeer buttercream frosting, but of course, you can use regular frosting as well and keep it quick.
I love that they corred the cupcake and added in colored baking chips in the house colors. Colored chips will tumble out which is why I really like this one for a bit more spectacular surprise reveal. Hint: you could also use m&ms.
Photo Credit: dessertnowdinnerlater
How cute are these? She used gold sprinkles and made the wings out of candy melts.
Neat idea and they look fabulous!
Photo Credit: mommymouseclubhouse
Think butterscotch cream soda and you will have an idea of what butter beer tastes like.
She includes the full recipe but again, you do you. I would likely just make yellow cupcakes and then decorate them.
A large piping tip with a swirl as you a piping gives you the pretty frosting look here. It isn't hard at all!
Photo Credit: jonesinfortaste
Ok, I have to admit, the Basilisk as pull-apart cupcakes is a brilliant idea.
There are a dozen cupcakes underneath the bright green snake. Pretty cool, right?!
There are also directions for the giant spiders using handy Oreos again. (yum, now I want Oreos! lol)
Photo Credit: workmanfamily
These little mandrake cakes are so adorable but do beware of their scream!
She doesn't have directions but you can either find little pots and pop cupcakes into them and decorate with little plastic babies and top with tiny pieces of a plastic plant, or you can bake right in unglazed flower pots (see here for more info if you go that route as I have never done it myself.)
Photo Credit: pastryaffair
Ok, so now we are at the cauldron cakes. Stay with me! I promise these are still easy even though they look complex.
Take a look at this picture, friends. What you see there is an upside-down cupcake!
It is dipped in chocolate and then chocolate handles are added to the top. It is filled with marshmallow cream. Doable for sure!
Harry Potter Cupcake Products
Photo Credit: amazon / wilton
I thought these looked pretty great! Silver and gold spinkles to add a bit of magical sparkle to your homemade Potter cupcakes.
Photo Credit: etsy / 1pixieplace
This set of 12 cupcake toppers in the HP theme includes 2 year of Harry on broom, the sorting hat, Hogwarts Express platform 9 3/4 sign, the golden snitch, gold HP initials, and, of course, the lightning bolt scar.
Awesome!
Photo Credit: etsy / catsmeowddesigns
You can print these from home which is super great if you do not have time to wait for shipping something. They are also super cheap which is a nice bonus.
Includes lightening bolt, sorting hat, Hogwarts Express train, Hogwarts seal, and all house seals: Gryffindor, Slytherin, Ravenclaw and Hufflepuff, as well as, happy birthday, HP and the deathly hallows symbol.
Great selection! Since you can print from home you can print as many personal use copies as you need, so this is also good for groups.
I hope you enjoyed all the fun decorating ideas! I know I am using more than one for our parties.