There are so many neat (and easy!) Harry Potter cake ideas it was tough to choose the best ones.

If you want to make a cake for a Harry Potter birthday party or just because there is nothing more fun that reading through the series of books and having some fun food to go with it, you are in the right place.
Harry Potter is still popular to this day even though the first book came out in 1997! Wow, that was longer ago than I thought.
The cakes below are simple to make, have great designs and are all homemade, many with recipes included.
Keep in mind that you can also take the decorating ideas and put them on any cake you like – purchased or one you made at home.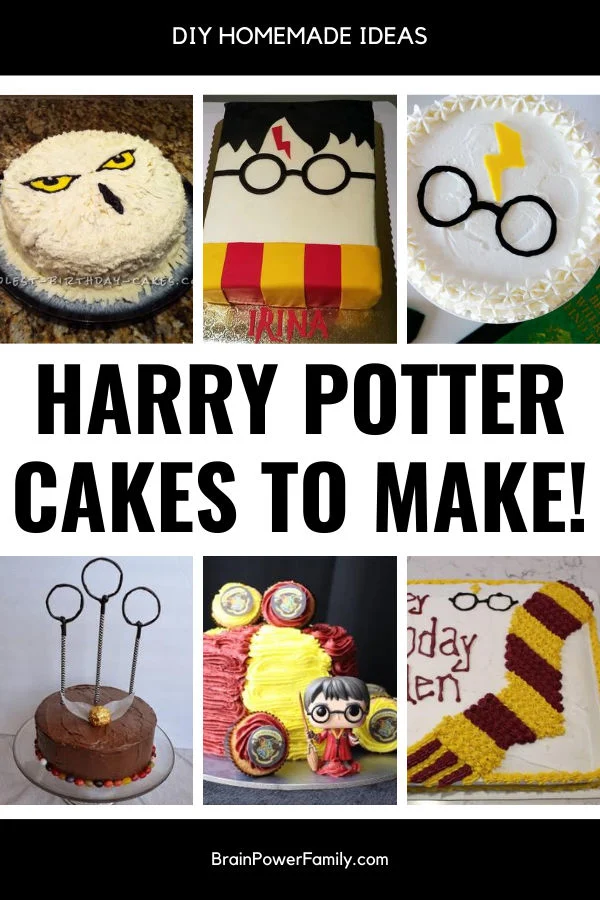 This post may contain affiliate links which means I may receive a small amount, at no cost to you, if you make a purchase through a link. All opinions are my own and I share things I think would be of interest to you and your family.
Easy Harry Potter Cakes
These magical Harry Potter cakes are simple and easy and are perfect for your next gathering.
Photo Credit: thedailymeal
If you remember, in the book and in the movie, Hagred brings Harry a cake for his 11th birthday. He says "Got somethin' fer yeh, 'Fraid I might have sat on it at some point, but I imagine it'll taste fine just the same."
In the book it is a chocolate cake with green writing. In the movie it is a cake with pink icing and green writing and the spelling is incorrect as pictured.
Either way, it is an easy decoration to do and sloppy writing is encouraged lol
Photo Credit: eastcoastmommyblog
At the end of the quidditch pitch you find 3 hoops.
Adding those to a cake is a brilliant idea because they are super simple to make yet, they provide a pretty darn cool effect.
Add a golden snitch and you have yourself a winner!
Photo Credit: coolestbirthdaycakes
Harry Potter fans will recongnize Hedwig right away. This owl cake takes no time at all.
You can pipe the feathers as shown, or try using shredded coconut if your family likes it (mine doesn't.) Another option is to simply frost it and then ruff up the frosting by laying a knife down on it and pulling it up to make little peaks.
The piping is easy to do.
Photo Credit: onesweetappetite
Don't worry, you can totally do this. The glasses and scar are made with candy melts on wax paper over a pattern so all you have to do is fill in.
Alternatively you could grab this stencil instead.
Photo Credit: funandfrosted
The famous Gryffindor scarf is features on this cake. She has a video showing how she did it.
You only need one piping tip and you simply make three stripes of yellow then three strips of burgandy and repeat.
Photo Credit: cakecentral
I included this one because it is a sheet cake and because even though it looks a bit tough it doesn't have to be.
First off this one is done in fondant. I don't care for fondant but I do like the way the cake looks so when I make it, I will be doing it with frosting only.
The scar and glasses are easy enough to pipe. For the glasses I would find a cup the right size for the lenses and lightly press it into the frosting so you can have a guide.
The part at the bottom, I am going to just add frosting to the top in the two colors.
Photo Credit: www.pinterest.com
This pin has a sorting hat on it and I wanted to share that. The items on the cake are fondant but again, do what works for you. I am thinking I can make the hat out of tootsie rolls.
Photo Credit: youtube / claremansonbakes
Taking an item like a Harry Potter Funko Pop and placing it near the cake elevates the effect without any effort at all.
Super simple back and forth piping with a wide tip and you are done. Make the cupcakes, or skip them, the choice is yours. If you skip, add a little something to the top of the cake (see choices below)
Choose your fans favorite house colors to make it extra special.
Harry Potter Cake Products
Photo Credit: etsy / designsbyjadiecakes
Wow! This is super impressive and I absolutely love that it can be personalized!
Photo Credit: amazon / tjlovehome
This birthday topper comes with both cake and cupcake options.
You will love the inexpensive price.
Photo Credit: etsy / confectioneryhouseco
With lightning bolts, gold stars colored sprinkles, stars and more, these sprinkles are the best!
You could make a plain cake, cover it with these sprinkles and call it good or add an topper as well for a final touch.