Sometimes we can't be out and about but that certainly doesn't mean that everyone has to be stuck in their rooms attached to screens.
Make different plans and see these fun things to do indoors!
When we need, or want, to stay inside it is a good idea to have some fun indoor family actitivies to do at home.

These ideas will keep the whole family entertained and engaged spending quality time together and building memories.
Looking back at the types of things we did as a family reminded me of all the enjoyable times we had together.

You don't always have to be going somewhere or be outdoors to have a good time, that is for sure.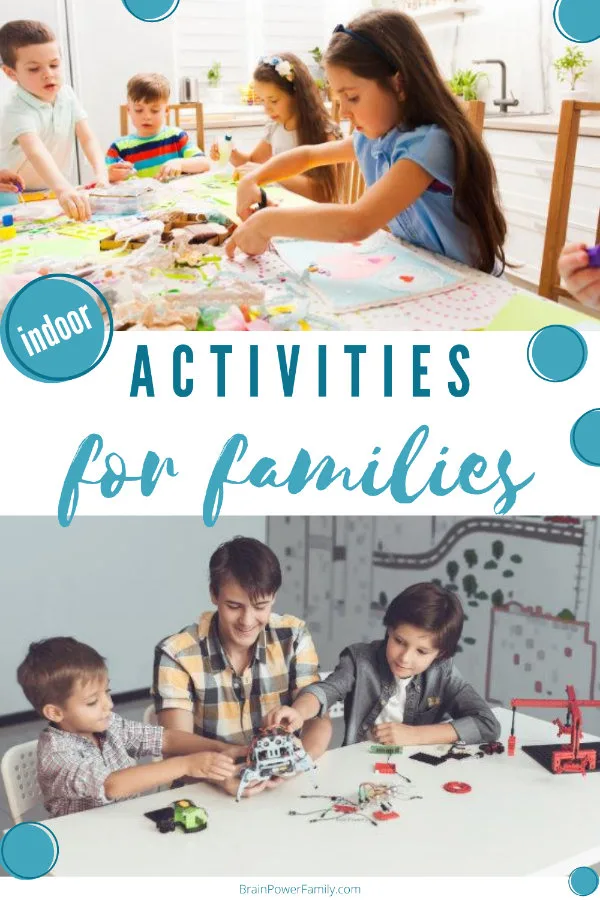 No matter what the reason for staying in, such as the weather on a rainy day, a blizzard like we get here in Wisconsin, or a day that is way too hot to go out, you can find things to do that will still be enjoyable.
Or perhaps it isn't a specific reason but you know that everyone could just use some down time.

Listed below are indoor activities that you and your family can enjoy – together.

Let each family member pick their favorites off this list and make a note so you have plenty of choices next time you are staying inside.

Honestly, having a list on hand is always great so you can make plans.
Indoor Family Activities
I have a lot of ideas on this site so I am going to give you my suggestions. We did all of these things and more. Browse the site for other ideas as well.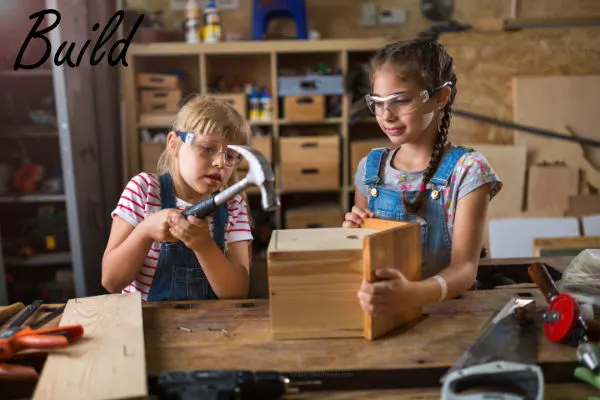 Build Something!
Building is one of the best things I did with my son. Whether it was with wood or with LEGO, building was a big deal.

Make a LEGO table or a DUPLO table. This is an awesome family project.

Build a play kitchen. There are some amazing ones.

Oh! If you have not tried this, you totally have to have a go. Build a Rube Goldberg Machine! Here are videos to inspire you. Or grab some Rube-style toys and use those instead.

If you want building kits, try this woodworking subscription box that comes in the mail monthly. It is a very popular, high quality box and if you use my link, you can get 75% off your first box (limited time offer.) Believe me, it makes your life easier if everything you need is in one awesome package.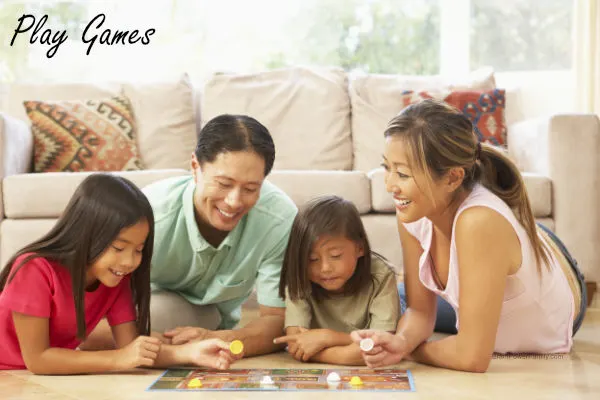 Play Games
I'm sure you knew this one would be on the list because this is a classic indoor family activity.

But, there is good reason for that! Not only does playing games bring the family together but kids learn a lot by playing them as well.

Try these fun math card games. I can tell you that we play them just because they are fun. The math part is simply a wonderful bonus.

Get a new board game and have a family game night. I found some winners that you may not have heard about yet. Go check them out. Look for the "Incredible Games" section.

Grab a free printable game if you have younger kids such as our forest animal matching game or a robots matching game.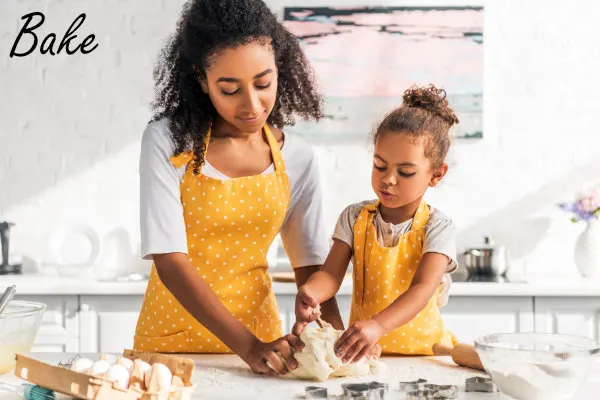 Cook & Bake
Personally, I love baking and have fond memories of baking with my mom and with my grandma. We usually baked cookies but, we also made cupcakes and cakes and other yummy treats.
One thing I came to love when I got older was fun food. What is fun food, you may ask? Well, it is cute and neat and a lot of, well, fun.

For example:

Bake a LEGO themed cake or cupcakes.

Star Wars cupcakes are most certainly fun

Or try a fun food lunches with Winnie the Pooh or Spider Man

Or try making pie crusts, pizza dough or some cookies (Star Wars option there) because they are usually pretty easy to make and kids get a kick out of getting their fingers into the dough when helping. Plus, you get to eat the delicious results together when you are done.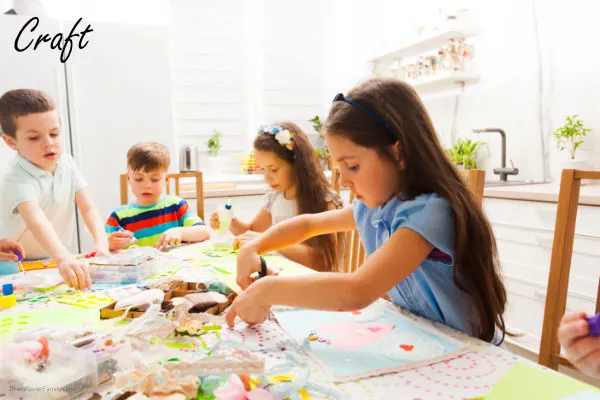 Get Crafting
There are, of course, a ton of different craft ideas that you can do together as a family.

I am a big time crafter and love to make things. I have quite a few posts on my site that have to do with crafting and I will share a few here to give you some ideas.

Try reverse tie dyeing! Make a set of matching shirts or you can each create your own unique style.

Do some superhero crafts. Here are some ideas for Superman, Spider-man and Batman.

What about Perler Beads? If you have not tried working with them yet, pop over here to find everything you need. If you already have supplies, try one of our many Perler Bead patterns here.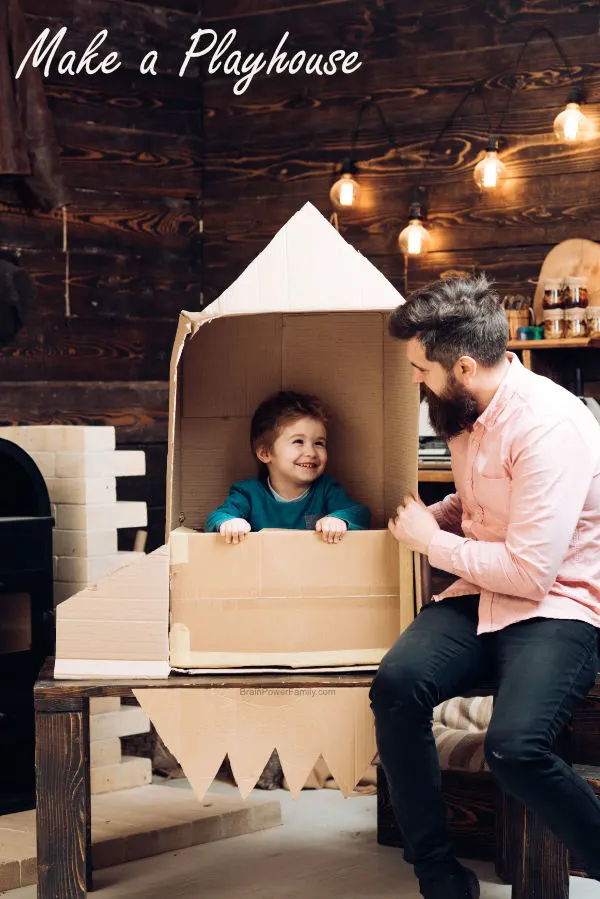 Forts & Playhouses
This is a memory making activity your kids are likely to always remember.

I'll give you some cool ideas to try.

You can, of course, simply make a blanket fort with some chairs or by draping blankets over a table but there are other options that are pretty darn amazing if you want to make it a family project.

Create a cardboard castle! There are various size options so I am sure you will find something that will work.

Grab a pattern or get ideas for making a card table playhouse. These are great if you have little ones in the house.

Make a cardboard playhouse including a very neat dome.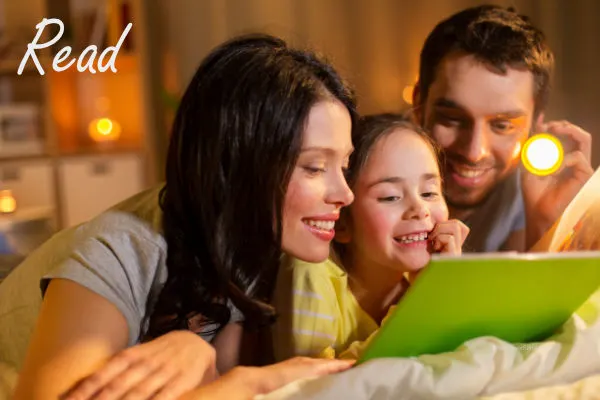 Read Books
Is reading considered an activity? I guess the answer is subjective, but I certainly think it is.

You could read a book as a family and then watch a movie together. These books made into movies would work.

Get a few LEGO books and go through them to find some super neat things to make. Our list includes books for all ages.

Try wordless picture books. I picked our favorites to share with you and you are in for a treat. I adore wordless picture books so I guarantee they are not only for kids. The illustrations are amazing and you will really love to hear the stories each family member tells when reading them together.

Or, grab an audible subscription trial and get 2 FREE books. Listen to books as a family while you hang out and do other things in the same room. I've found this to be a really nice and relaxing way to spend an afternoon. Plus, we have found way more times we use audiobooks than I ever thought we would.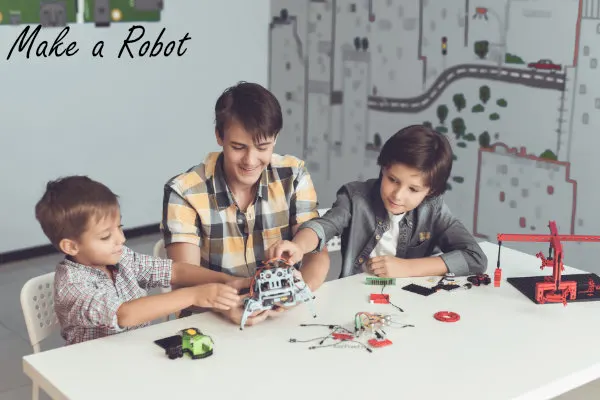 Make a Robot
Stick with me here because this isn't nearly as hard as you likely think it is.

I admit that I knew nothing, and I mean Nothing, about robotics and I was able to build quite a few robots over the years with the help of my son. We worked on them together and ended up with super fun robots to play with. You can do it too!

Robot videos to help you build a robot step-by-step. These are easy projects and great to start with.

This speedy robot will get everyone excited to build.

Or try, robotic blocks that allow kids to learn coding as well.
I hope you found some fun activity ideas for you and your family to do inside.

Choose a variety of options because believe me, you don't have to be stuck indoors with nothing to do.

You will never regret spending time together as a family.

If you try a few of them, I guarantee you will have a great time together and they will provide hours of creative entertainment for all of you.