Try these Easy LEGO Cakes that you can actually make! All of these cakes include recipes and instructions to help you along the way.
I love all of the LEGO cakes that I see on Pinterest but I wanted something I could actually make. I'm sure you know what I mean.
While I think they look awesome, I don't really have all day to make a cake.
However, I did find some LEGO cakes that look great and that you can make at home. There are instructions and/or tutorials for all of the ones I have included here.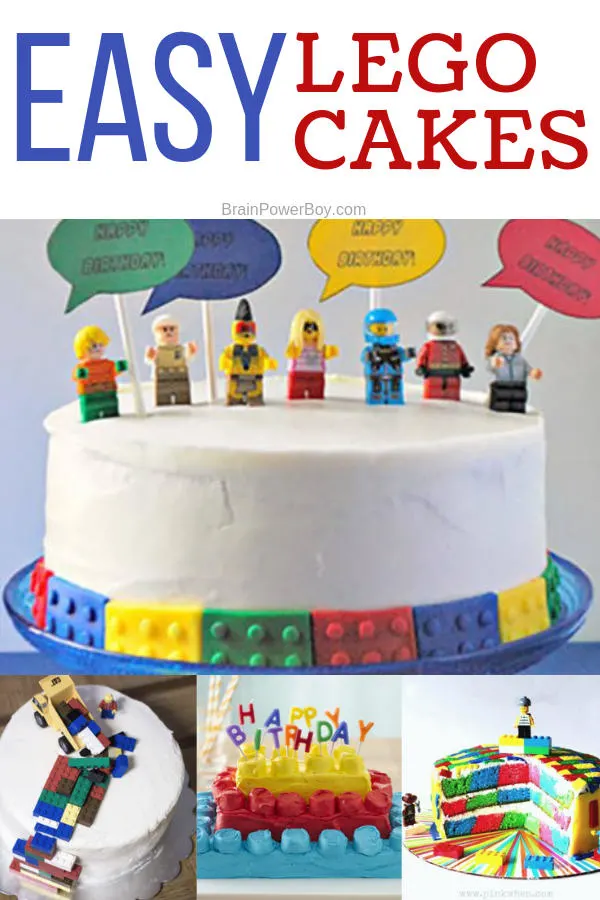 This post may contain affiliate links which means I may receive a small amount, at no cost to you, if you make a purchase through a link. All opinions are my own and I share things I think would be of interest to boys.
If you are wondering how to make a LEGO cake without fondant, I've got you covered for that as well.
These are pretty easy to make and the results are going to make your kids happy. That is the main goal after all.
Some of these use store bought cakes, or a cake mix, others have recipes to bake the cake. All of them include some instructions on how to decorate. Some even include step-by-step tutorials!
Remember that you can certainly mix and match ideas to make the perfect cake for your LEGO fan.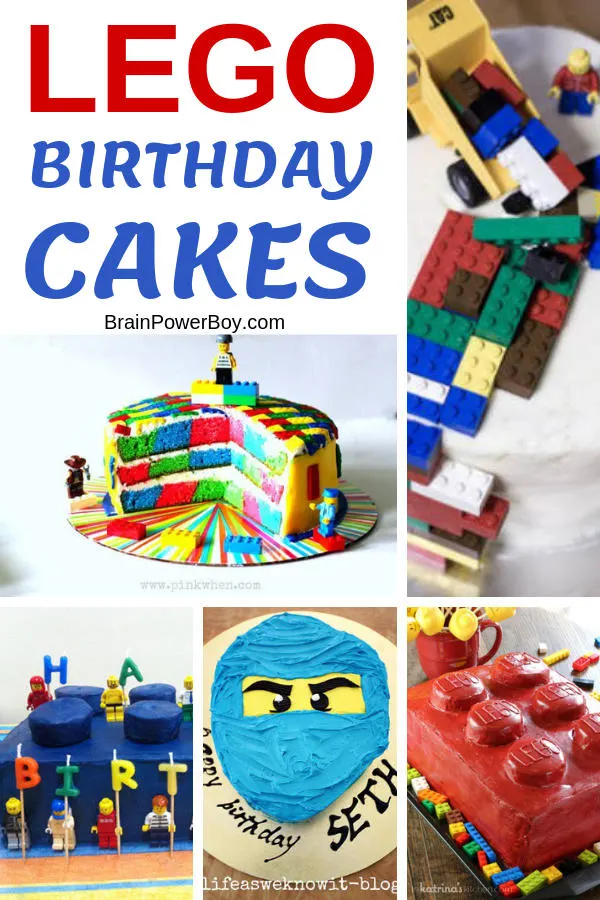 Easy LEGO Cakes
If you have a birthday party coming up, or just want to make a fun cake, take a scroll through this post and decide which one you like the best.
There are a lot of great ideas here that is for sure!
I'll tell you a bit about each of them so you know the features as well as how simple they are. You really can make these.
There are several brick cakes but they are all made differently and some have neat additional decorations so I included them all.
Easy LEGO Ninjago Cake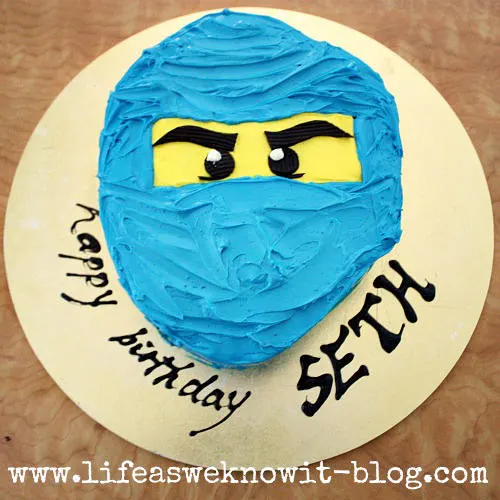 What a great idea! I love how easy this one is and how great it looks.
Honestly, it looks like you ordered it, but when you take a look at the tutorial instructions you will see that it is much quicker to make than it looks.
She gives the colors for Kai, Zane, Cole and Lloyd if you don't want to make the blue Ninjago, Jay. This one impressed me! LEGO Ninjago Cake
LEGO Birthday Cake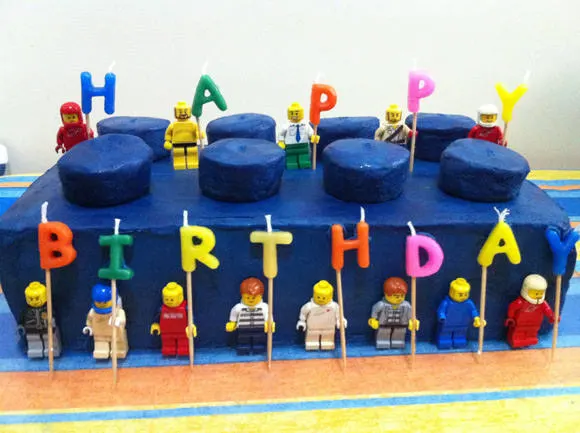 As you can see the minifig are sending Happy Birthday wishes. If you ever wanted to know how to make a LEGO cake without fondant give this a try.
It looks like fondant, doesn't it? She has a fab tip for making the frosting so smooth.
I love how simple this is overall. It does take time because you need to refrigerate the cake between frosting layers but overall it is pretty impressive and very doable.
Grab some of these candles if you don't have them already as they look great in the minifigure hands. What a wonderful idea! LEGO Birthday Cake
Simple Minifigure LEGO Cake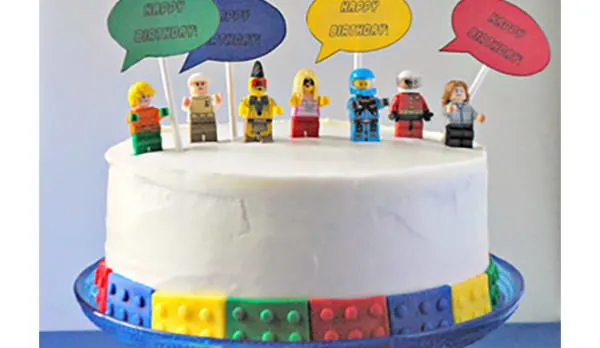 There is nothing hard about this two layer minfigure cake – at all. You can totally make this.
If you don't want to bake a cake, you could even buy a plain one at the grocery store and decorate it like this. Now that would be very fast to make.
Want to skip making the layer of bricks at the bottom of the cake? Either leave them off or try these candy bricks instead. Making the fondant bricks doesn't seem too hard though. Minifigure Birthday Cake
LEGO Brick Cake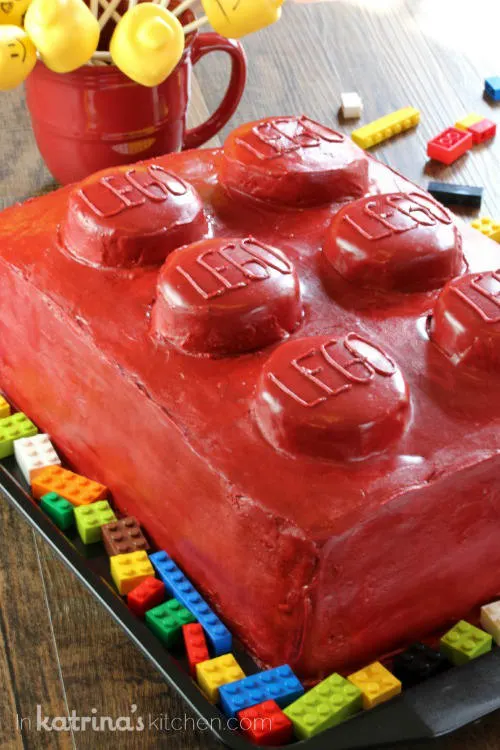 Not only does this LEGO brick cake look awesome, but I really love the technique she used to frost it. So effortless to do.
If it were me, I would put the cake on a wire rack before trying this method. Make sure to let it dry all the way before moving it.
The piped LEGO on each stud is a super fun touch that won't go unappreciated. LEGO Brick Cake
Easy LEGO Cake Video
While I was searching I found this video and decided I wanted to include it. They use pound cake from the store to make a brick so this is a very fast way to go about making a brick cake.
I thought it would be good for you to watch so you could see that these cakes really are do-able.
LEGO Construction Cake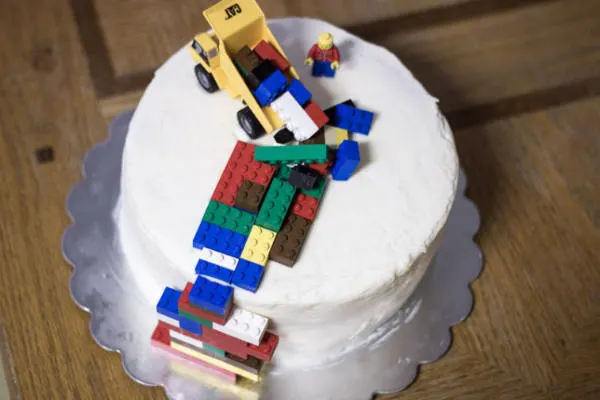 How cute is this? And it is so simple to do. All you need is a two layer cake, a LEGO dump truck or a different brand such as the CAT she used here and a minifig (or several!)
She used regular bricks against the side and on top of the cake. You could also grab the LEGO candy in the link further up in this post and do that instead if you wanted the bricks to be edible.
Bonus idea! She made this a pinata cake so when you cut it open mini M&Ms come out. Super fun! LEGO Construction Cake
Brick Tower Cake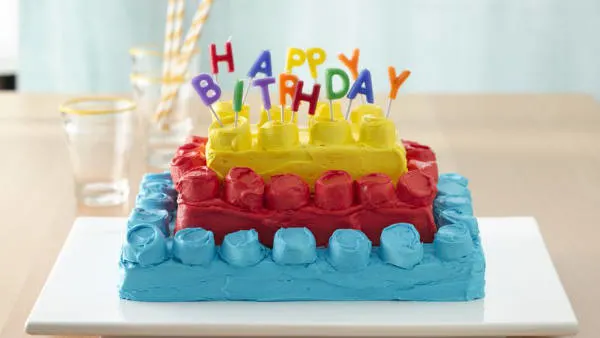 If you are feeding a crowd, this is one to consider as there are three cakes in one. I found it on the Betty Crocker website.
I like how you simply stack them up. Sort of like building with LEGO!
They actually use canned frosting. That makes it easy, right?! If you don't care for canned frosting you can always make your own. Big Brick Cake
DIY LEGO Fondant Cake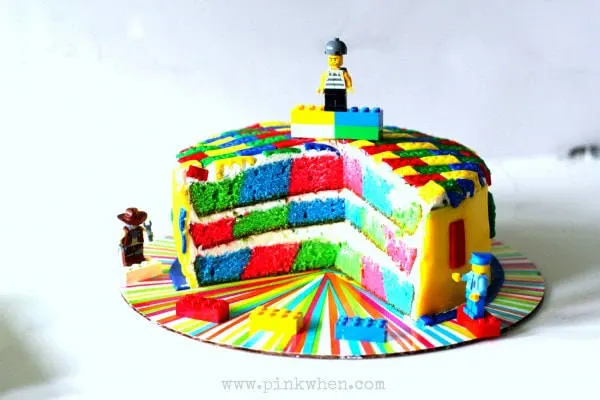 Just look at the inside of this cake! It is all brick colors inside. Love that!
Now, stay with me here because this one looks a bit harder, but it isn't too tough. She made this and never worked with fondant before so . . . if she can do it so can you.
To make it a bit easier, I was thinking one could skip the yellow fondant around the outside of the cake and just do the top pieces. That way you still get the LEGO look but it would be more straightforward and faster as well. Easy LEGO Rainbow Cake