When Saint Patrick's Day is on its way, you are going to want to read the best funny leprechaun books for boys! After all, adding a bit of silliness to the holidays through books is always a hit.
Boys love funny books and we love the find the very best ones that will make the laugh and laugh.
Reading should be fun, right?! So, we always make sure to include funny books on our best books for boys lists.
Leprechauns are mischievious little fellows which means that the stories about them are pretty hilarious. These book are sure to get your boys reading and, of course, giggling as well.
Let's get started!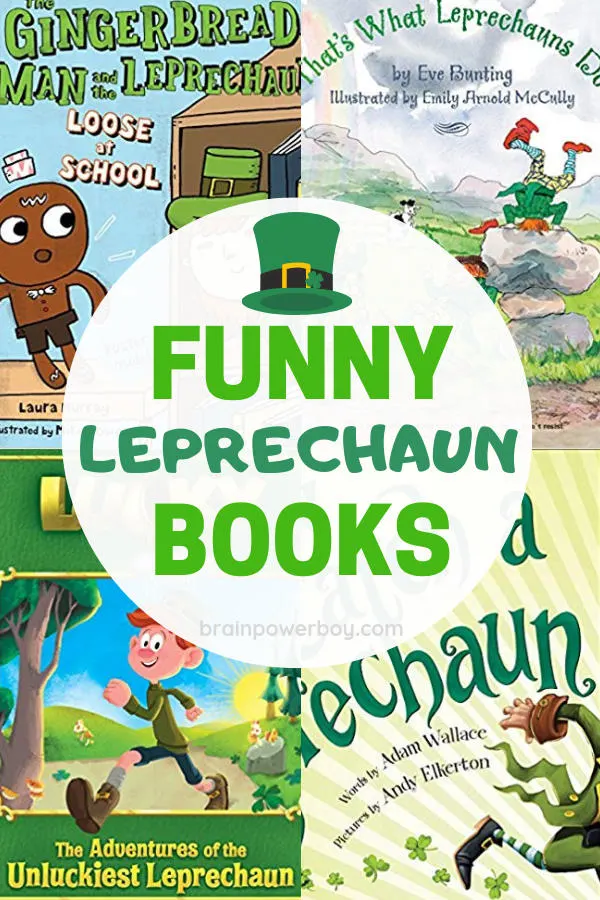 This post may contain affiliate links which means I may receive a small amount, at no cost to you, if you make a purchase through a link. All opinions are my own and I share things I think would be of interest to boys.
Funny Leprechaun Books for Boys
Pete the cat is always funny! In Pete The Cat: The Great Leprechaun Chase, Pete is running a leprechaun catching business. He is going to try to catch Clover, the leprechaun for his friends. But Clover, like all wee folk, is tricky! Comes with a poster, stickers and even punch out St. Patrick's Day cards.
Lucky Tucker is about a cute white terrier names Tucker who happens to be having a very bad day. Until he rolls in a bed of four leaf clovers. As you can image, that turns out to be lucky. Cute for younger boys.
You know the story of the The Gingerbread Man but I bet you don't know The Gingerbread Man and the Leprechaun Loose at School! A leprechaun is loose in the school and you know that means trouble! He is going about making messes and raising a ruckus and The Gingerbread Man is sure that he can catch him. Can he set a leprechaun trap that will actually work?
Eve Bunting is a great story teller and she wrote That's What Leprechauns Do! As you may guess, what they do, is hide gold at the end of the rainbow and also cause a lot of trouble! She brings you the tradition of leprechauns in a silly way.
Lucky: The Adventures of the Unluckiest Leprechaun is a Nick movie which also has a book. Lucky, isn't lucky and he sets out on an adventure to recover his families gold. I watched the trailer for the movie here and am sure the book will be a hoot.
The Night Before Saint Patrick's Day is a take on The Night Before Christmas with a matching rhyming pattern. Can you imagine what it would be like if you actually caught a leprechaun?! Well, that would be pretty great, right? After all if you catch him he needs to tell you where the pot of gold is. Hmm.
I went back and forth on whether or not to include this book. Not because it isn't an enjoyable read, but because I wasn't quite sure if boys of today would find it amusing or not. It is worth a try though because it is a traditional tale and some of the boys did find it pretty funny. The humor just isn't green toilets type of funny. Give Tim O'Toole and the Wee Folk a try and see what you think.
The cover artwork drew me to this book. The illustrations are fun and your boys will enjoy them. How to Catch a Leprechaun is worth a look for sure. This rhyming story is all about who is really in charge! You might think you can simply set a trap but . . . the wee little imp has plans of his own.
I hope you found a funny leprechaun book for you and your boys to read for Saint Patrick's Day!
You might also enjoy:
Funny Easter Books for Boys and