Funny Easter books for boys
is another entry in our funny books for boys series. These lists have been well-received and I am happy to bring them to you.
Getting boys laughing, reading, and enjoying spending time with books is one of the main reasons I started this site
.
I hope you and your boys will enjoy these books and will be sure to check out our other funny book lists on our best books for boys page.
This post may contain affiliate links which means we may receive a small commission, at no cost to you, if you make a purchase through a link. All opinions are our own and we share things we think would be of interest to boys.
---
Funny Easter Books for Boys
Pete the Cat: Big Easter Adventure
Pete needs to help the Easter Bunny!
He finds an empty basket (bummer!) a note, and a pair of bunny ears.
Pete the Cat books are always amusing and cute.
Pete the Cat: Big Easter Adventure is a paper over board picture book with stickers & punch-out cards.
&
---
Happy Easter, Curious George
Happy Easter, Curious George is a cute one.
Good old Curious George. He is a gem. I loved reading Curious George books to my son when he was little.
This book has George decorating eggs and playing with the "Easter Bunny."
You just know that George is going to get into a little bit of trouble!
This is a nice hardcover edition with original Rey watercolor and charcoal illustrations. The book includes glitter egg decoration stickers.
&
---
Here Comes the Easter Cat
An Easter cat? Well, yes!
In Here Comes the Easter Cat, Cat is a tad grumpy because well, why should the Easter bunny get all the attention?
Deciding that he would like some attention himself, Cat decides to take over the Easter Bunny's job.
Oh, and by the way, this is no ordinary cat, he is a bit crabby and has a Harley!
With great facial expressions and funny text, this amusing title with charming illustrations is a winner.
&
---
Splat the Cat: Where's the Easter Bunny?
Here is a lift-the-flap book with a hidden Easter bunny on each page – what fun!
Splat the Cat: Where's the Easter Bunny? is super cute and of course with Splat around you know it is going to be funny!
As Easter approaches Splat is a bit worried that the Easter Bunny doesn't know what he wants.
Kids will love looking for the Easter Bunny and finding out what Splat wants more than anything.
&
---
Duck & Goose, Here Comes the Easter Bunny!
If you are a Duck and Goose fan you will want to have a look at Duck & Goose, Here Comes the Easter Bunny!.
They are trying their best to find a good hiding spot while they wait for the Easter bunny with amusing results – the water is too cold, the tree is too high.
The link is for the board book but there is a hardcover available as well.
Very colorful and just perfect for preschoolers.
&
---
Easter Crack-Ups: Knock-Knock Jokes
Here is one off of the picture book path called Easter Crack-Ups: Knock-Knock Jokes Funny-Side Up.
This is another lift-the-flap selection.
It's a cute little book to slip in an Easter basket and great for boys who like knock-knock jokes.
Here is an example:
Knock Knock. Who's There?
Lettuce. Lettuce Who?
Lettuce hide some eggs over here.
&
---
Marley and the Great Easter Egg Hunt
Look out! Here comes Marley.
In Marley and the Great Easter Egg Hunt Marley is into trouble again.
Marley wants to hunt for eggs when the family goes to an Easter egg hunt but the kids are getting to them faster than he can.
So he sets off for town. I'm sure you can just imagine how Marley and an Easter egg hunt will turn out!
&
---
The Easter Bunny's Assistant
Did you know that the Easter bunny has an assistant?
And that his assistant is a skunk!? Who knew?
In The Easter Bunny's Assistant, a short and very funny book with little text, we find out all about the skunk.
You know what skunks are known for, right? Boys will think this is super!
&
---
These are all so much fun to read. They will really "crack" (get it – little egg joke there) your boys up.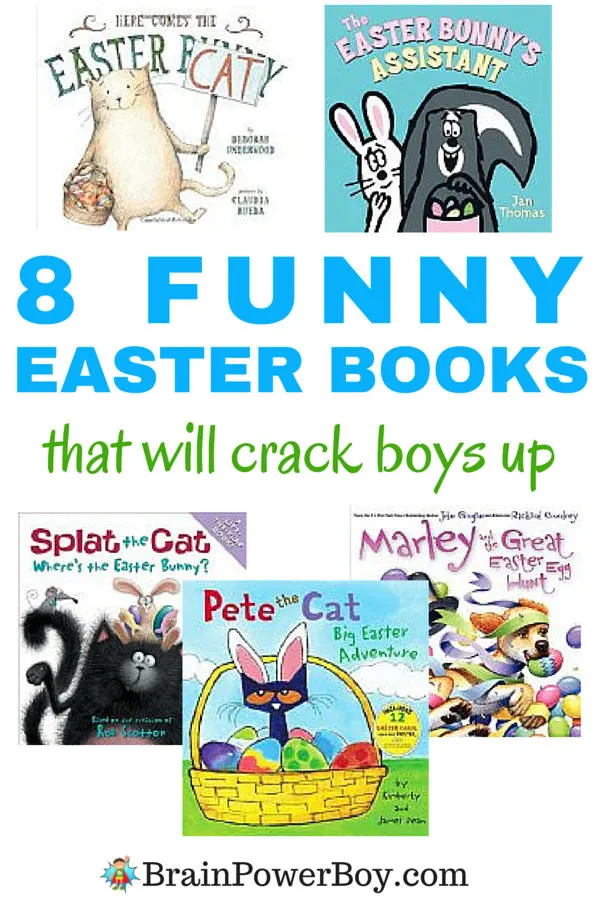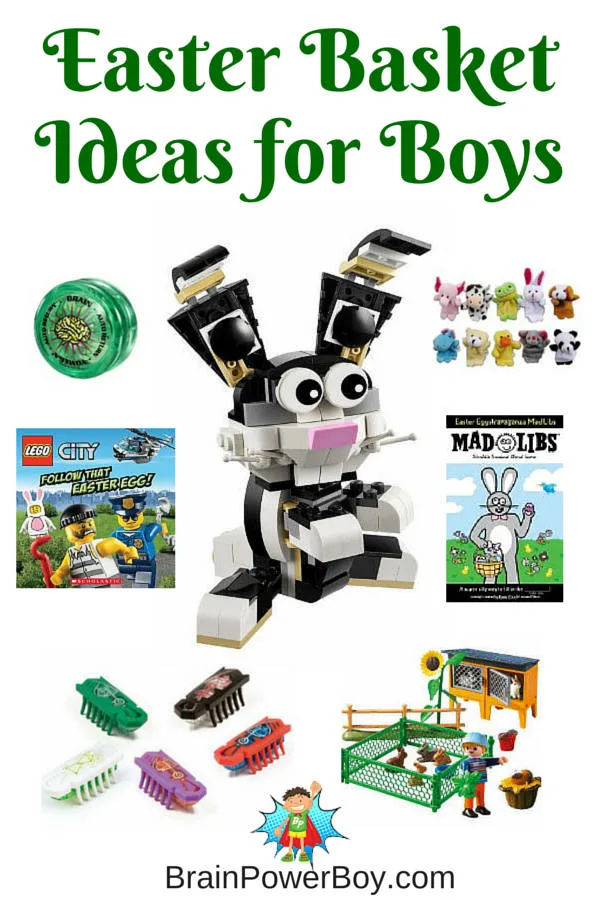 Easter Gift Ideas for Boysread now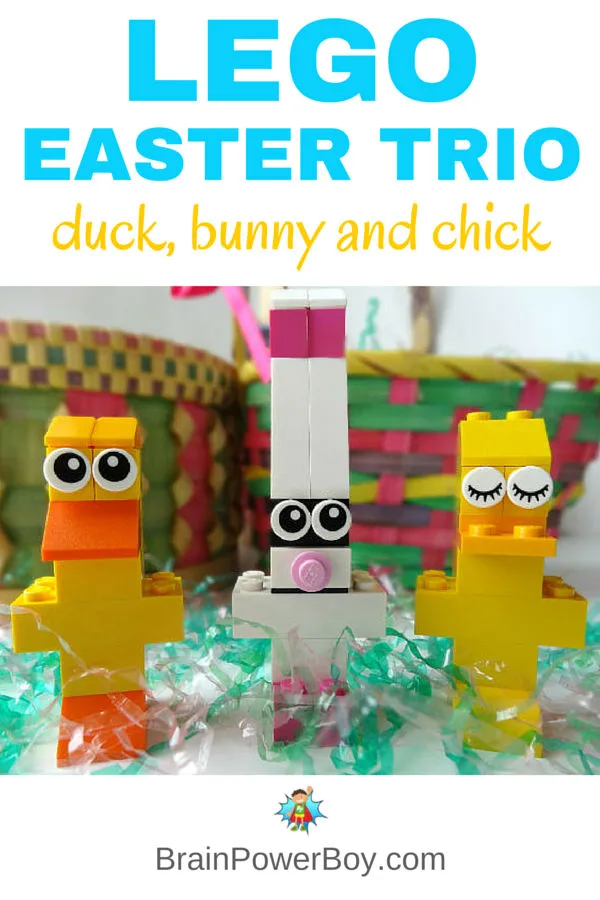 Cute Easter LEGO Designs to Makeread now
&
For more Easter fun take a look at Easter Bunny Crafts for Kids which features 10 crafts for kids to make and an Easter Egg Hunt Planner which will help you remember what you need to buy and where you hid all the eggs!