Bleach tie dye or reverse tie dye is super fun to do and you are going to really love the look.
From subtle color changes to super bright color popping fun, this tie dye technique is a winner.
The best part about it is how easy it is to do! Who knew?!
Oh, and bonus! You can transform damaged items into something super cool.
Whether you got a stain on a shirt or you splashed bleach on a dark piece of clothing, you can make something totally new just by applying bleach.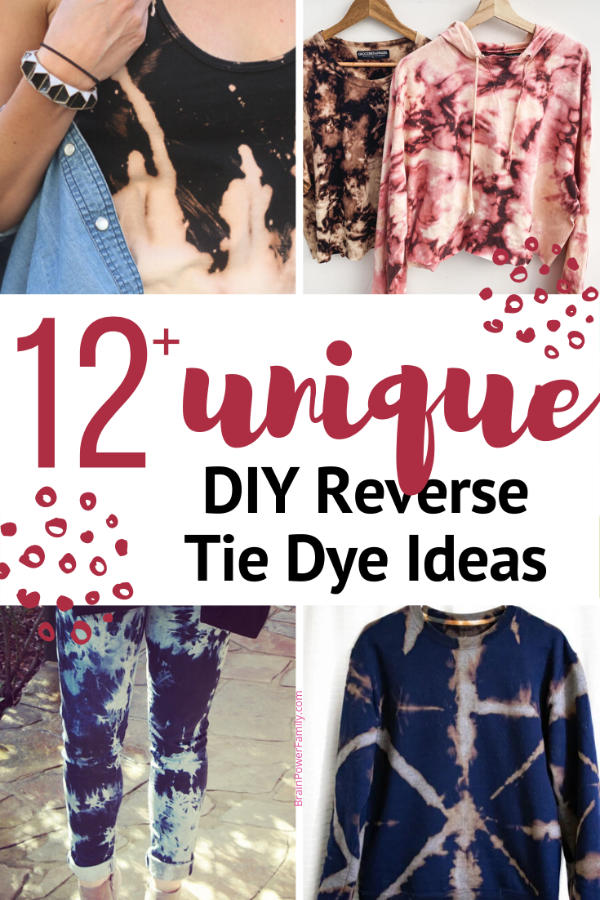 This post may contain affiliate links which means I may receive a small amount, at no cost to you, if you make a purchase through a link. All opinions are my own and I share things I think would be of interest to you and your family.
If you want to grab a new item to try this fun idea with, be sure to see our reverse tie dye blanks post for great quality items to dye and if you want to add color (which is super cool) these are the best dye kits out there.
Bleach Tie Dye Ideas
If you have not tried this yet, you are really going to have a good time doing this craft.
If you are already a pro, you are sure to grab some fun new ideas you are sure to love.
Bleached and Tie Dyed Shirts
Photo Credit: afeatheredstitch
Love this! Take a basic black tshirt and turn it into a statement piece with bleach. You do need to take an extra step and tie dye with color as well but it is totally worth the effort.
Photo Credit: ilovetocreateblog
The galaxy look is in right now as is reverse dyeing. Combine them together for an out of this world look. (sorry - had to say it)
As with the colorful shirt above you do need to add colored dye after bleaching. Then you add the white speckles and it brings it all together.
Transformed Tops
Photo Credit: suttonandgrove
I like the deep colors on these. The clothing was originally a shirt and hoodie which they made into a crop top
If you use a shirt you already have this is a super cheap craft to try.
Photo Credit: heywandererblog
Believe it or not this was a green t-shirt when she started!
Now you can see the power and also the unpredictability of bleach. Add a pair of scissors and you have a completely new item.
Surprisingly Soft Colors
Photo Credit: myvintageporch
When I saw this one I knew I had to include it.
What a looker! The soft colors came from dyeing a grey sweatshirt (yes, I said grey!)
Photo Credit: icecreamandneondreams
I can see a friend of mine really wanting this set. I will have to keep it in mind for a gift idea for her.
Having matching sweatpants and a hoodie is a super idea and right in style. This is a great DIY project because the sets in the stores are super pricey!
Shibori Technique by Reverse Dyeing
Photo Credit: papernstitchblog
The napkins, cloth and shirt in this post provide a look at doing the shibori tie dye technique by using bleach.
The shirt has a soft color to it while the beautiful napkins have much darker lines.
Photo Credit: onecrafdiygirl
Using the idea behind traditional shibori dyed items, this one was done in reverse.
Love how the pattern looks. I am going to have to add this to my big list of things to make.
Bleach Dipped Options
Photo Credit: sutherlands
I tried to find unusual and unique items in this list and have to say this is a really good one that I simply had to share.
What do you think? I like the look a lot. I especially like the way she blended it and sprayed more bleach on the top for the spotted look.
From a plain black tank dress to a stunner! I can tell you right now you would pay big bucks for this at an art show.
I know you can't see the bottom in this picture but it is an almost white cream color. She is wearing it with a jean jacket and sandals. Nice!
Jeans Need Bleach
Photo Credit: enthrallinggumption
This is a clever idea. Use bleach to make stripes in a pair of jeans.
They turned out really neat!
Photo Credit: hereisnowsource
This pair has a darker look and is more splattered.
You can get so many different style looks with bleach!
I hope you found just the right project to do. There are so many unique DIY worthy ideas!