Need some reverse tie dye items for your next project? You have come to the right place.
When I wrote a post on reverse tie dye (or bleach tie dye depending on what you want to call it) I knew you were going to need some great ideas for what to do this technique on.
You can totally do it on clothes or household items you already have but sometimes you may not have the right thing, you want to make something as a gift, or you just want a new item to dye, because why not?!
We dug through a whole lot of dark colored items to find the high quality ones that will work with bleaching.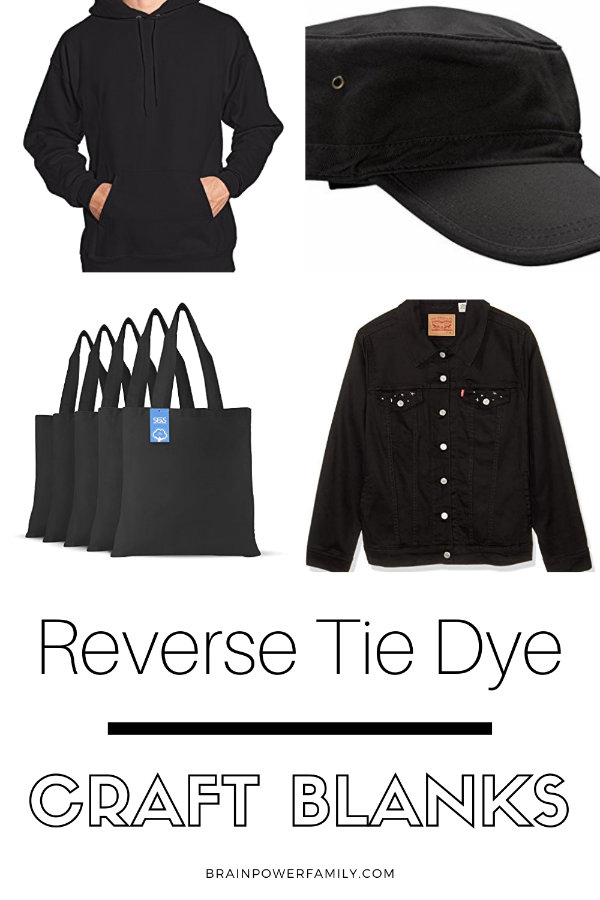 This post may contain affiliate links which means I may receive a small amount, at no cost to you, if you make a purchase through a link. All opinions are my own and I share things I think would be of interest to you and your family.
You will get the best results by using dark fabrics such as black or navy or even dark reds and forest greens or deep golds.
You will also be better off using items with as much cotton as possible. This is especially true if you plan to add color after bleaching. You should give that a try as it looks super cool and here are the best kits to use.
Let's dive into the crafting blanks. I'm sure you will find the perfect ones and you may even get some new ideas!
Reverse Tie Dye Items to use For Bleach Tie Dyeing
We did a post on reverse tie dyeing and I knew you would want to find the best dark items to try this cool technique on.
So with that in mind I went out and found a bunch of great clothes and other dark colored cotton items to splash, stripe and dip in bleach.
Enjoy!!
Shirt Blanks
Photo Credit: amazon / hanes
If you are tie dying with a group or want to try a few at a time, grab this pack.
They are the basic Hanes shirts, are good quality, and will hold up to the bleach. They are also 100% cotton.
Comes in a variety of sizes, 4 to a package. Also available in deep red, dark green and navy. These shirts are pretty unisex but you can click through the link and find women's and kids versions as well.
See also: Gildan V Neck 6 pack.
Photo Credit: amazon / hanes
Photo Credit: amazon / hanes
Available in these dark colors: black, forest, red, navy and maroon. Sizes small - 3X.
This particular Hoodie is by Hanes. It is 90% cotton, 10% poly. Many of the hoodies are 50/50 which isn't going to work as well.
Photo Credit: amazon / hanes
If you like a zip hoodie, this is a nice one. It is super comfy. It is available in small - XL.
Read the info on sizing and know that because it is 100% cotton it will shrik.
The sweatshirt is light weight.
See also:
Girls in bright purple - slub jersey
Black and Dark Wash Denim Jeans and Jackets
Photo Credit: amazon / gloriavanderbilt
Gloria Vanderbilt Amanda jeans come in black and dark washes. Many sizes available.
See also:
Huge variety of choices in black and dark wash jeans. Be sure to use Prime Wardrobe if you want to try them on (free returns!)
Photo Credit: amazon / levis
I love this jacket! It fits great and looks amazing. Available in standard and plus sizes.
It is still 100% cotton and comes in soft ultra black.
Black Pajama Sets
Photo Credit: amazon / chamllymers
Super soft and lighweigh pj set in black, and navy as well as bright pink and purple.
Sizes small through 3X plus.
Baby Blanks
Photo Credit: amazon / opawo
Check out these deep black bodysuits which are for boys or girls. They come in 0-3 month up to 18 - 24 month sizes.
Pair a set of these with a bib and some burp cloths (shown below) for a sweet shower gift parents are sure to love.
Looking for an organic option? Try this one instead.
Photo Credit: amazon / arnzion
It is pretty tough to find dark colored burp cloths! I did find these that are 100% cotton and come in two greys, black and white.
They are 20 by 10 Inches, are 3 layers thick absorbent fleece and come in a pack of four.
Do the two darker ones in reverse.
Hat Blanks
Photo Credit: amazon / thehatdepot
This cute burgundy hat is just perfect for your projects.
It is unisex, 100% cotton and packable!
Comes in a LOT of colors including black. Click to see them all.
Photo Credit: amazon / econscious
How cool is this hat? I love it. More stylish than a plain baseball cap (though you can find a baseball cap here if that is what you want) and all natural to boot.
This hat is 100% organic cotton twill and is adjustable. The BEST part is that it is super cheap!!
Tote Bag Blanks
Photo Credit: amazon / simplygreensolutions
This set of 5 tote bags is perfect for reverse dye because they are lightweight so will be easy to tie.
They are 100% cotton fabric reusable cloth bags. You can never have to many totes is what I always say.
Since they come in a set of four you could also consider getting a couple of sets so you can gift some as well.
Scarfs and Face Covers
Photo Credit: amazon / levis
You are not going to go wrong trying this technique out on these Levi's 100% cotton bandana sets. There are a lot of different color combos in the sets of three.
Use it as a banadana or as an alternative face mask.
Home Decor Blanks Ideas
Another cool tie dye effect is ice dying if you want to check it out.