These DIY Play Kitchens for Boys are so cool. The only hard part will be choosing which one to make! Check out these great ideas you can actually do.
When it comes to open-ended play you cannot beat the play kitchen. They get so much use and boys absolutely love having their own kitchen.
We went searching for do it yourself kitchens that would be super cool for boys. No pink and purple here!
So many of the kitchens we ran across were geared toward girls that we knew we had to dig in and find the best play kitchens for boys.
Little boys, as well as boys all the way up to age 5 or 6, really enjoy pretending they are cooking, baking and making meals in their kitchen.
Keep in mind that as they get older some boys love to make "gross" things in their kitchens. I've had boys make "guck on a plate" and crazy original and pretty yucky meals that were prepared with a side of giggles.
Let them have fun with what they make and they will keep playing.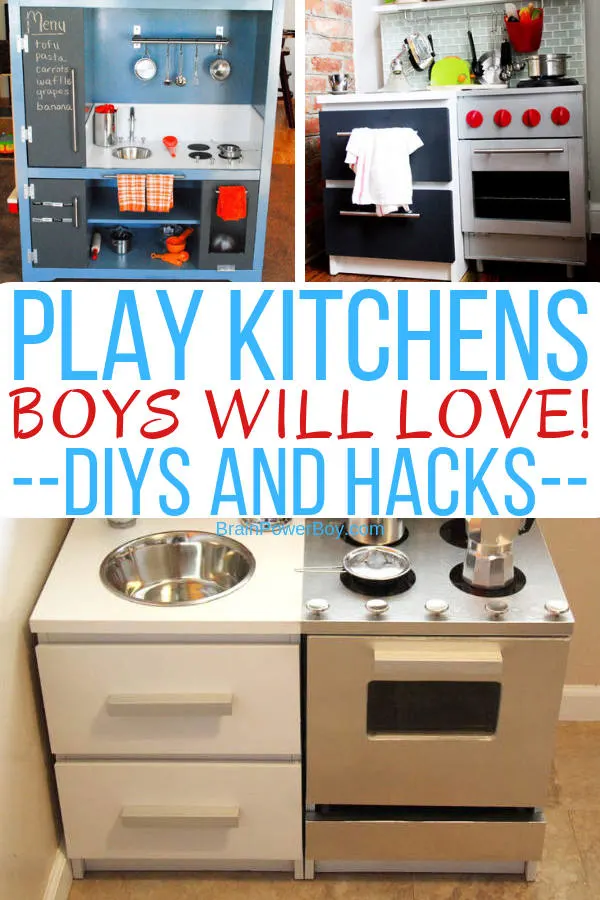 This post may contain affiliate links which means I may receive a small amount, at no cost to you, if you make a purchase through a link. All opinions are my own and I share things I think would be of interest to boys.
DIY Play Kitchen for Boys Tips
Things to consider when deciding which play kitchen you would like to make for your boy.
The size. Consider what size would be best. Is your boy tall for his age? You may want to DIY a kitchen that is going to be a bit taller/higher so he won't outgrow it quickly.
The amount of space it takes up. Some kitchens are much bigger than others. Try to decide where you would like to put the kitchen and measure the area before deciding which one to make. That way when you find the size you want, you can get right to work building it.
Are you are going to have a real faucet set and real knobs, or are you going to just have stick on pretend ones. Personally, I like it if they can actually turn something so even if you do fake ones you can try to have then turn so they can use their fine motor skills. It is fun to "turn on the faucet!" Things that move also makes for more realistic play opportunities.
If you already have pots and pans and kitchen utensils you are going to use you will want to make sure that the stove-top and sink can accommodate them.
Give yourself a price range to work from. If you are looking to do it on the cheap, that is great, just make sure the one you pick can be done inexpensively.
You should also decide what materials you want to make your kitchen out of. We have featured everything from cardboard (really!) to wood. Obviously wood is going to last longer, but it is also more expensive and more work to make.
Be open to making changes. If I see items on different kitchens that I could combine to make the perfect kitchen for the little guy I am making it for, I will totally do that!
If the kitchen is not a surprise or gift, have your boy help you make it. He will get a lot of joy out of helping you to make his very own kitchen. He can also do simple things all the way up to helping you hammer and paint.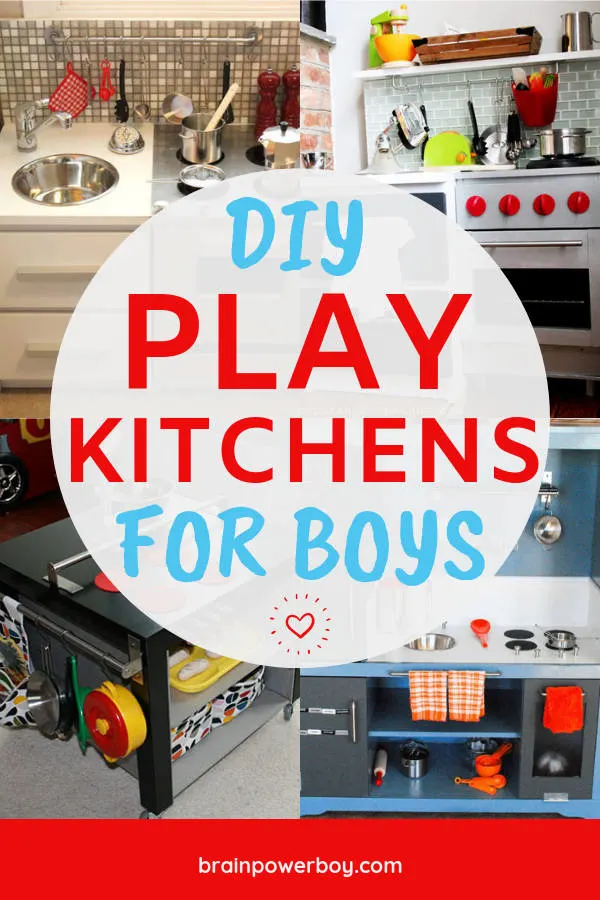 Blue Play Kitchen for Boys
An entertainment center is transformed into a play kitchen that is 100% boy.
With the blue and dark grey look and no pink or frills in sight this one is just right.
Love the chalkboard paint on the cabinet doors for the menu or special notes or drawings. Manly Kitchen
Modern Play Kitchen for Boys

Oh my! – right?
If you like a modern look and either love or have a stainless steel kitchen this one is fab.
It actually features a real tile back-splash but you could easily use this peel and stick instead and get the same look.
This one is an IKEA hack using two IKEA nightstands to make the stove and sink area. How they did the oven door is brilliant. Modern Kitchen
Wooden DIY Play Kitchen

How about a custom made wooden play kitchen?
You will need someone handy with woodworking to make it but the end result is worth it.
I included it because it is a larger kitchen than the others and also because it has some great features like the stainless steel contact paper (who knew!) which btw makes the fridge magnetic, the real knobs that turn and the real faucet.
Pretty sure they used a baking rack for the stove which is super easy to do and makes for some nice burners. Green Handmade Kitchen
Boys IKEA LACK Open Kitchen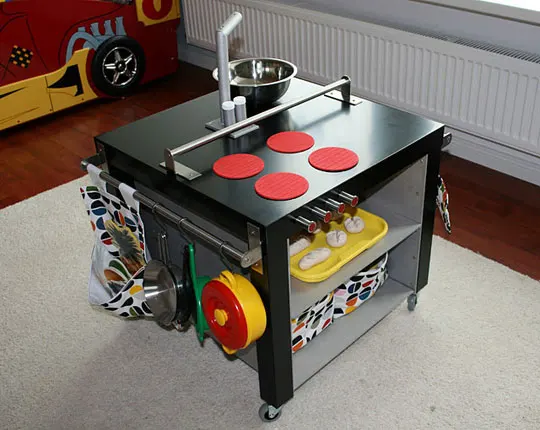 If you do not have much space or need to be able to move your kitchen around, this one if a super choice.
It is made with the IKEA LACK table and is on casters.
I like that is it open on a couple of sides for storage or for them to pretend the open part is the oven.
This kitchen is easy to make and won't cost a lot either. There are not a lot of details in the post, so you will likely have to use the picture for reference. LACK Coaster Kitchen
Cardboard Play Kitchen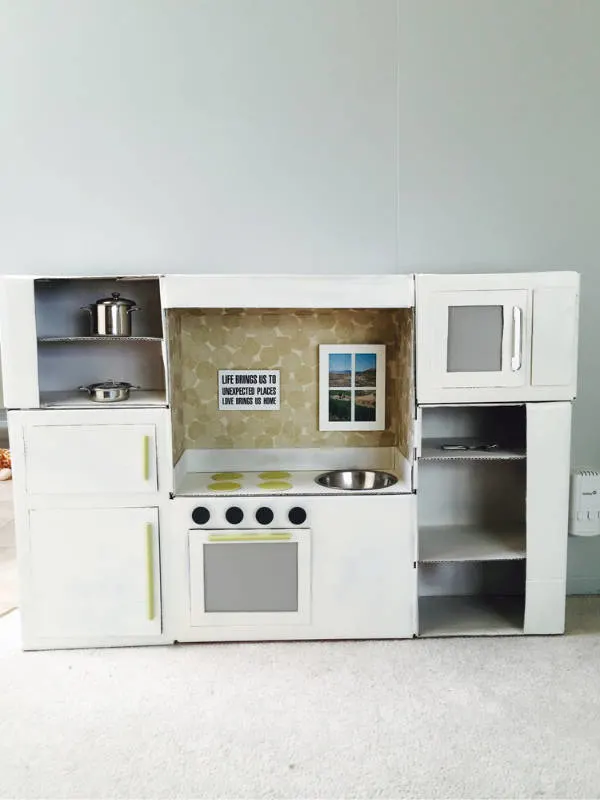 Can you believe this is made of cardboard?
If you look closely at the picture you can tell but honestly, on first glance I didn't notice.
I am not real sure how well this would hold up over time, but if you want a really cheap option, this is it.
I would likely use slightly taller boxes as this is pretty low to the ground, but that depends on the size of your little boy. This one is for sure too small for older boys. Cardboard Play Kitchen
DIY Play Kitchen Made Out of TV Stand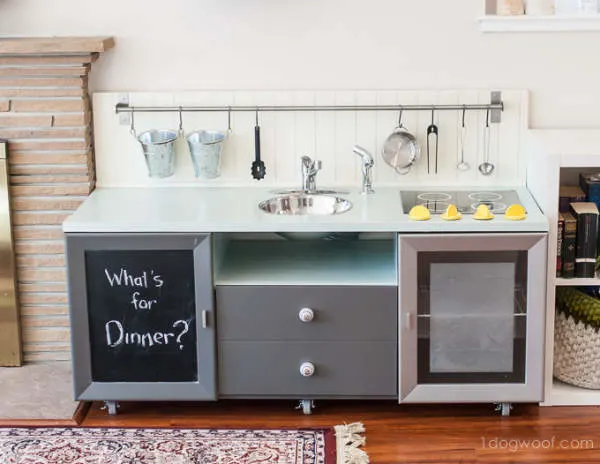 They took an old tv stand they were done with and turned it into this!
I love reusing things and this do-it-yourself project is an inspiration.
You can take pretty much any piece of furniture and make a play kitchen out of it.
This particular one has a lot of details in the post which tell you exactly what they did and what they used. The info is very helpful even if this is not the one you think you want to make. TV Stand Play Kitchen
IKEA MALM Nightstand DIY Play Kitchen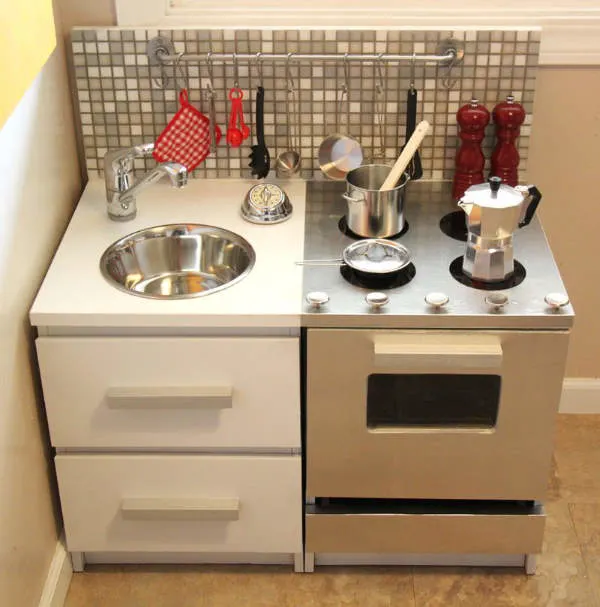 IKEA hacks are pretty popular, aren't they?
They used two MALM nightstands side by side to make the sink and stove combo. The oven is very cool with a slide out wire rack just like moms! They even have an oven light – how cute is that?
Adding the plywood to the back to make the back-splash really makes it stand out. MALM Kitchen
I really hope you found the right play kitchen to make for your boy! I just know they will enjoy it for years and years.