If you are looking for the very best books for 7 year old boys this is the list for you!
At age 7 boys are looking for books that are exciting, that will keep them interested and that they actually want to read. Parents want these things too!
We found fiction and non-fiction books that he will really get into!
Many boys are getting pretty comfortable with reading at this point though some are still learning to read. It really depends on the child and also whether or not they are in school.
Either way, these are great books for him to read or for you to read to him.
After much decision making I have selected the titles below. I spend a kind of crazy amount of time making my best books for boys lists and this one was no exception.
Choosing "the best" is tough work as there are so many books out there. It takes a while to winnow it down to my favorites.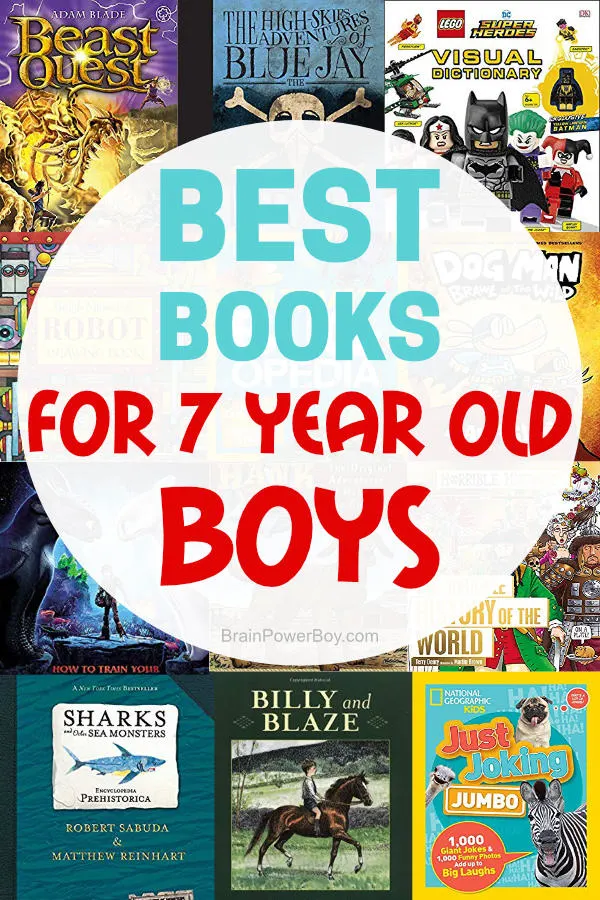 This post may contain affiliate links which means I may receive a small amount, at no cost to you, if you make a purchase through a link. All opinions are my own and I share things I think would be of interest to boys.
Best Books for 7 Year Old Boys
Reading Level
Let me say a few words about reading level. I have been asked to provide book lists by age when usually I actually don't take that into account too much when choosing books for my own family.
However, I know it can be useful so I am providing the list.
Do keep in mine that you can also go to the other by age lists and select books from there as well.
These are awesome for age seven but don't limit yourself to only selecting from this one list either.
That said, do keep in mind different boys are going to read a different levels even if they are the exact same age. Being seven doesn't mean he will automatically be reading at a second grade level.
Maybe he doesn't even read on his own yet, or perhaps he reads at a higher level.
Just keep your own boy and his interests and his personal reading journey in mind while making selections and you will be golden.
The focus should be on instilling a love of reading, not on grade level reading.
Below are my choices for the best books for boys age seven. Enjoy!
Best Books for 7 Year Old Boys
I am sharing both a fiction and a non-fiction section to this list.
Too many books lists for boys skip non-fiction books when they shouldn't. So many boys I know simply love non-fiction much more than fiction books and they are often instrumental in getting and keeping a boy interested in reading.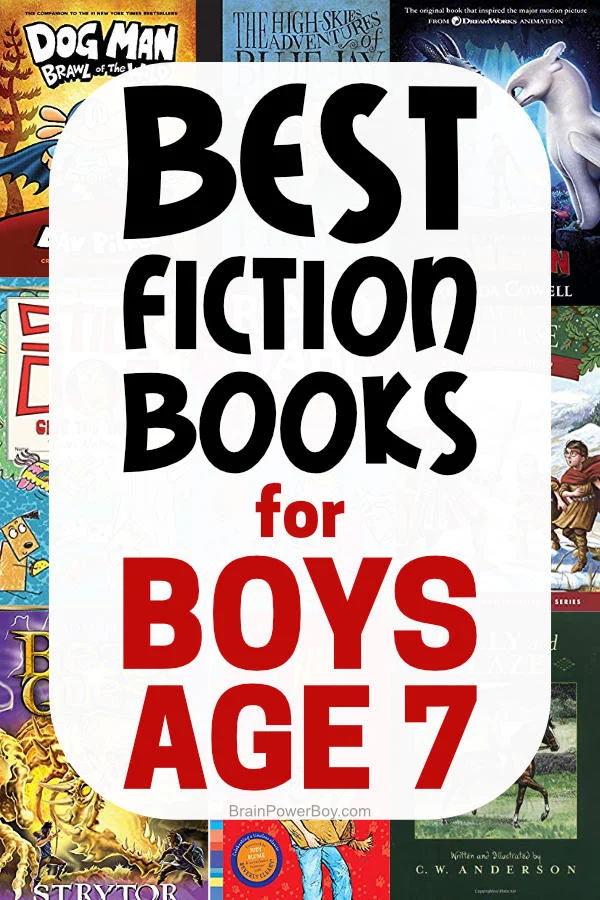 Fiction Books for 7 Year Old Boys
The books below are in no particular order. Get a variety of titles to see which he is drawn to. Also, be sure to get him books of his own to keep and re-read.
The High-Skies Adventures of Blue Jay the Pirate
We shall start with a book that I do not think gets enough attention, The High-Skies Adventures of Blue Jay the Pirate.
This book is all about the pirate Blue Jay and his crew. He is interested in collecting treasure (eggs!) and must do so with peril surrounding him in the shape of crows, fishers and weasels.
The story line also wraps around avian society, taxes, and bans on migration, while at the same time offering up a feast of adventure, a bit of violence, and exciting battles.
The book has nice colored illustrations throughout that let one get to know the characters better and is great for reading aloud.
If your boy is a young seven, or just getting started reading, he may need a bit of help with the book but more advanced readers should plow through it quite nicely.
Stick Dog
The Stick Dog series is super popular with boys this age. They find it very funny and can't wait for the next in the series to come out.
There are currently over 8 books out so if your boy likes one of these, it should keep him reading for a while. The books are based on a nice dog who can read and is the leader of his dog friends. Most of the stories involve food lol
In Stick Dog Gets The Tacos there is an emergency (or is there?,) a family planning to eat tacos, and a whole lot of silliness as the dogs try to get a meal.
Georges Marvelous Medicine
Roald Dahl of Charlie and the Chocolate Factory fame has written a lot of wonderful books with plenty of boy appeal.
George's Marvelous Medicine is one such book. Not only is George able to make a medicine to deal with his annoying and rather mean grandma, but he does so with tremendously hilarious results.
This is not a book with a "nice" ending and those parents who are sensitive may wish to skip it, but if you decide to give it a try, your boys will eat it up!
p.s. I've read this more times than I can count because it was a big hit in our house.
Dogman
Earlier we had Stick Dog, now we have Dog Man. Dogs are pretty popular in books!
The latest Dog Man book is Brawl of the Wild. Dog Man is sent to the pound for a crime he did not commit. What will happen? Will he get out? His friends are trying to help. Dog Man is a hero, he is not suppose to be in the pound.
The inside of the book is similar to a comic book with illustrated panels done in color. Very appealing.
By the author of Captain Underpants, this series is another hit.
Magic Treehouse
I went back and forth on whether to include these in my list. My son didn't like them much. We tried a few but never even finished them. However, the other boys in my boy's book club did really like them so I couldn't ignore that fact. Keeping that in mind, they have made the cut.
I think the key to introducing these books is to start with the first few and see how it goes. The first one is Dinosaurs Before Dark
, and there are knight and pirate themes soon after that.
In one of the latest of many books in the series, Warriors in Winter, Jack and Annie meet Roman Soldiers when the magic tree house sends them back to the early 100s AD. What will they learn while in the Roman camp?
If your boy is a fan of the books be sure to check out the non-fiction titles which go nicely as companions to the fiction books.
Billy and Blaze
We so enjoyed this series of books. Billy and Blaze is, simply put, a story about a boy and his horse.
Written in the 1930s, these books are a treat. They take us back to a time before silly books were all the rage and we get had engaging and wonderful stories.
Trust and understanding, lessons learned, bonding. If your boy likes horses, I'm sure he will enjoy these books. Even if horses are not his thing, I think you should give them a try for a wholesome read.
Where the Sidewalk Ends
I, personally, have slipped in poetry books from the time my son was very young – toddler age. I think they are great for building vocabulary and for enhancing reading skills.
While Where the Sidewalk Ends likely needs no introduction, I will say that it is a title worth owning.
From the crazy illustrations to the silly, and sometimes snide, verses the best thing about this book is that it doesn't talk down to a child. It simply meets them right where they are and helps them learn to love poetry.
Hank the Cowdog
Good old Hank. Hank the Cowdog traveled with us on many a family trip. We used to live quite a ways from my parents and we listened to these on audio while traveling. They made the trips seem to go much faster.
Hank is a ranch dog in charge of Ranch Security. He "thinks" he is in charge of the whole outfit. He gets into more trouble than you can imagine and it is always to very amusing results. His antics are a hoot.
He runs into coyotes, deals with chickens, has to keep in good with Sallie May, has spats with the cat and has to deal with all of the things that go on at the ranch. Oh, and his friend Drover is pretty funny too.
Hope your boy enjoys them as much as we did.
Beast Quest
These were recommended to me by a few different readers who said their boys really, really enjoyed them. These are fantasy adventure books.
Tom is the son of Masters of the Beasts and needs to help save his village and even his kingdom from a beast. All of the adventures feature a different beast that he has to deal with.
Yes, your boy could be reading Harry Potter at this age, but honestly, the books get pretty dark as the go on. This series is age appropriate for those boys who are not ready for the more grown up story line and violence in the later Potter books.
There are a lot of books available (more than 100+.) I grabbed Stryto The Skeleton Dragon to share with you.
The stories are all different though as some point before reaching book 100+ your boy may get tired of them, they are enjoyable and worth a read. The first book in the series is Ferno the Fire Dragon.
Henry Huggins
Henry Huggins has an updated cover but this is the same book I read long ago and also read to my son when he was about this age. Did you read it?
Henry and his dog Rigsby, who gets into trouble often, are charming and delightful yet today. The stories are old-fashioned yes, but that doesn't make them any less good.
Does complaining that "nothing good ever happens" sound familiar? That type of thing is timeless 🙂
Even though boys today tend to spend a lot of time on screens, they will still be able to relate to Henry.
Everything I Know About Pirates
When I introduced this one it was an instant hit and the boys took turns reading all of the little details to each other. That is when I knew this would make one of our book lists.
It was featured in Funny Pirate Books for Boys and I am including it here as well.
Everything I Know About Pirates is highly illustrated with little blurbs next to the pictures. For example, there is a picture of a pirate and he has ragged pants on. The text next to his pants says "pants bitten off by sharks."
The pirate "facts" are very funny!
The Shrinking of Treehorn
Sometimes you find a unique book, bring it home and feel like you found a gem. That is how I felt when I grabbed this off the shelf at the library. We ended up checking it out many, many times.
Then, we moved. And, I couldn't for the life of me find the book again because all I could remember was that it was green and long and had a boy and a TV in it. That is not much to go on! You would think I would have remember more, but that was it.
When I was doing this list I found the book! It is called The Shrinking of Treehorn I am rather excited because I just ordered it so I wouldn't lose track of it again and . . . I get to share it with you today.
It is a quick read about a boy who is shrinking. No one really pays him much mind even though he is obviously getting smaller. In fact, he even gets in trouble for it. Kids (or even adults) who have felt that their concerns have gone unheard will enjoy this.
You may recognize the illustrator as Edward Gorey which is a nice bonus. Plus it is an amusing and clever book with a message about moderation.
How To Train Your Dragon
Before all the hype of the movie and merchandise, came the book. I remember when the book How to Train Your Dragon first came out.
The boy Hiccup is a Viking and he needs to pass an initiation test to capture and train a dragon. Since he is quiet he is thought to be a bit useless and dim (even by his father.) But as we find out he is not dim and being quiet is not a bad thing. In fact, he is clever and smart and is able to figure out dragons like no one else has been able to do before.
The book is very different than the movie as the movie was only loosely based upon the book. This is a good read.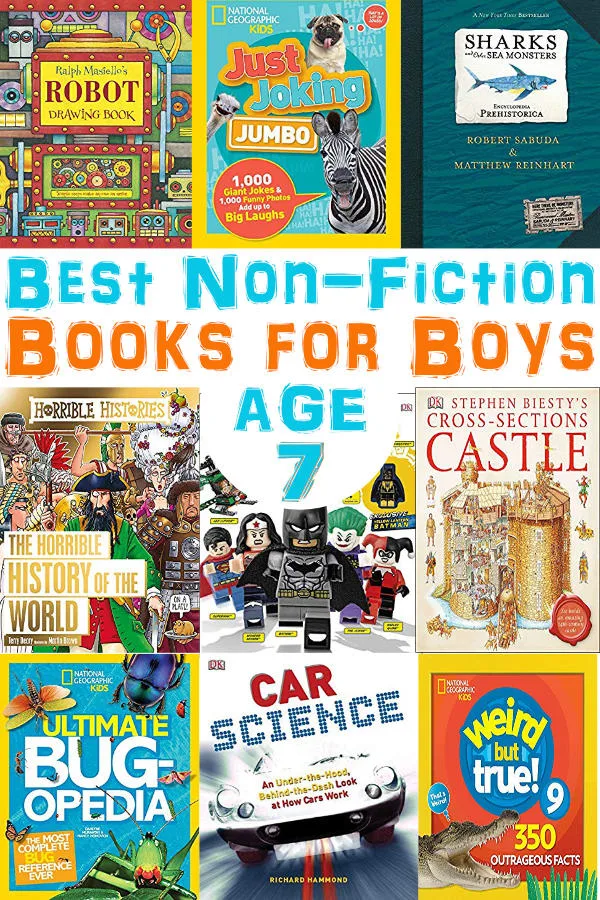 Non-Fiction Books for 7 Year Old Boys
Make sure you grab some of these non-fiction titles!
Drawing Books on Different Topics
I have gone through a whole lot of drawing books over the years.
One thing that always bothered me was that the step-by-step instructions seemed to skip an awful lot of steps. Do you know what I mean?
You are following along and have the basic lines down when suddenly the next step looks like an advanced artist drew it and you have no idea how to get yours to look like that. That just causes a lot of frustration for kids.
This book is a good drawing book.
One that has real step-by-step instructions that you can actually follow. It also has a lot of cool ideas. For example, it doesn't just show you how to make one gauge or switch for your robot, it shows you several, which means you can combine all of the different ideas to make your own unique drawings.
This series of drawing books is the best I have found. I highlighted Robot Drawing Book but you can choose from dragons, bugs, the ocean, farm, dinosaurs, Egypt, Halloween, and Christmas as well.

LEGO Super Heroes Character Encyclopedia
If your boy likes superheroes and LEGO this book is perfect for him.
LEGO Super Heroes Character Encyclopedia has everything from the Superheroes line. These books are packed with all the info they could want about all of the sets, minifigs and games.
Bonus: They always come with an exclusive LEGO Minfig. In this case, it is an exclusive Yellow Lantern Batman minifig.
Note: there are other LEGO character encyclopedias as well so be sure to check those out. There are Ninjago, Nexo Knights, Star Wars and more.
Horrible Histories
Horrible Histories is the series
that got boys who were not otherwise interested in history hooked on reading all about it.
There are books for so many time periods of history that you are sure to find one that your boy will enjoy. I picked The Horrible History of the World because it is a good overview of what the books are like, covers a whole lot of history.
Now, do keep in mind that these books tell it like it is so there is violence, and basically horrible info contained. Boys love these books but you have to decide if you want to introduce them to your boy.
I found them fascinating, and filled with things I never knew, while at the same time rather disgusting and a bit scary to think about what had happened in the past.
There are very good and amusing books if you can stomach them.
Now on to something a bit lighter.
Just Joking
Funny! This is a great book for 7 year old boys as they still like jokes and they love to laugh. There are over 1000 photos/jokes in Just Joking Jumbo and it is super fun to look at.
The photos are fantastic because NG always has great photos. The jokes range from sidesplitters to groaners, which is just the way boys like it.
"Why did the cows travel to space? They were following the Milky Way!" lol
Professor Astro Cat's Frontiers of Space
A smart cat with a super way of explaining things presents the facts on space.
In Frontiers of Space we get to explore gravity, extraterrestrial life, time, stars, galaxies and a whole lot more all in an easy to understand way.
I am in love with the retro illustrations by Ben Newman which help explain things visually.
Space fans or those interested in science should find this one very intriguing.
Ultimate Bugopedia
Why do boys like bugs so much
? I guess they are fascinating and interesting to them.
They call this the most complete bug reference ever and I would say that they are on to something there. While I'm sure there are academic books with more details, this is the best bug book for kids.
Ultimate Bugopedia has over 400 photos, covers everything they will want to know about insects, insect species, and includes photo galleries as well. It is very well done and a good one to add to your home library.
High Interest Books for Boys
Encyclopedia Prehistorica Sharks
The Encyclopedia Prehistorica Sharks also features other sea monsters and is an incredible pop-up book.
When I first saw this book I was amazed at the detail. The pop-ups will delight and the info will entrance. We love these books (there are also dinosaur and mega-beast versions.)
There is one main popup per two page spread and then flaps on the side to open on some of the pages as well. Go take a look and see what you think.
Oh, I should note that this book is not cheap, but it is worth the price. I consider it to be a gift book.
Adventures in Cartooning
If you have a boy that has any interest whatsoever in either drawing or comics, give this one a try.
It is what I guess I will call an instructional writing manual. That sounds boring, but it is not boring in the least.
As the amusing story goes on you learn how to draw your own comic book. The main character is a princess so if that is an issue, skip it, but it is really good.

DK Children's Encyclopedia
When I decided to write by age book lists, I also decided that each one should include an encyclopedia. Why? Because I feel strongly this is the type of book that every home should have.
There are different encyclopedias for different ages and also some focused just on one topic. This is a good overall encyclopedia that covers all the things a 7-year-old boy wonders about.
DK Children's Encyclopedia will help you answer all of those "why" questions and if you leave it laying out, I'm sure it will get used to satisfy curiosity. Go use the "look inside" on Amazon. Worth getting.
Cross Sections Castle
We own
Cross Sections Castle and several other Steven Biesty's Cross Sections books. They are all good. David Macaulay's Castle book gets more love from people overall, and it is very good, but for this age group, I like this one better.
It talks about how a castle works, the lives of the people inside, the enemies and pretty much everything you can think of surrounding castles.
The cross-section drawings are amazingly detailed and next to the drawings are always plenty of facts to satisfy even the most interested castle fan.
One fun thing is that there is a spy hiding in the pages and you need to find him as you work your way through the book.

The LEGO Idea Book
Have a LEGO fan? Get The LEGO Idea Book (I could stop now because you really should just buy it.)
This is one of my favorite LEGO instruction books. It covers transportation, buildings, space, kingdoms, adventure, and useful makes. Perfect for boys!
There are plenty of building tips, as well as a whole lot of LEGO eye candy to behold.
Weird But True
There is a series of Weird But True books to check out. I grabbed the latest version available when I was writing this but have linked to all of them so you can choose which one you like.
These are packed with hundreds of oddities and unusual facts that boys will love.
Great images as always from National Geographic and a very approachable format that is perfect for low level readers. Boys of all ages love these so no matter the reading level they will enjoy them.
Here are a couple of quick examples: "Some types of algae eat themselves when food is scarce." and "A spider in Australia breathes underwater and eats toads."
My only complaint is that they don't say what type of algae or what spider. Those can likely be looked up if the interest is there and that teaches them how to do a bit of research so overall I let that go and just enjoy the books.
Car Science
Car Science: An Under-the-Hood, Behind-the-Dash, Look at How Cars Work is just that. It is a complete look at everything they need to know about cars.
From moving out of travel by horse, to modern cars and their engines, this book is a cornucopia of car information all presented in a way that can actually be easily understood.
My favorite part is how the illustrations and images help you understand the concepts. For example, when explaining 135 horse power, they have a picture of 135 horses which lets you visualize what how powerful that can be. They also make visual comparisons with piston power between a lawn mower and a motorcycle. Great!
Conclusion
That is all we have right now for the best books for 7 year old boys. I hope you find some incredible books to share with your boy.
If we find more titles that we love, we will be adding them in over time so that this list grows.
One thing I really want to emphasize is how important it is that you keep reading to your boy as he gets older. If possible, also spend time reading side by side. You read your book, he reads his.
Spending time reading as a family shows him that you really do value reading. You are not just saying that it is important for him to read, you are showing him that it is important for you as well.
Enjoy!
If you would like even more choices try:
Best Book Series for 5 – 7 Year Old Boys