Here are some math card games that will help your kids learn math–and they are fun! A deck of cards and/or some card games easily become math games that kids will enjoy.
Math seems to be an issue for a lot of people. Yet, we need to be able to use math in our everyday life and some of the best jobs require advanced math.
Playing games is a great way to learn some math in a natural way.
Check out these really fun math games to see if you find something you have not played in a while or something you would like to try.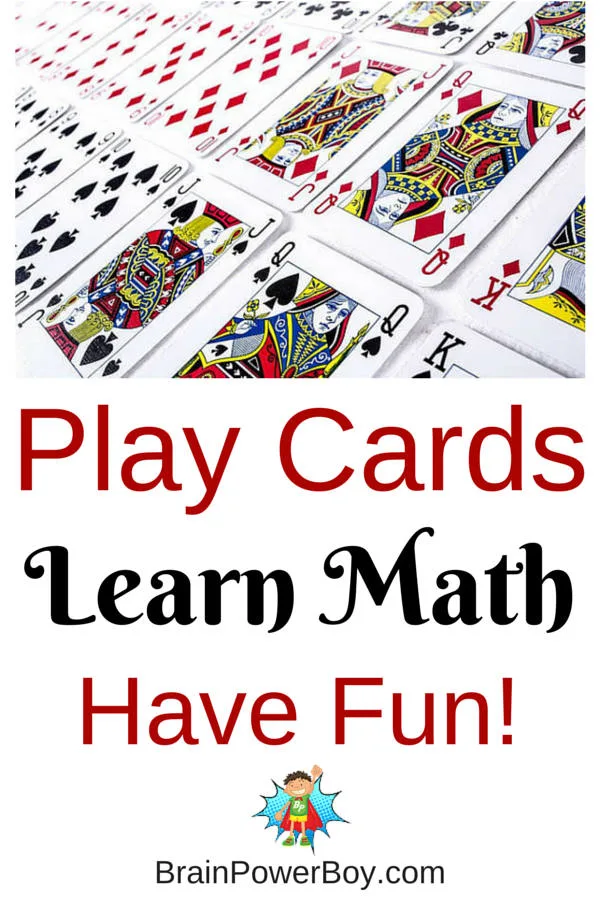 This post may contain affiliate links which means I may receive a small commission, at no cost to you, if you make a purchase through a link. All opinions are my own and I never recommend things unless I think they are great for boys. Thanks for your support!
Really Fun Math Games: Math Card Games
We enjoy playing games at our house. Playing card games kind of goes in streaks. For a while we are not playing cards at all and then suddenly we are playing several games every day.
For boys who are into math they can check out the mathematical analysis of several games below.
Math Card Games to Play with a Deck of Cards
As some of you know, I am not a fan of b.o.r.i.n.g. educational games. The game has to be enjoyable or we are not playing it. Just messing around with playing cards allows for a natural learning experience.
We are rather fond of War, and Cribbage, and I played Canasta throughout my life and it is my all-time favorite card game. Playing games is a great family activity and I hope you will add some of these math card games to your family game night.
For more games ideas take a look at the article we wrote on great games to play for math that includes great classic board games to use for math and mathematical analysis of several games.
Remember that the reason to play games is to have fun–learning a bit of math along the way is a bonus. Break out the cards tonight and deal out some fun.
Try LEGO Math Games for more ideas.