There are some awesome math games to play that help kids learn math while having fun. Honestly, this is a wonderful way to introduce and nurture an interest in math.
Math was not my favorite subject in school! What about you? Yet, developing a positive feeling toward math is important as basic math is used throughout our lives. I don't want my son or any child to say "I hate math!" It just shouldn't be like that.
So, to combat possible math hate, we use a few different ideas to try to get across positive feelings regarding math, like really fun math games. Keep in mind that board games are only a good choice if they are indeed enjoyable and not just "educational." We tried a few of those but they didn't really fly (see my Smath story below.)
Try some new games with your kids. It will be a lot of fun for the whole family and you will be brushing up on math skills too!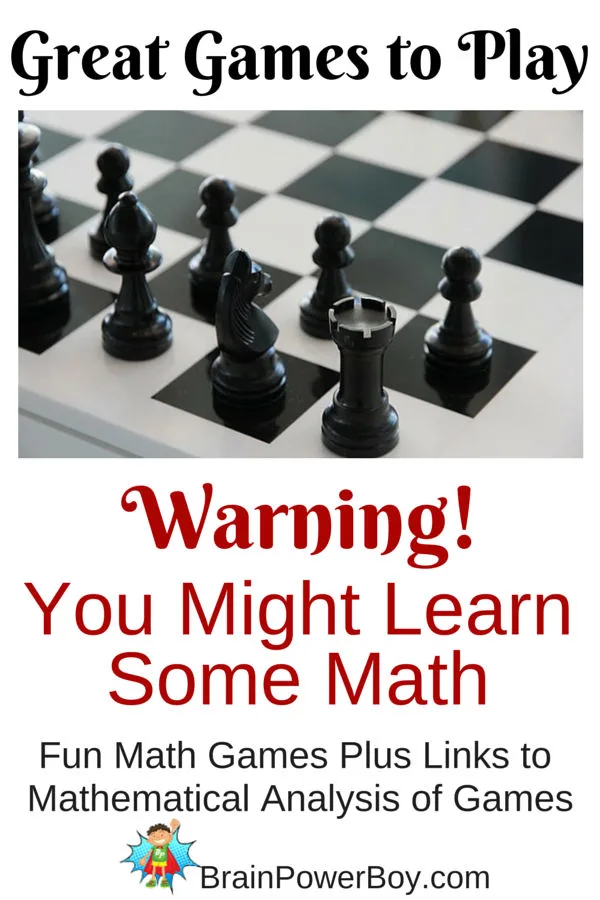 This post may contain affiliate links which means I may receive a small commission, at no cost to you, if you make a purchase through a link. All opinions are my own and I never share something unless I think it is great for boys. Thanks for your support!
Board games can be a fun family activity and a natural way for your boy to work on his math. If you have older boys you may both enjoy the links to some neat sites that did mathematical analysis of some of the classic games listed here. Even younger kids may enjoy looking at the graphs and symbols that relate to a game they know well.
Math Games That Encourage Learning
Chutes and Ladders is a great math game to start with for young boys. It is fun and includes basic moving and counting, number recognition and is played on a 10X10 gridded board. Older boys may enjoy this mathematical analysis of the game they played as when they were younger.
I remember playing Rack-O with my grandma for many hours. Who knew I was learning! Put the cards in sequence and add up your score. Great for strategy, number order, and sequencing.
Shut the Box is a classic math game. After rolling 25 times and still not getting our numbers we ended up shelving this one. Addition, multiplication, and practicing mental math all happen when playing. Just because we don't like it doesn't mean your son won't. I picked it up at a garage sale for 50 cents so I don't feel too bad. We use the box and the dice to make our own games. I put it on the list because I happen to know people who love this game—go figure! The linked game is beautiful and would make a nice gift for someone who did like this game.
Scrabble for math? Yes! It is a word game but remember that all of the tiles have values, as do certain spaces on the board. You have to use strategy and learn where to place your tiles for the best word scores. This is really great to use with boys who love words but are not so keen on arithmetic.
Chess. If you have not played chess because you think it is too hard, please change your mind and give it a try. The basics of chess are very simple to learn and there are sets made specifically for beginners. My son loves to play chess and taught me now to play (yup!) I now enjoy the game as much as he does—even though I often lose—to him. Chess uses logic and strategy and is played on a gridded board. Here is an interesting article on chess and mathematics.
Mastermind is a logic puzzle and game rolled up into one. Pretend you are a spy and need to get through a locked door. We enjoy breaking the codes. Do you remember this game? I had not played it in years but got the game again to play with my son. Check out this neat post telling more about the mathematics of MasterMind.
Yahtzee is another fun classic. You can pick this up cheap online or at a thrift shop or rummage sale. As far as math games go, addition, multiplication and prediction all come into play which leads to learning. Cornell University put together an interesting article on Yahtzee which includes advanced strategies and a few problems to try to solve as well. They are fun for math geeks to try.
Connect 4 is a winner. My son and husband played many rounds of this game yesterday and it is always a lot of fun. Logical thinking is needed to play but it is so simple, everyone can have a go. The link is to the classic version, which we prefer, but you can pick up a newer version of this game on the cheap or at a garage sale.
Pass the Pigs is over 25 years old and is a very popular math game. Who knew!? Several schools use this game to teach math concepts of probability and others are using it for a beginner programming class. (see our coding series for more programming ideas!) See this post of an analysis of the game.
Monopoly and/or variations of Monopoly are great for learning about money, budgeting and probability to name a few. We have a local monopoly game, Fishinopoly and Bookopoly (apparently we need all three–lol.) They have all gotten a lot of play at our house. Monopoly fans will enjoy this slide-show about how to use math to win, or as the author says—"crush your friends, at monopoly."
Farkle is an old folk game with unknown origins. Kids learn a bit about place value and addition, and how to do mental math. If you like, you can check out articles here and here on Farkle and probability, and bring that into the conversation.
Why "Educational" Math Games Didn't Make Our List
I am well aware of Smath and other math games such as Equate. So . . . why didn't they make our list of games to learn math? I'll tell you why! Most of them "stink" or are "lame." (just passing along comments from several boys here!)
In a moment of weakness I bought 'Smath—not sure what I was thinking! I guess I thought it would be a fun way to get in a bit of math learning. Well, my son hated it, and didn't think it was fun at all. To be honest, I didn't enjoy it either. We would much rather play Scrabble or Chess.
There are a lot of very expensive "educational" math games out there that are (just being honest here) b.o.r.i.n.g. and not at all fun for kids.
Yes, I do know people who like these games and think they are great but most of the boys I talked to don't like them. The classics are classics for a reason! 🙂
You don't have to pay $25.99 for a boring educational math game! I think you can get a lot of mileage out of the classic games that many people already have in their homes. Grab the math games suggested above on Amazon, at a thrift shop, find them at a rummage sale, or see if someone you know would let you borrow one to try it out.
Even though your boy might improve his math by playing these games or find the mathematical analysis of the games interesting—play these games to spend time together and have fun. Learning basic math really can happen in a very natural way!
Here are some math card games to play as well.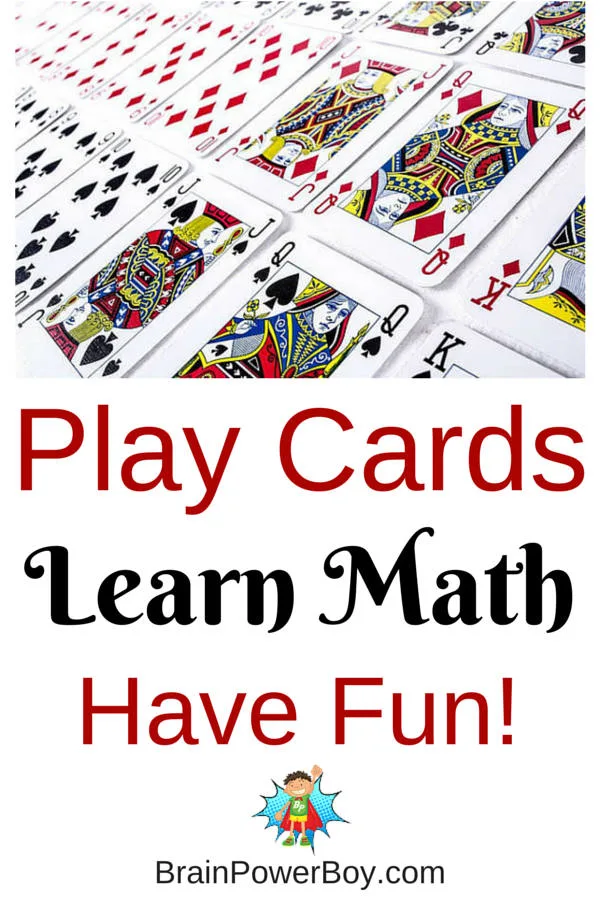 What games do you like that have helped your boy learn a bit of math while having a good time?