Homeschool boys need totally cool, not back to school tech gear to help them learn! We rounded up some very neat tech learning items that you totally have to check out.
Just because a boy is not going "back to school" doesn't mean we shouldn't think about some awesome gear to make his learning this year more fun, more interesting and, most importantly, more valuable. This tech gear guide for homeschool boys will give you a lot of good ideas.
Take a look and find some things your boy would love. Then surprise him with them when your school year officially starts, or any day of the year if you don't follow a school-year schedule. You can also take a peak at our gift guide for boys page for more ideas.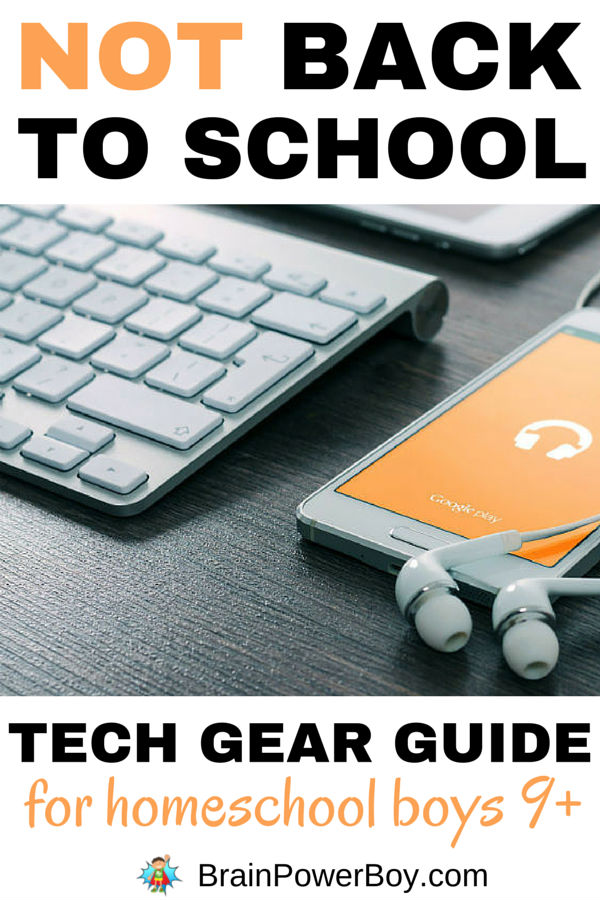 This post may contain affiliate links which means we may receive a small commission, at no cost to you, if you make a purchase through a link. All opinions are our own and we share things we think would be of interest to boys.
To take LEGO up a notch try LEGO Mindstorms EV3
or the LEGO® MINDSTORMS EV3 w/ Sensors
for programming and robototics. This is one great "toy" with a community of enthusiastic people trying new and exciting things, and sharing what they are doing so your boy can do it too. Worth the money.
What is super rugged, waterproof, takes pics and video and will get your boy outside and moving? The GoPro HERO Starter Bundle
! The price on this neat camera is reasonable and it is one nifty thing to get for your boy. Consider this – boys like tech. They like being on the computer. This is the perfect device. Making video (outside!) and then working to create some different types of presentations, YouTube vids and more makes this a great learning tool.
Fitbit Flex Wireless Activity Wristband
is a tool for keeping track of activity and sleep. Have your boy use it to track activity and try to beat his records and to create charts and graphs – throwing in a little practical and useful math is always a good idea. Pair it with apps to do even more.
While he is out and about he can be listening to audio books and podcasts. There are podcasts for just about any subject he is interested in. Try an iPod Nano if he doesn't have a smartphone.
Does your boy like fiddling about with electronics? Order this Raspberry Pi kit (Raspberry Pi 2 Complete Starter Kit with WiFi
) and he will be thanking you again and again. Once you have this kit there are a lot of different projects you can do. Here are a few examples.
If he is not fond of Pi – you could try The Arduino Starter Kit .
This kit is a bit more expensive but has everything you need to do a lot of projects and includes a 170 page project booklet.
See this article for info on deciding which platform is best for your boy. Let him read the article and look at the different projects to decide which he would like to try.
I like the idea of the littleBits
 and if you can afford them you should get them. I have heard they are awesome. We have the Snap Circuits SC-300 Electronics Discovery Kit
. It is much more reasonably priced. We really enjoy this set and get it out every once and a while to play around with the projects and try to build our own. This set has over 60 pieces and you can build a radio, a doorbell, use switches etc. There are a lot of projects and tweaks to the projects featured.
Have you seen Ozobot
? This little (and it is indeed little) robot is so neat. What I really like about this choice is that while it comes with an app it also is hands-on. Ozobot follows colors on either a tablet or a piece of paper. You can code him by using different color combinations. Watch the video below for more details.
This is a neat little invention from which boys can make their own neat little inventions – gotta love that! Makey Makey
 turns about anything into a keypad.  I would try to explain but you are really better off clicking through and watching the video located on the left hand side of the page.
Build your own remote control vehicles. I don't know about your boy, but mine really enjoys remote control vehicles. With this Remote Control Machines
 set you can build up to 10 different models that move. Be sure to suggest he use his imagination to build many more.
The Plugable Handheld Digital Microscope 
plugs right into a USB 2.0 port and provides 10x – 250x magnification. If your boy likes science this is an inexpensive tool that he will enjoy using. Click through the link and take a look at the second video under reviews to see the possibilities. It does a great job for a starter digital microscope for kids. Bonus – it takes pictures.
Last year I got my son a tablet and it has been a wonderful tool for him to use. It was so fun to see his face when he opened the package. He had no idea he was getting one – gotta love surprises! This is the next tablet we will be getting once ours dies. We bought a Nook tablet because they were much more reasonable but now it is no longer supported and we are finding that we can't get the latest apps. Stick with a sure thing and go for the iPad Mini 3
.  Apple has a lot more educational games than Android does, by far.  We often see games we would like to try but they are only available for Apple devices.
Check out Fun Math Video Games and Apps for Boys and Coding Apps
This is a seriously cool way to add some tech to your home – your whole family will love it. Have you heard about Echo
? I was listening to the radio and they were talking about this device. It sounded so neat I had to check it out. I am very keen on trying this as a tool in our homeschool. You can ask it questions so if you are working on a project you don't have to stop to go to the computer and look things up. You can also ask for help spelling a word or getting a word definition. Plus it plays music, checks the weather and so on. It is giving me flashbacks of watching The Jetsons cartoon lol.
When deciding what you are going to purchase . . .
Look at your son't interests
Find things that match his passions
Look at the types of things you would like to see him learn in the future.
Throw in a surprise item or two that are just simply cool
Do that and you will have a great selection of things for you and your boy(s) to use throughout the coming years.
Make some choices from this tech gear guide for homeschool boys and get your school year off to a great start.
Here are a few articles from my friends:
Do you have younger boys?  Do you have a homeschool classroom? Take a look at this article for ideas to rework it for the start of the school year. Find wonderful inspiration in this Montessori-inspired homeschool classroom.
If you are looking for a way to help your kids stay organized this school year try these student planner printables from Scattered Squirrel.
I need new lunch ideas so was happy that the Super Mommy Club put together an awesome collection of ideas for all of us, in fact she has one whole month's worth of school lunch ideas… with no repeats!