Here are some unique dollhouses for boys!
I recently saw a couple of very different types of dollhouses and decided I really needed to cover them as they were so neat. So here they are!
We are fond of wooden dollhouses and so will focus on those once again. They are totally worth the money. Buying a dollhouse for your boy will provide him with years of open-ended play opportunities. I highly recommend getting one for your boy.
Check out our gift guides for boys for other fun play and learning ideas.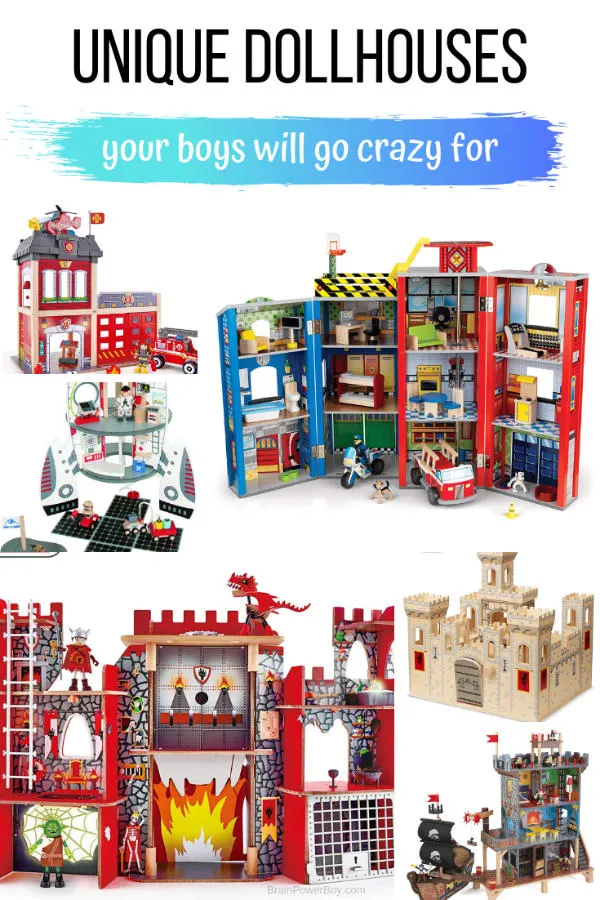 This post may contain affiliate links which means we may receive a small commission, at no cost to you, if you make a purchase through a link. All opinions are our own and we share things we think would be of interest to boys.
Unique Dollhouses for Boys
The house styles change often and many get discontinued. If you see a house that is the perfect fit as your boy's dollhouse, I would suggest you go ahead and buy it before it is gone.
I will do my best to keep this article up-to-date.
Be sure to stop by our first article so you can see the tips for buying the best dollhouses for boys. We cover various considerations that you should take into account before making a purchase, as well as more houses.
Space Station Dollhouse
Oh boy! We found a new boys dollhouse that many of you are going to really like! This Space Discover Center is made by the popular Hape company. So perfect for boys who love astronauts and all things space.
Shaped like a rocket, this house features a 37 piece set that comes with the 4 level space center. Includes land rover vehicles, 2 astronauts, robot, cart, working elevator & even an alien! Go see it. There are so many details I can't list them all here.
I really like the awesome artwork backgrounds on this set and think your boy will too. It adds so much to the feel of the playset and I'm sure it will be included in the stories he tells.
Bonus! The top comes off so they can use it like a spaceship. How cool is that?
Solid wood construction of Baltic Birch from sustainably sourced forests. Space Center dimensions are 18.8 x 18.8 x 29.1 inches. Weight is 8.16 pounds. Ages 3 and up.
---
Pirate Cove Dollhouse
Seriously cool!
The Kidkraft Pirate Cove Playset Boy Dollhouse is one pirate fans will not be able to keep their hands off. I wish they had this when my son was young!
Not only do you get the play dollhouse but it even comes with its own ship. it is a nice sized one too.
The playset includes two cannons which have sounds and lights with the push of a button. The treasure chest lights up as well. It also has a rope ladder, a moving crane and even a jail cell! There are 4 pirates, some furniture and some crates to use with the crane.
This house is made of composite wood and is strong and study for plenty of years of pirate playtime.
Pirate Cove dimensions are 12 x 12 x 25 inches. Weight is 14 pounds. Ages 3 – 8 years.
---
Eco Green Dollhouse
Those of you who are eco-conscious will love house. Plan Toys The Green Dollhouse with Furniture has so many features you will like.
It includes, a wind turbine, solar cell panel, rain barrel, an electric inverter for electricity, biofacade for shading, and recycling bins. There is also furniture and accessories.
You will need to order dolls for this house as none are included. But they have some neat ones and they are not too expensive. Another great addition to this set would be the vegetable garden, which I absolutely love.
The house is made of organic rubberwood and other non-toxic natural materials. It is well-made and sturdy. Plan toys makes wonderful, high quality dollhouses.
The Eco Green Dollhouse dimensions are 3.7 x 21.6 x 28.4 inches. Weight is 17.66 pounds. Ages 3 and up.
---
Heroes Dollhouse Play Set
There are two versions of the Heroes Play Set Dollhouse by KidKraft.
The first is Hometown Heroes and is pictured above. It has 24 accessory pieces including furniture, a police motorcycle, fire engine and helicopter, two dogs and two hero figures.
It has a few neat features to set it apart including siren sounds, lights, firefighter pole and an elevator.
This unit is stationary. Hometown Heroes dimensions are 36.2 x 17.6 x 7.4 inches. Weight is 27.1 pounds. Age 3 and up.
The other version (not pictured, click link to see) is called Everyday Heroes and it is a fold-up set. Because it folds up smaller it would work well for those who have less space to leave a big toy out all the time.
It does not light up or have sounds, but it is less expensive and the accessories are similar to the other one.
Everyday Heroes dimensions are 38.2 x 14.9 x 25.8 inches. Weight is 22.2 pounds. Age 3 and up.
Fire Station Dollhouse
I found a really wonderful fire station dollhouse.
If you have a boy who gets excited when they see a fire truck or if you have to make frequent trips past the fire house, you will have to check this one out – your boys are going to love it!

I really like this Hape Fire Station play set because it has a push button alarm that also lights up. They are the blue and red lights at the top of the tower. You know that is going to get used a lot!

There is a fire pole for the fireman to go down. He has a dalmatian puppy which is a great touch. The set includes a fire truck and helicopter as well as other accessories. I was disappointed that it doesn't include a bed but you can likely make or buy one that will fit.

The inside walls are decorated, which makes it more realistic looking. They can tell a lot of stories with this house. It is a good value for what you get.
Hape Fire Station dimensions are 24.4 x 4.7 x 18.9 inches. Weight is ?? (Amazon lists the item weight at 3.97 pounds but that is not likely correct. The shipping weight is 11.65 pounds. I am guessing it is somewhere around 8 pounds or so but I cannot say for certain.) Age 3 and up.
There is another fire station in this post.
Folding Castle Dollhouse
For nice large castle try this Deluxe Folding Medieval Castle.
It features a neat dungeon, a working drawbridge, towers & balconies, arched walkway & removable turret and even a trap door!
It is a good size and folds out allowing play from both sides. When they are done playing, it folds back up for compact storage.
This is a very nice castle that is perfect for boys who like knights and all things medieval! It is rather charming.
It doesn't come with any accessories so you can get this set with royal family, noblemen, jesters and two horses.
Medieval Castle dimensions are 20.2 x 18.6 x 15.3 inches. Weight is 11.4 pounds. Ages 3 – 6 years.
See also the smaller version of this castle in our other dollhouse article here.
Hape Vikings Castle
Oh my! This one reminds me a lot of our Playmobil sets which have gotten so much use over the years, but it is wooden. I love it.
The Hape Viking's Castle is newer than some of the other houses so it doesn't have as many reviews. What we can rely on here are that the reviews so far are very positive and that Hape makes wonderful, high quality toys. With that in mind, this castle made our list.
Where do I even start telling you about all the cool things about this one?! First let me say that what you see in the picture above is the back of the set. The front is, dare I say, even more impressive!
Moving on with the goodness, there is plenty of interactive features: a drawbridge which opens by turning a wheel on roof, a dungeon, secret chamber, and a trap door.
The castle comes with a viking (of course!) a dragon that can be ridden and an green troll. The dragon egg and spider web glow in the dark. The interior has multiple rooms with castle stone and amusing scenes. It folds up to save space.
Viking's Dragon Castle dimensions are 34.2 x 9.8 x 20.9 inches. Weight is 10.36 pounds. Age 3 and up.
We have so enjoyed our dollhouse over the years. As my son grows, I go through toys and give some away, but our dollhouse is a keeper.
I will never give it away but will pass it down to his children when he has them.
I hope you found the perfect unique dollhouse for your boy!