Looking for the best educational toys for 2 year old boys? You have come to the right place! I pulled together the best learning toys that boys age two will really enjoy.
Brain Power Boy is all about fun learning!  Do not think that because a toy is fun that they are not learning from it.
Play is one of the very best ways young boys will learn so providing a lot of high quality toys and good play opportunities is key.
There are NO boring toys here, guaranteed!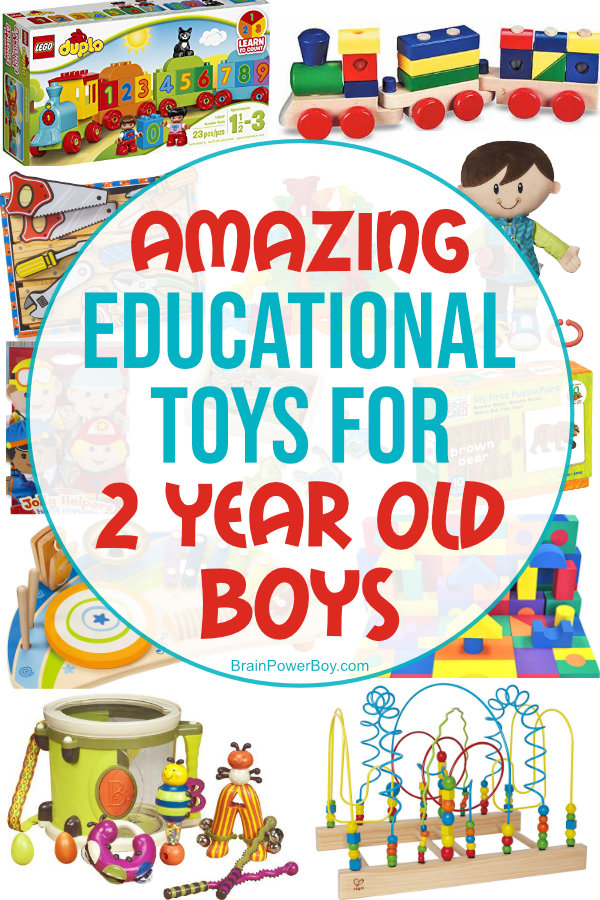 Best Educational Toys for 2-Year-Old Boys
I suppose you are wondering . . . What are the best educational toys for boys age 2?  I'll tell you.
They are toys that your boy will want to play with again and again because they are engaging and fun. They are toys that help them develop in an age-appropriate way and they really get their minds working.
We list our favorites below. They are the type of toys I bought for my son and for gifts over the years.
They are all wonderful, you just have to decide which ones to get!
LEGO Duplo for Boys Age 2
Duplo is a perfect educational toy for 2-year-old boys, because not only will they learn about building, but the toys will grow with them.
This is one neat way to learn to count!
What little boy doesn't love trains?!
This Duplo train has 10 numbered blocks so they will be learning their numbers while playing.
The train has the cute blue and yellow engine as well as an engineer and three cars. There are a few additional blocks thrown in as well for a total of 23 pieces.
Every little engineer is going to love this toy!
TIP!: DUPLO actually connects with regular size LEGO bricks so be sure to keep it and add LEGO to your collection as your boy grows. Read more about deciding on DUPLO here.
Here are some additional sets that you should consider:
Deluxe Box
Education Animal Bingo 
My First Rocket
The DUPLO Deluxe box comes with 120 pieces and includes a boy, and a cat figure, plus bricks to build a house, a treehouse and even a boat. There are a lot of building and story-telling opportunities with this set!
The Animal Bingo Game has cards that you can use to play the game or as a building guide for the cute animals.
A seriously stellar, and inexpensive, rocket is our last Duplo pick to learn numbers and do some beginning building.
Mega Bloks
If you, or the person you are buying for, prefer Mega Bloks try one of these sets. We had both DUPLO and Mega Bloks because they are different and allow the child to build different types of things.
Deluxe Building Bag 150 Pieces
Build 'n Learn Table Building Set
ABC Learning Train Building Set
The bloks bag has enough pieces to allow for creativity.
The learning table is a hit with reviewers but you will likely want to buy extra bloks if you get it.
The train features the ABCs (they also have a number train here) which LEGO used to offer but discontinued. So if your little one is interested in letters, this is the one to get!
---
The Best Puzzles for 2 Year Old Boys
I am highlighting the chunky wooden puzzles and the sound puzzles because they were both favorites in our house and I always choose these for gift ideas.
Chunky Puzzles
Wooden Vehicles Puzzle
Wooden Tools Puzzle
Wooden Construction Puzzle
Click on one of the puzzles above, or click to see all of the different themes of chunky puzzles, which are wonderful for little hands.
Sound Puzzles
Zoo Animals Sound Puzzle
Around The Farm Sound Puzzle
Vehicles Sound Puzzle
Click on one of the puzzles above, or go here to see all of the different sound puzzles, which are a huge hit because they make the sound of the piece.
Matching Puzzles
My First Match It, Head and Tails
Eric Carle Brown Bear Pairs
My First Match It, Dinosaurs
These matching puzzles are just right developmentally for a 2-year-old. The My First Match It series of puzzles have self-correcting puzzle pieces which means that they can't put them together wrong.
There are multiple pounding toys on the market that take the classic pounding toy to the next level.
This is my top pick.  It is colorful, wooden, and has ramps for the balls to roll down.
The Deluxe Pound and Roll Tower is a "hit" with boys! 😉
They love to pound the balls in, watch them roll down the ramp and grab them to start the process over again.
Honestly, this is a high-quality toy at a surprisingly low price.
Here are two additional pounding options worth looking at.
Deluxe Pounding Bench
Bench with Slide Out Xylophone
---
Musical Instrument Toys for Boys
Mighty Mini Band Wooden Instrument
This is our top pick for musical instrument toys.
Boys will LOVE banging on this wonderful percussion set and making music.
It features a drum with durable plastic that reviewers say can take a beating, a xylophone, cymbal, guiro, clapper and of course drumsticks.

It is both colorful and durable. Read the reviews and learn more here.
If this was around when my son was young, I would have made this my top musical purchase.
Play & Learn Drum & Instruments
This is similar to the musical toy my son had when he was 2. I still really like it a lot.
It comes with what you see and the container is a drum with a handle so they can walk around and play it.
We used this toy SO often.
It was a big winner in our household which is why I can easily recommend it as a top musical toy for boys.
The nice thing is that it was played with for many years.
Dolls for 2 Year Old Boys
So many boys love their dolls! I wrote a whole article showcasing the best baby dolls for boys. Please take a look if you are interested in buying a doll for your toddler boy.
Learn to Dress Pirate
Learn to Dress Boy Doll
Learn To Dress Monkey
These learn to dress dolls that feature buttons, zippers, laces for tying shoes, and more. Perfect for boys who like to do something with their hands and also as a friendly companion!
Activity Cubes and Bead Mazes
Next up is a selection of activity cubes and bead mazes.
Country Critters Wooden
Activity Play Cube
Tunnel Mountain
Wooden Bead Maze
Wild Safari Adventure Center
Activity Play Cube
I chose the best ones for this age group as some were for younger kids and didn't have a lot of depth to them, and others were poorly made with bad reviews (no one wants that!)
After a lot of research, I picked only 3 cube but they are all winners.
Building Block Sets for Boys Age 2
I found this big block set and had to add it to the list.
They are made of foam and are soft yet hold their shape for building.
This colorful set has a surprise bonus – it can be used in water as well!
What I think most will really like is the number of pieces. Some sets are too small to really do much building with but that is not the case here.
This set has plenty of pieces so they can build whatever they can imagine.
Other good block set choices are shown below.
Wood ABC Big Blocks
48 Piece Alphabet Blocks
Maple Wood Building Blocks
50 Piece Shapes and Sizes
JUMBO Extra Thick Cardboard
40 Building Blocks 3 Sizes
Stackers and Sorters for Toddler Boys
We couldn't forget the stackers and sorters! These are such popular educational toys for 2 year old boy toddlers. I found a classic stacker and a classic sorter if you would like one of those.
But, I also wanted to find some that were a little more unusual. Those that offered more play value and learning opportunities for shapes, colors and problem solving skills.
3 Rod Geometric Stacker
Personalized Stacking Train
Geometric Sorting Board
Shape-Sorting Dump Truck
Funny Monkey Pegs & Pegboard
Shake Sound Shape Sorter
The wooden stacker above has 3 rods and various colored shapes. This one makes kids think a bit more before staking them all up. I really like it and so do over 500 reviewers.
My mom got the train for my nephew last Christmas and it was a hit.  It comes in either the personalized version or the standard version.  Little boys will love this toy train gift!
The other item I want to highlight is that adorable shape sorter dump truck!  I just love that it comes with workers as well. They can use this to sort shapes, play and tell stories. So unique and inexpensive as well.
Plus, be sure to check out the other options as well. Simply click the pictures to see them.
Magnet Sets and Board for Storytelling
Little boys love stories and using magnets you can help them tell their own. These are a top gift choice and I often give the board with a couple of magnet sets so they can jump right in.
Magnetic and White Board Easel
Double Sided Magnetic Children's Easel
I only found one magnetic board that is rated for age 2.
There are a lot of other boards here that you can choose from but I tried to keep this list to toys that are rated age 2.  The reason the other boards are rated 3+ likely has to do with the magnets they include with the boards.
Get this board that is a combination white board and chalkboard.  The chalkboard side is magnetic.  This is very similar to the easel we still have today.
Pair it with a few magnet sets below for a wonderful imaginative gift idea for your two-year-old boy.
Magnet Sets for Boys
Wooden Vehicle Magnets
Crazy Animals Magnetics
Wooden Dinosaur Magnets
Wooden Animal Magnets
Farm Magnetics
Wooden Farm Magnets
I would love to play with the crazy animal set myself lol! It features fun and crazy looking animals that are in 3 pieces so you can mix and match to make silly animals to your hearts content.
We had the vehicles, though the design has changed somewhat. Vehicle magnets were a hit not only for the magnet board and storytelling, but for vrooming around on the floor!
We also had the dinosaurs, the animals, and and a similar farm set.  Did I mention I really, really like these toys!?
Best Games for 2 Year Old Boys
Let me tell you, it is not all that easy to find games for kids under age three!
It took me a long time to round up some that were good enough to put on this list (I'm picky!) Here are my selections.
They are all great introductions to game play that are age appropriate and packed with both fun and learning opportunities.
Seek-a-Boo Game
Where's Bear? Hide-and-Find
Orchard Cooperative Game
Seek a Boo is a seek and find memory game (an easier version of a traditional memory game) with BIG laminated cards which gets kids moving around a bit while they play. I like that about it.
Where's Bear? is super cute. Click through to see the whole game as the box doesn't do it justice. It is a stacking block game where you have to hide, and then find, the little bear while learning spacial concepts and problem solving.
Little Builders is a block building game for toddlers. Isn't this perfect for little boys?  You have to help Matt build the items on the cards.
Roll and Play Board Game
Wiggle & Giggle Movement Game
First Orchard Cooperative Game
The Roll & Play Board Game is all about action. There is color matching and performing simple tasks based on the card which has both a picture and text, and gross motor involved.
If you have a boy who would just love to Monkey Around you have to check out this game! A great gross motor game that also includes vocabulary, hand-eye coordination and imitation.
First Orchard is a old classic game from Germany. It includes shape and color recognition as well as learning to follow rules. If you don't want to play with rules there is a free-play option too.
With small parts and pieces on most dress up and costumes are for age 3+ so I could only find one I liked enough to feature.
This Galaxy Rocket Adventure Cape is amazing.
If you have a boy who loves space and/or loves to use his imagination, this is just the thing for him!
It comes with the velcro space items and, of course, flames!
The small rocket that you see in the upper right is actually a hand puppet as well.  The cape is reversible and the back is very cool looking as well.
Hand Puppets for Boys Age 2
Speaking of hand puppets . . . I found some puppets that are just right for 2 year olds. Thankfully, they are really neat and come in packs of four for extra value and extra play chances.
Palace Pals Hand Puppets
Bold Buddies Hand Puppets
Jolly Helpers Hand Puppets
Pick the one your boy will like best or get more than one. The value is there and puppets really help boys with verbal expression and communication as well as storytelling.
That wraps up our best educational toys for 2 year old boys. I hope you found something wonderful to buy for your toddler. I know he will love these!!