Here are the best books for 4 year old boys (including both fiction and non-fiction books.) I hope you love them as much as we do!
While there are 4-year-olds who read independently, most are more likely to know their letters. Some may know specific written words such as their name and easy words such as dog, cat, rat, cow etc.
Again, we are talking averages here, but even though many this age cannot read yet, they know a lot of words. Anywhere from 1,500 to 2,500 words or even more. I saw one article that said 4,000 – 5,000 words!
Reading to them helps them increase their vocabulary and introduces them to new words.
When you are reading you may wish to point out a few letter sounds or words here and there, but don't pressure them to memorize them or to start reading before they are ready. They will let you know when they want to learn to read!
For now, focus on reading great books, like the ones you will find in this book list for boys age 4, and also in our best books for boys lists.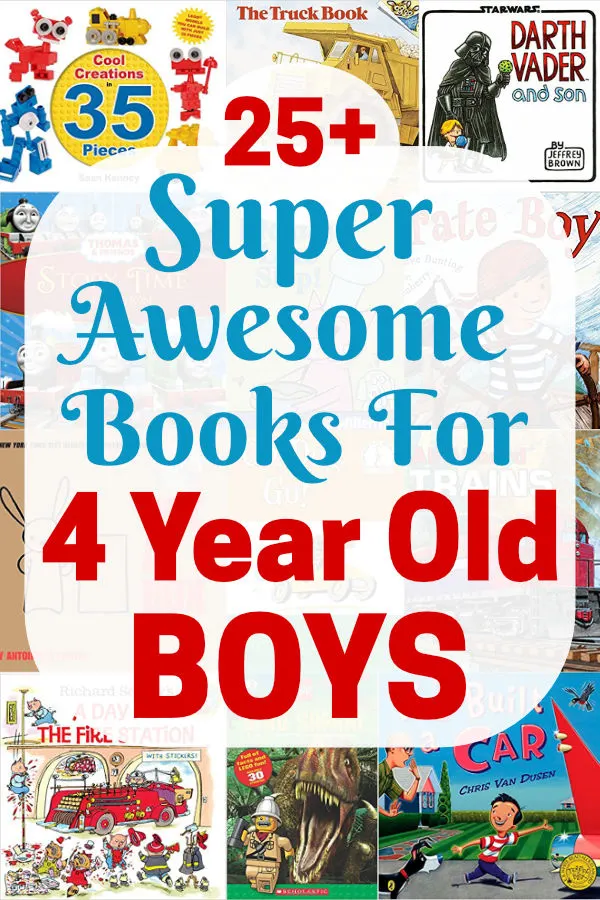 This post may contain affiliate links which means I may receive a small amount, at no cost to you, if you make a purchase through a link. All opinions are my own and I share things I think would be of interest to boys.
Best Books for 4 Year Old Boys
Reading To Boys
It is always tough to choose books by age, but that is what you told me you wanted. And, since you wanted it, I'm here to provide it.
Every boy is different. and so, the books that he likes to have read to him are different as well.
Do not get discouraged if he doesn't like certain types of books. Just keep trying until you hit on what he does like.
Note: some boys do not like to sit still to be read to. That is totally fine. Let them play while you read. Believe me they are listening and taking everything in. If they don't want to see the pictures, no problem. If they do want to see them, hold the book up so they can look at them while they continue playing.
The key to reading with young boys is:
Knowing where they want to be when you read.
Knowing what topics they enjoy.
Knowing how to find the right books for them.
Below are my choices for the best books for four year old boys.
The Book List
I am breaking these book lists into two main sections. Fiction and Non-fiction. Within each section I am picking the best books out there right now. And, I will be updating this post from time-to-time as well.
There are plenty of non-fiction books included because boys gravitate toward them. They love non-fiction and it is a key way to get, and keep, them interested in reading.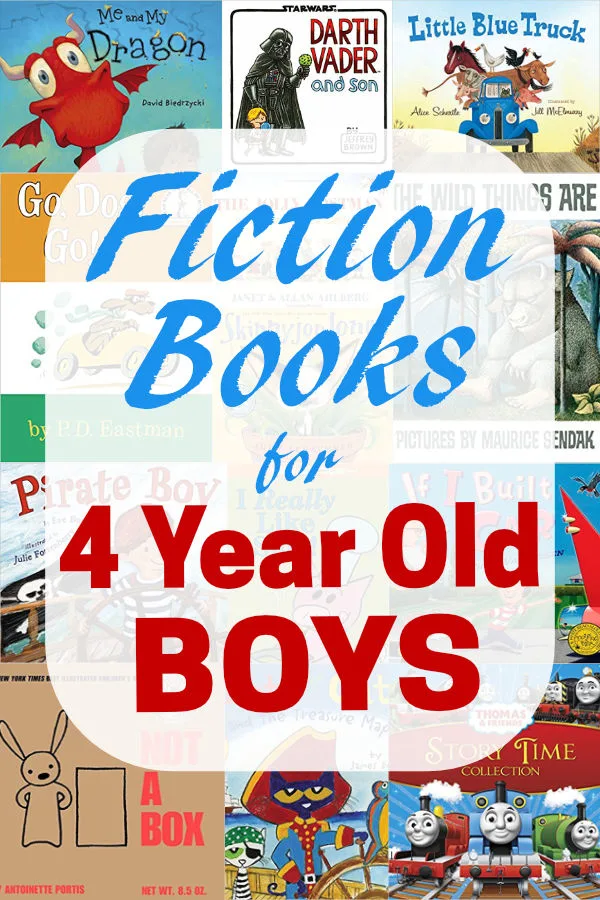 Best Fiction Books for Boys Age 4
This book list is in no particular order. They are all great for boys this age.
Pete the Cat and the Treasure Map
Let's start with a funny book. Pete the Cat is a hit and boys really seem to love these amusing books. We chose to highlight Pete the Cat and the Treasure Map. It brings together Pete and pirates and with both of them, you just can't go wrong.
Pete is ready to become Captain Pete and set sail in search of treasures. What he finds, isn't exactly what he was expecting.
Super cute and inexpensive book. Bonus: it includes 30 stickers!
Here are all of the Pete the Cat books. There are a lot of awesome topics for boys.
I Really Like Slop
The Elephant and Piggie series has over 26 books now. That will keep you reading for a while! Plus, with these you have to read them over and over again lol.
One of the latest books is I Really Like Slop. Piggie is a pig and so he likes slop. Gerald is an elephant and he does not like slop. Piggie wants Gerald to try it. Kids will delight in what happens when Gerald tastes it.
This title is great for picky eaters, those who have friends who like very different food than they do, or just as a funny story. There are a lot of titles available and they share a well placed message without being overly annoying. There are books on waiting, sharing, friendship, and more.
Go, Dog. Go!
P.D. Eastman wrote some great books and Go, Dog. Go! is the best. This was my husband's favorite childhood book and so he had to get if for my son. We all enjoy it!
It is an awesome early reader but we are not concerned with that at this age. So, why didn't I put in a different list? Because, this is the perfect age for them to hear the book read to them. And, when they are a bit older, they will very likely use it to read on their own.
Rhyming, repetition, colors, dogs, dogs and more dogs! Such an awesome book all the way from the first word (Dog. of course!) all the way to the huge dog party at the end. Oh, and they will love the "Do you like my hat?" bits throughout the book.
Not a Box
I adore this book. Not a Box is all about imagination and play. Two of the very best things for children.
A great big refrigerator box and this stellar book would make one of the best gifts for a 4 year old boy. No kidding!
A young rabbit is asked "why are you sitting in a box?" and he responds "It's not a box." And, of course, it isn't. It is whatever he imagines it to be. Charmingly simple illustrations and a superb storyline make this one a keeper.
If he already has this one grab the companion book, Not a Stick.
If I Built a Car
If you have a vehicle fan on your hands this is a must have. Even if your boy isn't all vehicles all the time, it is worth getting.
I love the prototype drawings and the overall style of the illustrations in this book. They are colorful and very appealing. It has a definite 50's retro feel to it.
In If I Built a Car, Jack comes up with the coolest car ever by combining a bunch of vehicle features together (including the weiner-mobile lol.) Then . . . Jack and his dad go on a wild ride! What fun!!
The patterns and rhymes remind me a quite a bit of Dr. Suess!
Skippyjon Jones
It was tough to choose which Skippyjon Jones book to highlight here because we liked them all.
We also listened to them on audiobook which was amazing.
Skippyjon Jones is a bit hard to describe but I will try. It is about a kitten who has a huge imagination and thinks that he is El Skippito and loves to have adventures. The adventures start in his closet! Oh, and there is plenty of jumping on the bed.
Excellent rhyming chants that you really have to try to read as fast as possible (because it is fun!) and super images make this a must read.
If you already have the first one, then go for Skippy Jon Jones and the Big Bones or any of the others for that matter.
Little Blue Truck
At this time there are over 3,500 positive reviews on this book!
What makes Little Blue Truck so loved? My guess is, it is the rhyming text, and the sounds Blue and the noises the animals make. It is a fun read for sure.
Put your heart into it when you read and get your boy to make the sounds as well.
Blue tries to help a dump truck get out of the mud and ends up stuck. His animal friends are more than happy to try to help.
Me and My Dragon
Has your boy ever wondered what it would be like to have an unusual pet? Like, perhaps a dragon?
Great colorful illustrations catch you from the start in Me and My Dragon. Then you are treated to a story about what type of dragon this boy would get and what he would do if he had one.
It is a cute and funny read.
Thomas and Friends Storytime Collection
Ah, Thomas. If your son or grandson is a huge Thomas fan, this is a great book for them.
Thomas and Friends Storytime Collection is 320 pages with 13 Thomas stories they will love.
All of their favorite characters make an appearance in this book. They will enjoy reading about the Island of Sodor, Sir Topham Hatt, the troublesome trucks, naughty diesels and of, course, all of the engines.

Darth Vader and Son
If you have a little Star Wars fan on your hands and need a book, Darth Vader and Son is it. Really. It is so good!
Keep it for when he gets old enough to watch the movies and revisit it as well, because . . . it is even more funny then!
This is great for geek father-son reading! Darth Vader is raising little Luke. I won't spoil it by sharing more. Just nab a copy for yourself.
There are additional titles as well.
The Jolly Postman
Does your boy like getting mail? I know mine did! This is such a fun little book that is all about mail.
It would be neat if there were regular letters in the book but, it is even neater because these letters are special. Imagine actually taking out a letter from the envelopes in the book and reading the note that Goldilocks writes to the 3 Little Bears. More letters are sent among other fairy tale and Mother Goose characters.
In The Jolly Postman or Other People's Letters that is exactly what you get to do. This will be read a lot. The interactive aspect of the book is super! The letters are even better.
Pirate Boy
Mothers and sons share a special bond and this book illustrates that perfectly.
It starts with a mom and her son reading a book called Pirate Boy 😉 and the boy asking what his mother would do if he sailed away on a pirate ship. What ensues is are all the mini adventures she has to go on to find him no matter where they ship sails.
It is a sweet mother-son story that lets boys know how much their mothers love them.
Where the Wild Things Are
They say Where the Wild Things Are "has become one of the most highly acclaimed and best-loved children's books of all time." They are not far off.
When mother calls Max a wild thing and sends him to bed with no dinner, Max creates his own world where the wild things live.
If you have not yet read it, you must. If you do not yet own it . . . yes, you must. It is one that needs to be on your boys bookshelf.
For even more picture book options, see our top 100 list below.

Best Non-Fiction Books for 4 Year Old Boys
We know that the vast majority of kids love picture books.
But boys, especially, love non-fiction books. They are drawn to them. They read them many times, even ending a book and flipping it over to start it again right away.
Now for that to happen, you do need to find the right non-fiction books for them. But that is not very hard. First, you can use this list, and our other book lists, 🙂 and you can also keep their interests in mind when choosing.
We want them to LOVE reading. When it comes down to it, giving them the right books now is imperative if we want them to continue to read as they get older.
These are the best non-fiction books for boys in this age group.
I've chosen a variety of topics that are popular with boys this age. If you need extra ideas, leave a comment below and I will help you find the perfect book.
A Day at the Fire Station
Let us start with Richard Scarry's A Day at the Fire Station. Many, many boys really get excited by fire engines.
Richard Scarry does an incredible job of taking every day life and turning it into a book so interesting to look at. He puts in a plethora of tiny details (love that!)
This is a silly story of house painters coming to paint the busy fire station which also includes with plenty of facts.
First Big Book of Why
Oh my. I can certainly think back and remember how many times I was asked . . . why?
It is the best question ever! You really should answer whenever you can. Some find it annoying but I never saw it that way. I was actually stumped more than once when trying to answer ALL the questions.
The First Big Book of Why will come in handy, I can tell you that. It is broken down into four sections: Amazing Me, How Things Work, Animals All Around and Wonders of the World.
There is plenty here to keep your curious little guy interested and the images are engaging.
See the other National Geographic Big Books as well. They have dinosaurs, animals, space, ocean, birds, weather and more.
The Truck Book
There are a lot of books about trucks out there. It is a popular topic!
The Truck Book is my favorite. It has realistic drawings of the trucks and starts long ago with the first truck and brings us up to more modern trucks in the late 1970s.
When they say trucks, they include buses, fire engines, dump trucks etc. beyond just your standard truck.
I've not met a vehicle fan that didn't love this book.
All Aboard Trains
I know I shared a train book already but I couldn't leave this one out.
If you have ever read All Aboard Trains, you know why. It is a winner. What I really like about it is that it covers so many different types of trains and cars and then tells what they do and why they are important.
The author doesn't talk down to kids. The book is informative, and matter of fact, which is exactly why I like it so much
For example: "The livestock car carries cows on their way to the dairy farm. The opening in the sides allow fresh air in so the cows can breathe." Then they share an illustration of the car.
Train fans need this one.
Animals in Winter
Whether you live in a snowy place (we do) or not, this book is likely going to be of interest to your boy.
Most of the boys I know like to read about animals. Animals in Winter talks about migration and hibernation. It is nicely done, informative and very interesting.
We got a lot of these books when my son was younger. Take a look at the other titles in Let's-Read-and-Find-Out Science in addition to this one. I'm sure you will find a great choice for your young reader.
Anno's Counting Book
At four, your boy is observing the world around him, learning about numbers and counting. Anno's Counting Book is just right for him.
It covers so much it would be hard for me to write it all here. It is a book that can be read many times and over time you are going to notice more math concepts.
Kids who have this book learn from it for years. And it isn't the typical 1 animal + 1 animal = 2 animals type of learning either. It is surprisingly and inventively in-depth.
Note: at the time I wrote this the hardcover was quite a bit less money than the paperback, so you might as well grab the hardcover. Worth every penny.
Dino Safari
I wish these books had been around when my son was young. They would have been great to include in our unit studies.
This one is all about dinosaurs.
Dino Safari is a LEGO adventure in the real world. Minfigures show the way and tell you all about dinosaur facts.
How to Hide an Octopus
This book hits multiple topics; the ocean, ocean animals and camouflage. The paintings are lovely and the rhyming text enjoyable.
How to Hide an Octopus and Other Ocean Animals shows different sea creatures in their natural habitat and discusses what they do to hide.
We have enjoyed many of Ruth Heller's books over the years and this is our favorite.
Farming
If you have looked at some of my other book lists, you will know that I am a big fan of Gail Gibbons. She writes factual books will nice illustrations that will hold a boy's attention.
I always checked to see if she has a book on the topic we were studying. Always.
Here is Farming. It is all about life on the farm, including what happens on a farm, the chores that need to be done etc. They are simple books which are just right for introducing a topic.
1000 Useful Words
This is by one of my favorite publishers for boys – DK.
I like to introduce picture – word association early. 1000 Useful Words is just right for boys because there are bright pictures with all of the words. Some words, such as Grandma, include other variations such as nana, gran, granny, nana and so forth which I also like.
You can read through it as a book, or let them pick certain items to ask you about. Over time, they start to learn more and more words.
Don't let the educational aspect of vocabulary building make you think this isn't a great book for boys because it is. There is a lot to it, it is visually engaging, and there are even short sentences for your boy to finish.
I Spy
This is a great time to introduce I Spy: A Book of Picture Riddles. We always had a lot of fun with these.
I got them because they looked fun, but ended up really liking them because they got boys to slow down, really look at things, and notice small details.
Plus, as we used them, I noticed curiosity about some of the things we saw in the pictures and so then got more books and information on that topic. Always learning!
Cool Creations in 35 Pieces
We will end this list with LEGO. Cool Creations is perfect for early builder as they only need 35 pieces to build a big variety of things.
You will have to check to see if you have the pieces, if not, you can order them from BrickLink.
Combining this book with the pieces makes for a really cool gift for your boy.
Conclusion
I hope you have found some wonderful titles for your boy.
Four is a great age – a delightful age! They are so filled with wonder. Be sure to feed that by providing the best books possible.
I will never regret one moment of the time I spent reading to my son.
I write these book lists because reading is so important! Boys struggle with reading as they get older so now is an essential time to make sure you are reading to them a lot. You also want to make sure that they are really enjoying reading with you because, if they are not already beginning to read, they will likely be ready soon.
If you need any help choosing the perfect books, please feel free to leave a comment below and I will help you.
Tell me what the child you are buying for is interested in and I will suggest some books he is sure to love.
Here is another post you will want to take a look at.
Terrific Book Series for 3 – 5 Year Old Boys