Find the very best backyard water fun without a pool ideas ever! For real!
We looked and looked until we knew we had the top items kids would love playing with so much that they wouldn't even dream of asking for a pool.
There are ideas for all ages included so I am sure you will find something awesome to turn your backyard into a water fun stravaganza.
I put a lot of research into my lists so you can rest assured these are top of the line.
Backyard Water Fun Without a Pool
Just because you want your kids to be able to play around in the water this summer most certainly doesn't mean you need a pool!
You can use these backyard water play ideas make your backyard into the wettest, neatest, and certainly the coolest spot in town.
Your kids and their friends are going to go crazy for these things and . . .
BONUS!, they will be occupied, unplugged and moving around as well. Win – Win!!
Let's get to the water fun goodness.
This post may contain affiliate links which means I may receive a small amount, at no cost to you, if you make a purchase through a link. All opinions are my own and I share things I think would be of interest to boys.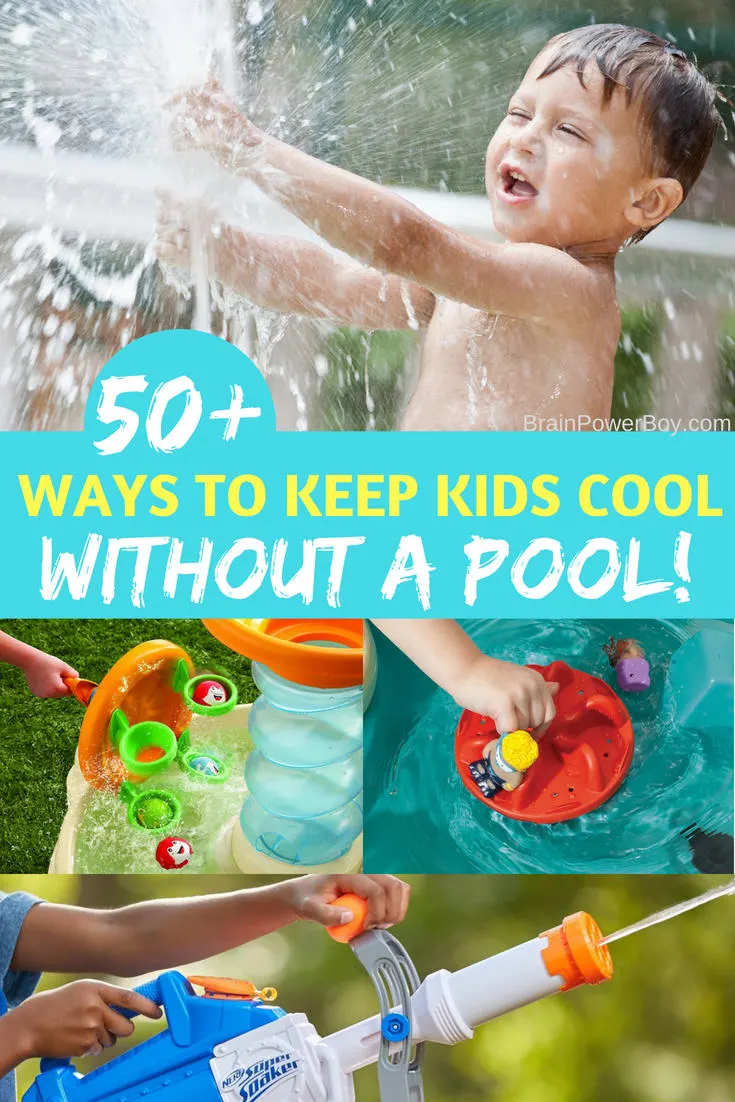 Water Tables for Kids
Toddlers and preschoolers can't get enough of water tables. If they see one it is like they are drawn to it and believe me, they will play with it for hours and they will play with it again and again and again.
That is why they are such a wise purchase.
Standard Water Tables
My top choice for a standard table is the one with the spiral tube. Balls go down the tube and they land in the water. There are so many things to do. Go check it out.
This blue and green table is newer so there are not as many reviews but I'm sure that is going to change. It has a nice water wheel and a spinner to make a whirlpool effect – you know your kids are going to be doing that a lot! This is nice for those who want to make things happen. Lowest priced water table listed here.
If you want one that is pretty basic I would choose this one. It has nice reviews and is very popular.
Deluxe Water Tables
If I had to pick only one water table, this would be it. In my opinion, it has the best features and is the best water table out right now. It has a waterfall that includes pieces you can re-arrange (awesome for learning!) a waterfall tray so water "rains" down, and a springboard to flip things into the water.
I love the island look of the Step 2 Splish Splash seas table. It would be wonderful for pirate play! As an optional feature you can get it with with an umbrella. The umbrella is useful if you have to put it in a sunny area.
The naturally colored green and tan table is heavily reviewed on Amazon and people love it. You could, use it for both sand and water, or just fill both sections with water. Some people don't care for the bright colored tables and want one that blends in more – if that is you, this is the best choice. It comes with or without an umbrella.
Water Table Accessories
Here are some fun accessories to go with your new water table!
I always included animals in our water play. Having them out and available leads to a lot of imaginative play.
Here are some choices that I think you will really like.
One more way to play with the water table is to grab a package of water beads and dump some of them in.
I do understand that this is not for everyone, but . . . kids really, really love this activity so keep an open mind and at least try them.
You could always use a container like this if you would rather do a sensory bin instead of putting them in your table.
Water Toys
I couldn't pass up this little yellow and blue splash pad. We love those when we go to the water parks so it would be super sweet to have one at home!
We had a water toy that is pretty close to the boat and car unit. Sadly, ours isn't made anymore or I would have shared it. Beyond the play factor this helps kids understand water flow. There is a wheel that they can turn to make the water start moving and it then moves the boats. We spent hours playing with ours!
If you have a trampoline, you might want to have a look at this product. Cool, right?!
Water Games to Play
When I found the Dunk Hat game, I knew I had to include it here. Super silly fun!
You never really know when the water balloon inside will pop. You can play it as a game and try to guess who will get wet, how long you will go before the balloon breaks (required water balloons,) or even answer questions correctly before giving a pull on the zip cords. Or, you can just zoom it back and forth like crazy to see who is the lucky one 😉 Either way, Zoom Ball is a great one to add into your collection of backyard toys.
Splash Out also requires water balloons (see our section below.) Answer questions and pass the ball quickly! or you will get wet. There are 20 challenge cards included but I am sure you can make up your own as well.
Hydro Rockets
I have to add these in because I love ideas that also get kids learning. These rockets are super cool and believe me they are going to want to shoot them off all summer long.
See our Rocket Books for Teens for more ideas too!
The Hydro Rocket has everything you need built right in. If you are looking for a quick and easy option, this is the one to go for. Just hook it up to a hose and go.
Next is a water rocket kit from 4M. They make some great science kits for kids and we have been happy with their products. This one can go 30 feet in the air! You need a bicycle pump for it so if you have one at home, just try that. Otherwise, I added a best selling high volume pump below.
Sprinklers
Do you remember playing in the sprinkler when you were a kid? Nothing better on a hot summer day, right?!
I have very fond memories of running through the sprinkler with my brothers and the neighbor kids. Jumping over it, trying to push each other into the water, picking it up and chasing each other, it was all so much fun. We were soaked from head to toe and enjoyed every minute of it.
I could only find 2 kid sprinklers I felt were worth recommending. The others either had poor reviews or I thought they were junky and over-priced for what you get.
The Little Tikes beach ball sprinkler is super cute, isn't it? (I don't recommend getting the look-alikes as they don't have good reviews.) I love that there are no moving parts so it is safe for them to put their hands on the water holes and see what happens. Love this for younger kids.
Is a plain lawn sprinkler a boring choice? Well, it doesn't look cool like the other kid ones do but for water spray, this is the winner. I think this is best for a group of older kids as everyone can get wet because the water flies around like crazy.
I was surprised at the number of positive reviews on this fire hydrant option so I checked them out. Be aware that the size of the unit itself is small – 8 inches, but it shoots water up to 8 feet in the air. Comes in different colors.
Small Water Squirters
If you have a younger child you could try these hand-held water squirters. They are actually really good for kids to use as it helps them develop hand strength and they also discover cause and effect.
If you are only using these in the bath tub you are totally missing out! Grab a couple of sets for outdoor use as well.
We had a lot of different types of these around and actually used them even as my son got older.
Sneaking up on mom with a squirter hidden in your hand is apparently a lot of fun. 😉
Below are some cute water balls. They feature different animals that look like they are spitting out water. I'm sure your kids will like how silly they look.
Next up is a set of squirters in the shapes of a police car, fire truck, airplane and a boat. Vehicle fans will love to use these as squirters and as toys.
Best deal alert! The varity set is really nice. What I like about it is that you get 15 floating squirters and it also comes with a net.
Water Backpack Squirters
If you have a TMNT fan on your hands, then this is an easy choice. The shell holds the water and it has a pump and push nozzle.
My son had a small fire extinguisher squirter. If they had the backpack available then, I most certainly would have bought this one instead because it holds a lot more water and it is so neat! Fireman fans will not want to take this one off!
Another good choice is the Paw Patrol Water Rescue Pack. A few people said they had trouble with the hose but others said you just need to un-kink it and it works fine. Overall it has good reviews.

Water Blasters
If you want to hear your kids laughing, screaming, and squealing this summer, give them the equipment they need to have a massive water fight!
All of these choices are awesome. Seriously, you are not going to go wrong picking any of them. Be sure to put out some big buckets of water for constant refills.
We are partial to the Nerf Super Soaker line and have had great luck with them. They work great, hold a decent amount of water and last year-after-year.
The Nerf Super Soaker Soakzooka is a relatively new item and I think it is really neat. It would be perfect for kids who have trouble with a trigger because it has a pull mechanism that is very easy to use.
The Scatterblast delivers 5 stream of water at once. Kids will love it. If you are playing with your kids, you may want a different choice as you are going to get soaked hahaha.
Simply put the Zombie Spike Splatterblast is for . . . zombie fans! Big surprise, right?
The Barrage is pricier than the other options. Why? FEATURES! It has 3 modes (scatter, flood or distance,) it holds a whopping 84 ounces of water and can shoot 38 feet. Pretty impressive for sure.
If Nerf isn't your kid's thing, then try a Stream Machine instead. It produces a steady stream of water and comes in 3 sizes: 12 inch, 17 inch and 22 inch.
Water Balloons
You can't have proper water fights if you skip these. Water balloons are a must have item.
You can grab some at the dollar store but most of the ones I have purchased there ripped so I couldn't use them.
I like these instead (a few did rip when we were filling them but not nearly as many as the dollar store pack. I was putting them over a faucet so that might have been why.) They are almost the same price and are better quality.
You can also go with the very popular option called instant water balloon. I saw these a couple of years ago and have to say they are a huge time saver. You can fill 100 balloons in about 60 seconds! Um, it takes me a whole lot longer than that . . . a whole lot longer!
The pumping station is what I am going to try next. It makes balloons easier to fill. Plus, what I really love is that it is portable so you don't have to be right next to the hose to fill them. You might want to grab a few to set out in the yard so they can fill them on their own.
People are so serious about water balloons there was even a Guiness World Record set for largest water balloon fight!
Water Balloon Launchers
If your kids like water balloons, just wait until they see these!
All of the options shown are 3 person launchers so keep that in mind when purchasing.
There are three good options. The first goes 100 yards, the next goes 200 yards and the third goes, you guessed it, 300 yards. (In order by images below.)
Water Bombs
If water squirters, blasters, and balloons were not enough, I bring you water bombs. You should totally grab a pack or two of these to add into the fun choices.
Dunk them in buckets and toss them at targets or at each other.
Dunk Tank
If you have kids who like to throw balls, maybe you NEED one of these!
This one has the best reviews, though there is a cheaper option as well. I didn't think it was as well made but it does cost less so you can check them both out to see which one you think would work best for you.
This is similar to the ones you see at the fairs or church picnics but on a smaller scale. The water bucket is designed pretty neat in that it doesn't tip but drops water out of the bottom.
If you are having a backyard carnival or just want to add an exciting option for water play, this is it. BTW adults think these are as fun as the kids do!
Water Slides!
Last, but not least, are the water slides. I did not include a slip-and-slide style slide here because they were either very expensive, or they were cheap but the reviews were terrible. Besides, you can just use a tarp and some soap instead.
Instead we have the inflatable water slides which are much better quality, your kids are less likely to get hurt and they are loads of fun.
The blue, yellow and red inflatable water play set for kids 2 and up has a water slide, wading pool, water sprayer, and a ring toss game. This is best for younger kids. It should help them cool off on hot summer days.
The blue, green and orange option is a larger water slide. At the bottom is a splash "pool" which is more like a water filled landing strip. It is for kids up to 75 pounds. Looks fun!
The biggest choice fits 3 kids (up to 350 pounds combined weight) and it is slick! The aqua, yellow, orange and purple unit has a climbing wall, and a large landing "pool." It also includes a basketball hoop! Which I think is an awesome touch. If you have the room for it, this one is the best and will last the longest as your kids can age with it. Check the reviews! It is a winner.
I hope you have enough ideas for backyard water fun without a pool. We have never had a pool and honestly, we never missed one because there are so many other incredible ways to play with water in your own backyard.
For even more ideas, check out our water science experiments and this post on backyard water play.