Pirate ships are an awesome part of pirate history.
This pirate unit study on pirates focuses on many pirate ship-related topics.
Learn what type of ships where used by real pirates.
Find out if "walk the plank was a real way pirates on ships dealt with those who broke the rules or if pirates kept parrots for pets while on board.
One of the things I enjoy about a unit study is that there is research involved. There are multiple answers for some of the questions here. Do your own research to see who you thinks is right.
Studying pirate ships is a really fun way to learn about pirates, history, geography and much more. Take my word for it, me matey! 🙂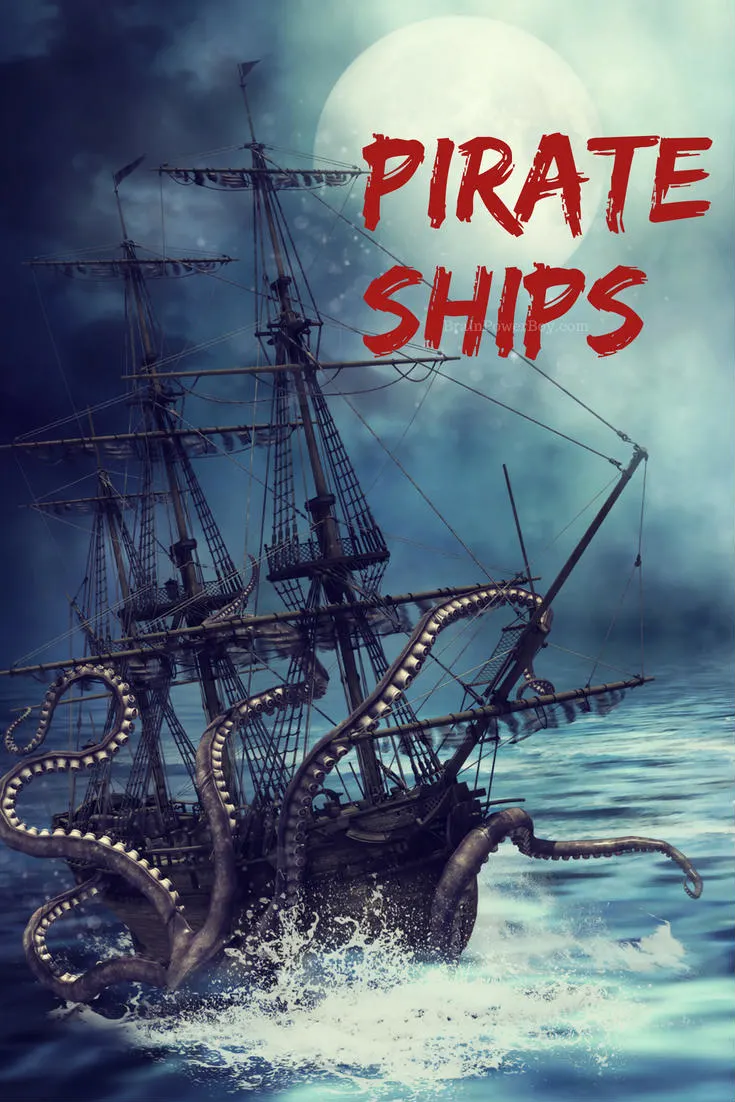 Pirate Unit Study: Ships
Do your kids think that pirate ships were huge?
They might be surprised to learn that most pirate ships were not very big as they preferred ships that would be swift and slip into shallow waters—you can image why!
Learn about life on board a pirate ship and about the most famous pirate ships to sail the seas.
7 Famous Pirate ships with a brief history of each captain and ship.
The Great Ships: Pirate Ships is a great documentary with everything you want to know about pirate ships. It is really well done and worth watching.
Pirate Pets On Board:
Did pirates keep parrots on board ships? (and other pet info) There are several answer online–here are two that make good points: Yes and Maybe.
Life on a Pirate Ships:
Short Slideshare of life on a pirate ship. FYI: There are 2 pictures of people scurvy and some rather graphic details in one of the slides of ailments and rotting food.
Life Aboard a Pirate Ship video from The History Channel. FYI: Detailed info on amputations, rum and food rot (maggots, rats etc.)
Learn about all of the Jobs aboard a pirate ship.
Did pirates really make people walk the plank? Here is another question that has various answers: No Yes Not often
Pirate Ship Parts, Rigging and Sailing Terminology:
Nice diagram of a basic pirate ship with details.
Detailed diagram of rigging for a model builders purposes but it is intriguing and has some in real life pictures of rigging as well.
Ship parts glossary. (Note: the ads on this site changed for me a few times and some were iffy. Check it first if you are concerned.)
Very comprehensive list of Sailing Terminology.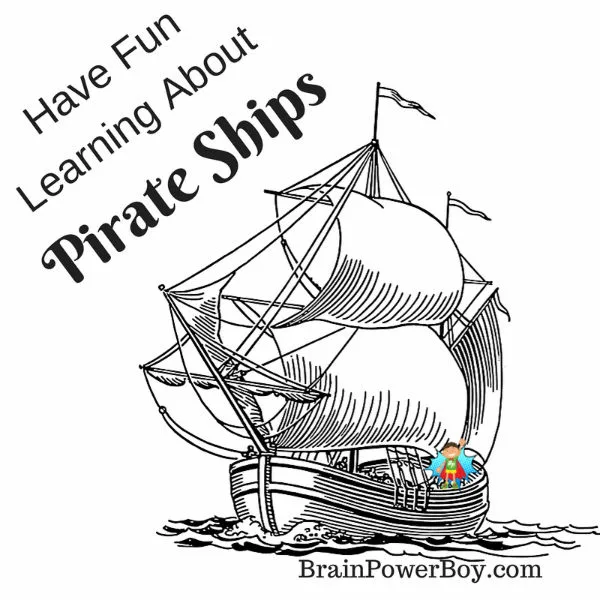 This post may contain affiliate links which means I may receive a small commission, at no cost to you, if you make a purchase through a link. All opinions are my own and I share things I think would be of interest to boys.
Pirate Ships Homeschool Unit Study Activities:
Make a large cardboard pirate ship to play in. (If you would rather buy a ready made one to save time try this one or this one.
Build a play cardboard pirate ship with super detailed image tutorial. Your boys can use Playmobil Pirates, LEGO Minifigs, Pirate Figures, or other small figures instead of the dolls shown 🙂
Label a pirate ship activity. Fairly easy, for younger kids, or beginner pirates 😉
Make an origami sailing ship. Directions via YouTube and free pirate ship printable templates.
Pirate Ship Sailing Game:
This online sailing simulator will allow your boys to try his hand at sailing. Try the lime green controls to adjust the speed of the ship and change sail position and rudder position. You can also use the green bar that says "downwind" to change the position of your ship and try to get it back straightened out. Fun and interesting: (Required Adobe Flash)
Pirate Ship Puzzles:
Help the pirate get through the maze to his pirate ship: Jolly Roger Skull maze; medium difficulty.
Pirate ship mazes in easy, medium, hard and superhard.
I love this Ravensburger Pirate Ship – 200 Piece Puzzle. Great graphic image of pirate ships. Ravensburger makes great quality puzzles and games.
Famous Pirate Ship Wordsearch puzzles here and here.
If you are wondering where the cannons and other weapons are, I've included them in their own post. See Pirate Weapons for all the "gory" details. You won't believe what one of the most important weapons was!
Thanks so much for stopping by. I hope you enjoyed this pirate ships segment of the pirates unit study.
For more in this series see pirate weapons and all of the rest of the posts in the pirate unit study here.