How did pirates really use maps and how did the navigate around the world?
Find out in the next edition of our pirate unit study with this pirate navigation and maps unit.
Use the activities below to find out more about pirates and the tools they used to navigate the seas.
You will find fun pirate map activities, videos, interactive historical maps, pirate navigation games and even snacks.
Our homeschool unit study pirate series is sailing right along!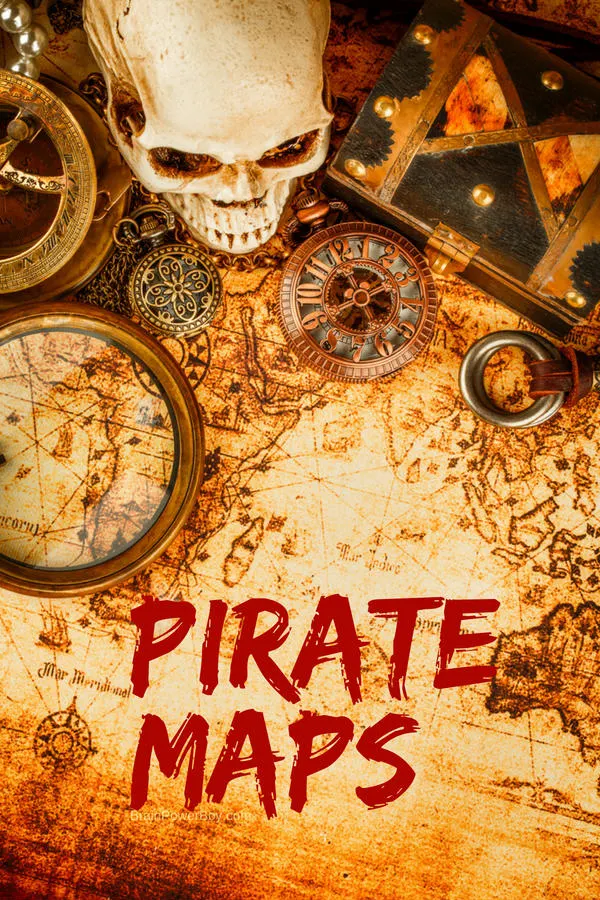 This post may contain affiliate links which means I may receive a small commission, at no cost to you, if you make a purchase through a link. All opinions are my own and I share things I think would be of interest to boys.
Pirate Unit Study Maps and Navigation
In looking at all sorts of info on pirate navigation and maps we started to wonder . . . did pirates actually used maps?
We found that the topic is often debated. Most say some pirates may have used drawn charts for navigation but many used the navigation tools you will see in the links below.
If they did have charts, which were very useful, they were most likely stolen.
Captains of ships being attacked by pirates would try to throw their maps overboard so they didn't fall into the hands of the pirates.
Basic hand drawn maps were likely to be inaccurate.
As far as pirate treasure maps go—the consensus is no! Surprising, right?!
We were not expecting that to be a solid no as we figured it was likely that at least some pirates used treasure maps, but . . . I guess we were wrong.
I added in a few pirate map activities and games for fun.
There can still be a lot of learning that takes place from them—you just might want to point out that in reality it is unlikely pirates made a map of where they buried their treasure (also unlikely that they even buried it!)
Interactive Pirate Maps
Here is an interactive map for the real pirates of the Carribean (no, not Jack!)
Look up an address on this clever and fun pirate map. It is a pirate map overlay. We put in our home address and a few others. X marks the spot! Love the boney hand pointer! Great for teaching kids about maps with places they will recognize.
Pirate Navigation
Find general navigation information in this great article Secrets of Ancient Navigators. It is possible pirates used any number of these navigation methods in conjunction with whatever tools and charts they had at their disposal.
Pirate navigation tools go far beyond the sextant and compass. See a wide variety of the tools pirates used to sail the seas. Excellent tools resource!
Very good short video from The History Channel on pirate navigation–Pirates Navigate the High Seas. (note: I had to load it a few times before it would play)
There is a good selection of pirate maps here that show screen shots of the areas that pirate inhabited via Google maps.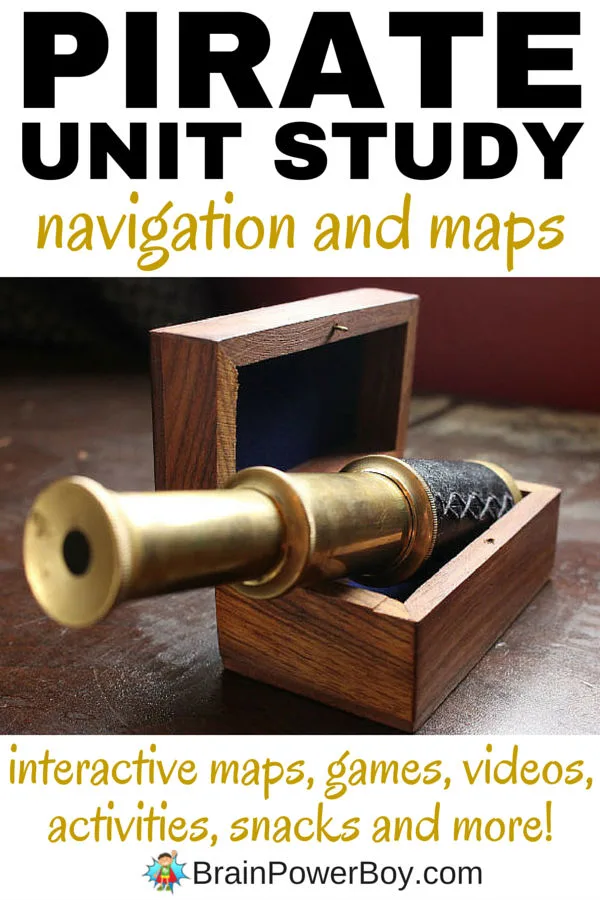 Pirate Navigation and Map Games:
Two simple navigation games to get kids familiar with longitude and latitude. Treasure Hunt Game and this Treasure Hunt Game–same name, different game.
See our Pirate Games post for more fun pirate games to play.
Great treasure map printable. Gridded pirate map to use to make a game or practice finding coordinates. To make online and print or save: Treasure Map Maker (click the "Go" button when you land on the page) Note: You need adobe flash to use it.
To print and use offline, this one has both map with alphabetical and numeric coordinates.
Make DIY Pirate Map
Video showing how to make a detailed map with heavy paper and coffee.
Follow this link for a very cool fabric pirate map made from a pillowcase, permanent markers and a bit of paint. Love!
Make a DIY Compass and Telescope
Make a compass—feel free to decorate it pirate style
If you want to go beyond the pirate telescope made out of a paper towel roll you can make a real telescope and decorate it pirate style. Watch this video for directions.
You can also see our review on The Amazing World of Pirates. This book is great and has a lot of neat activities in it.
If you don't want to DIY you can try these inexpensive options that have a lot of great reviews: A cool Pirate box and telescope and this old time Pirate map.
Pirate Fun Food Snacks!
When you are working on all of these awesome pirate map and navigation activities it is a lot of fun to break for a snack. And since this unit is all about pirates, you know we had to find the best pirate fun food 🙂
Good old Betty has some great pirate snack ideas. I like the pizza pirate map!
Or try this pirate map sandwich bento or this quesadilla map snack.
That wraps up our pirate navigation and maps section of this pirate homeschool unit study <<<<click the green link for all of our pirate unit study posts. There are book lists, pirate games, sailing and weapons lists and more.
You might also like the other posts in the Pirate Unit Study:
Thanks for stopping by! If you liked this pirate maps unit study, please let us know by sharing it using the sharing tools below.