It is that time of year again. The free summer reading programs are starting up so we updated our post from last year. We can't wait to get signed up.
These programs can be a lot of fun for kids to participate in. Find new books, enjoy a few activities and get some reading in over summer.
Since we focus on boys' learning here at Brain Power Boy, I picked high-quality programs that I thought boys would enjoy. All kids can participate in these programs.
If you are looking for some books for summer reading, try our best books for boys reading lists. You are sure to find some great books.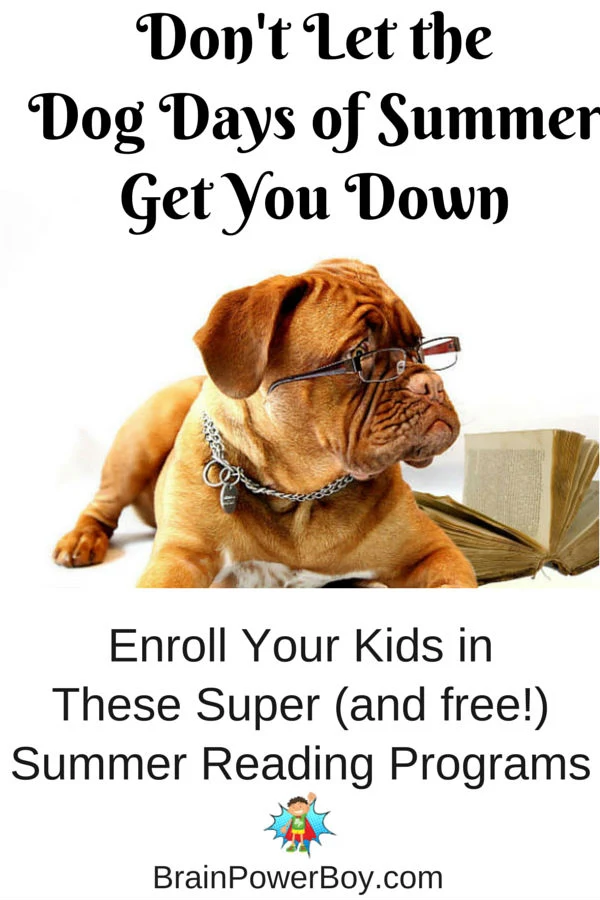 Free Summer Reading Programs
We are huge readers in our family. We have participated in some of these programs and always make sure to get to the library – a lot! Last year was especially hot here and I was glad to have stacks of books to look at, read, and learn from when it was just too hot for us to be outside.
NOTE: I highlighted high quality free summer reading programs. There are other ones out there but I didn't think they were good enough to include on the list. Either they required a purchase in order to redeem your coupon or they were, well . . . lame, making kids do a lot of reading for a sticker or a tattoo.
Check into some of these summer reading programs. You can get some neat prizes.
Barnes and Noble is the place to go for our favorite summer reading program. It is easy to do and they give the kids a brand new book. They can pick from a pre-determined list of titles which are usually very good. Log your books on the printable form and bring it into any B&N for a free book. Go early for the best selection. Grades 1 – 6 only.
If there is a TD Bank in your area your child can score 10 bucks. If your son (or daughter) reads 10 books, he can receive $10.00 in a new or existing Young Saver Acct. For kids in K-5th grade. Starts in June and goes through August 31. If the website is still showing 2016, reach out to your local bank or wait until after June 1st to check back.
Half-Price Books has a free summer reading program each year. Every year they change the guidelines so be sure to check the rules. This year kids 14 and under read 15 minutes a day in June and July. Once they read 300 minutes they can turn in their log at a Half-Price Books Store to earn HPB Bookworm Bucks.
New this year is a program for teens. It is limited to specific titles (which I don't really like.) They have to read those titles and write a short review of the book to earn Bookworm Bucks.
No indication in either program as to how much you will earn or exactly what you can use it on but Half Price books has good deals so I think it is worth trying.
Book It! from Pizza Hut has revamped their summer reading program again (and again this year.) The prize is usually a personal pan pizza. If you have a school-age child, they will need to sign up through their school. Homeschool parents can sign up here.
Another great place to go for free summer reading programs is your local library. We have moved and are looking foward to trying out a new summer reading program this year. As you likely know, libraries have a lot of activities, cool prizes for the kids, and sometimes they even give away free books.
I am not really fond of rewards for reading, as reading is its own reward.
If you have a boy who wants to take part in summer reading programs, and you think he will enjoy them, it is a fun way to get a new book, a bit of cash, or a possible prize.
Since we are always reading we take advantage of the freebies.
Don't forget to sign up for adult reading programs and/or family reading programs at your local library if they offer them.
The best way to encourage kids to read is if they see you reading and know that you value it.
Here are some additional links for you to check out:
100+ Best Picture Books for Boys: Books They Will Absolutely Love! (for many ages, not just young boys!!)
Book Series for Boys: 5 Reasons to Get them Hooked (includes links to wonderful book series for boys by age.)
Best Books for Boys (huge list of book lists for boys)
Did I miss a program that you love? Let me know in the comments below and I will check it out.