Here are some great classic wordless picture books that appeal to boys.
The wordless picture books below have stood the test of time and have been well-loved by many readers.
I hope you enjoy them as much as we have.
For more awesome book selections that boys will enjoy see: best books for boys.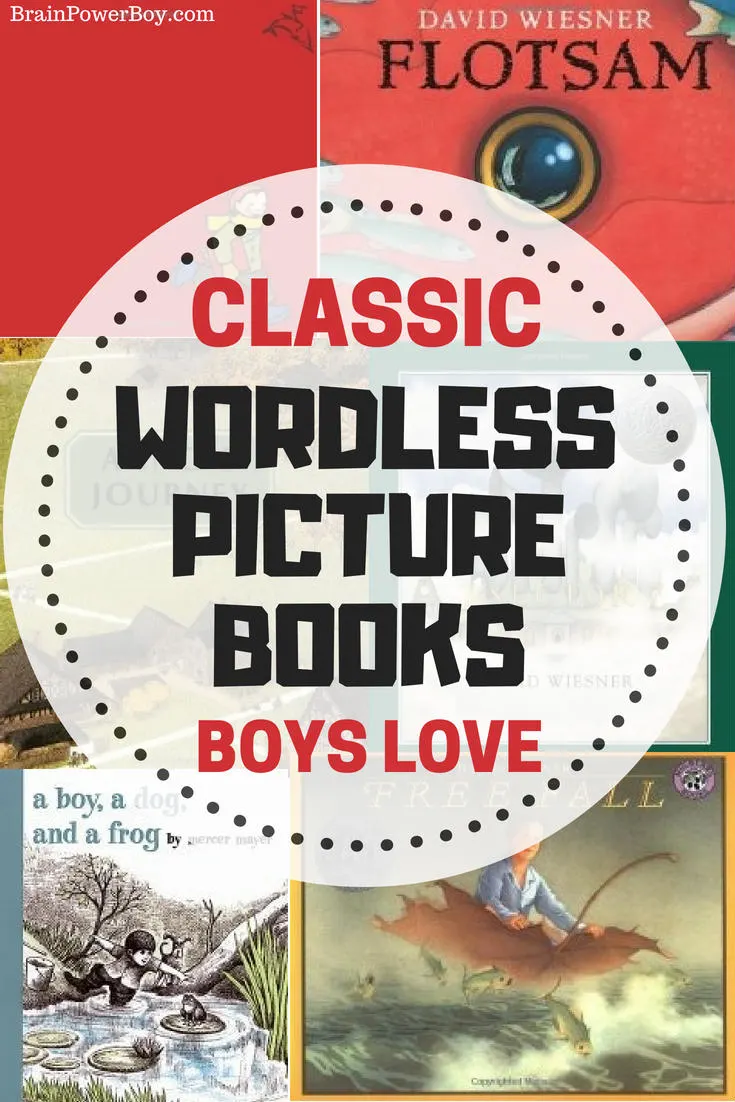 This post may contain affiliate links which means I may receive a small commission, at no cost to you, if you make a purchase through a link. All opinions are my own and I share things I think would be of interest to boys.
Classic Wordless Picture Books
After writing a post on The Benefits of Wordless Picture Books I wanted to share with you some of the best books for boys in the wordless picture book category.
Wordless pictures books have a special place in my heart and we have read as many as we could over the years.
I hope you, too, will give them a try and come to love them.
1. Zoom
by Istvan Banyai. Totally neat. I could actually leave it at that as this book is a must read classic if you like wordless picture books. Starting with the comb on a rooster this book zooms out again and again. It is not only, very fun to look at, but this book will certainly get boys paying attention to details.
2. The Red Book
by Barbara Lehman is a Caldecott Honor Book. It is hard to give you an idea what this book is about without giving away the special parts, and there are special parts. There is a red book, a girl and a boy. That is about all I am going to say 🙂 Well, I will also say it is truly wonderful and worth reading.
3. Free Fall
by David Wiesner is another Caldecott Honor Book. A boy in bed sleeping with a book in his arms. Quilts turn into landscapes and the magic begins. There is chess, plus knights, a dragon, aliens, and more. My son didn't enjoy this title as much as I did, but your experience with your boy my differ. I hope you will give it a go and leave a comment letting me know if your boy likes it.
4. Flotsam
by David Wiesner is a Caldecott Medal Book. This is our all-time favorite classic wordless picture book and that is saying a lot since we enjoy so many of them! A curious boy on vacation at the beach discovers a camera. The images captured on the camera are astonishing and I wish they were real! This book is delightful and Highly Recommended. I will even go so far as saying this is a must read book.
5. Anno's Journey
by Mitsumasa Anno. If you are not familiar with Anno I suggest you take a close look. His books are amazing and Anno's Journey is no exception. There is so much to see here it is hard to describe with words. Thankfully Anno does a lovely job of sharing his journey throughout the countryside with his illustrations. At the back of the book there is a small list of things to look for in the book. This is not your typical, find 3 dogs type of list. Here are few things you will find: details from famous paintings, story characters, and Beethoven sitting in a window. The details are remarkable.
6. A Boy, a Dog, and a Frog
by Mercer Mayer. Here is an amusing tale of a boy who tries to catch a frog. Both the boy and the frog end up frustrated but boys will like the ending.
7. Sector 7
by David Wiesner. A Caldecott Honor Book. A boy, a school trip, and a cloud turn into an adventure to the place where clouds are made. The boy can draw and that leads to all sorts of troubles. This is really a fun and creative book. Love the ending! David Wiesner is, perhaps, our favorite wordless picture book author. Be sure to check out his other books.
8. The Snowman
by Raymond Briggs. A snowman coming to life always makes for a good book doesn't it? This book is a true classic, and if you have not read it with your boy yet, you should put it on your list and read it this winter. The ending is sad but we like to think, like Frosty, the snowman will be back.
I hope you enjoy these classic wordless picture books. We liked them all and think they are wonderful, high quality books that will appeal to boys of all ages!
You might also like:
Fun Wordless Picture Books to Read
Foxly's Feast Wordless Picture Book with Fun Food Fox
If you like this list, please use the sharing buttons below to share it.
If you have classic wordless picture books for boys to recommend please leave a comment! We are always looking for additional books to review and/or read.