I narrowed down the best books for 2 year old boys to these wonderful choices to make it easier for you to find the best book for your little guy. This is the book list you need!
I have a lot of experience in selecting books for boys. Not only am I a boy mom with a blog that has extensive posts featuring books for boys, but my husband was a librarian, I worked in libraries for years, I ran a boys book club, and my library of books when my son was growing up was . . . well, huge!
Do see our book lists for boys after you read through this post. We have a lot of great lists.
Two-year-olds are so much fun to read to. Many love snuggling next to mom and reading for a long, long time. Others enjoy listening to stories, but have to be on the move while doing so. Still others do a combination of the two and sit for a while, then wander off to get something and come back.
Allow them to experience reading how it fits for them.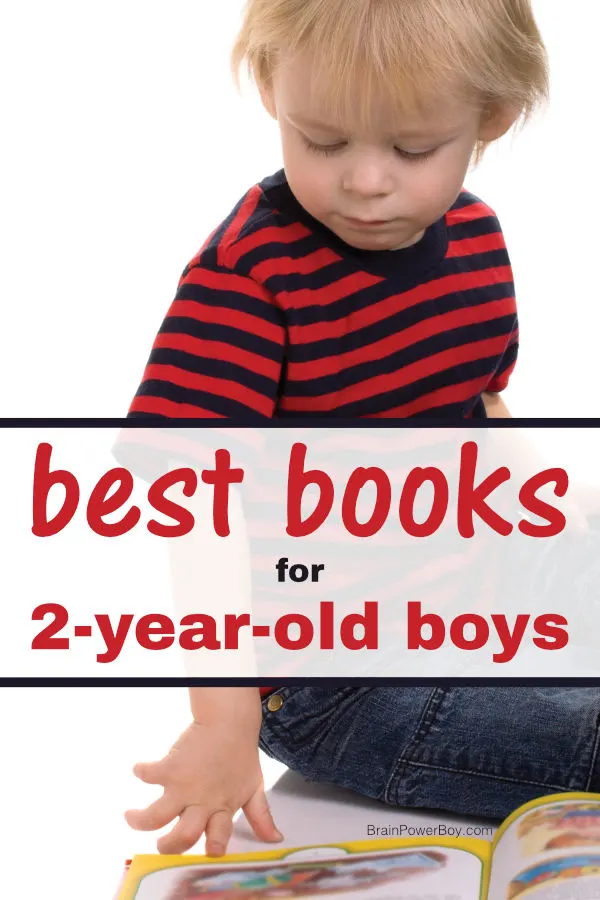 Right now your 2 year old is learning about what books are, and how they work. They enjoy seeing the pictures and may be interested in the words and start asking what they say. They also really like rhyming and onomatopoeia.
Your boy(s) are recognizing words on the page and that they mean something. By reading to them, you are increasing their vocabulary. Even if they are not yet vocalizing the words, they are learning them and learning what they mean.
As you read books to them, you can point out colors, objects and single words throughout the books if they interested. If the text mentions that the boy threw the ball, you can stop and talk about the ball. You can also, show him his ball. Obviously, you don't want to break up the story constantly by doing this but it is good to do so they can make connections between what they are seeing in the book and what they can see and touch in real life.
One of the cutest things you may see is your little boy sitting reading a book and babbling away as though he is reading. Sometimes the book is even upside down (too adorable 🙂 ) They are certainly starting to get the hang of what reading is about and are enjoying the process.
Be sure you have plenty of books for them to read in your house. The more the better!
Libraries are great, and we use them a lot, however do make sure they have their own books as well. The repetition of reading their books to them again and again is important and helps them learn.
Typically, they say that older two-year-old boys know about 50 words or so. Reading will help them expand that number.
I made time for reading multiple times a day. It was a very big part of our lives at this age and as my son grew up. This is the perfect time to get into the habit of reading with him and building beautiful memories of reading together.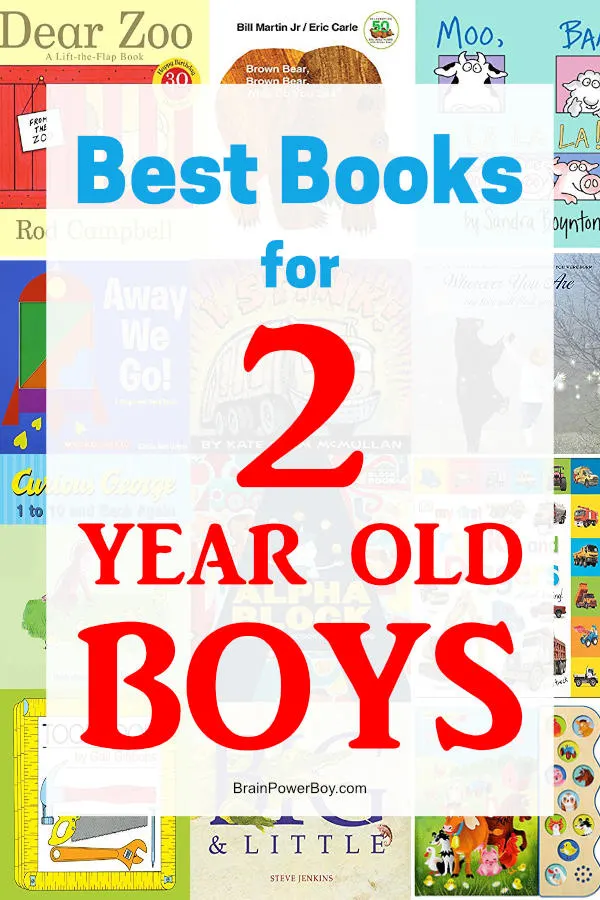 This post may contain affiliate links which means I may receive a small amount, at no cost to you, if you make a purchase through a link. All opinions are my own and I share things I think would be of interest to boys.
Conclusion
I hope you have enjoyed this book list of the best books for 2 year old boys. I really enjoyed pulling it together for you.
I take my lists very seriously, so they take me so long to write. If you and your boy enjoy a few books from this list together it will have been worth my time and I sincerely hope you do.
I do add to these book lists over time so feel free to check back. If you need any suggestions, do feel free to leave a comment or contact me. I am more than happy to help you find just the right books.
See Also:
Best Books for 3 Year Old Boys as there may be some in that list that will work for you as well.