After looking at a LOT of books, we decided on the best books for 8 year old boys. These are the books that will keep their interest and keep them reading book after book!
When you are through here, be sure to check out my best books for boys page as it has many book lists to help you find super books for him.
At age 8 most boys are in around the 3rd grade. They are ready for longer books and books that have more character development.
A rush to longer chapter books can leave some boys behind and have them feeling frustrated with reading. We do no want that, so be careful not to push.
Many boys age 8 are interested in factual books, so as always, we have included some wonderful non-fiction titles, as well as fiction titles, for them read.
8-year-olds are still learning about reading even if they know how to read. What do I mean by this? Well, there is a lot more to reading than simply reading the words.
They are starting to understand character development much more than they have before and the books they read now will be getting a bit longer and have longer sentences and paragraphs. They will also begin to have more complex story lines.
Whether or not your boy is reading well on his own, use this book list to find great books for you to explore together. Get some for him to read on his own, but even though he is getting older, don't stop reading to him! (Please!!) Enjoying books together is such a joy.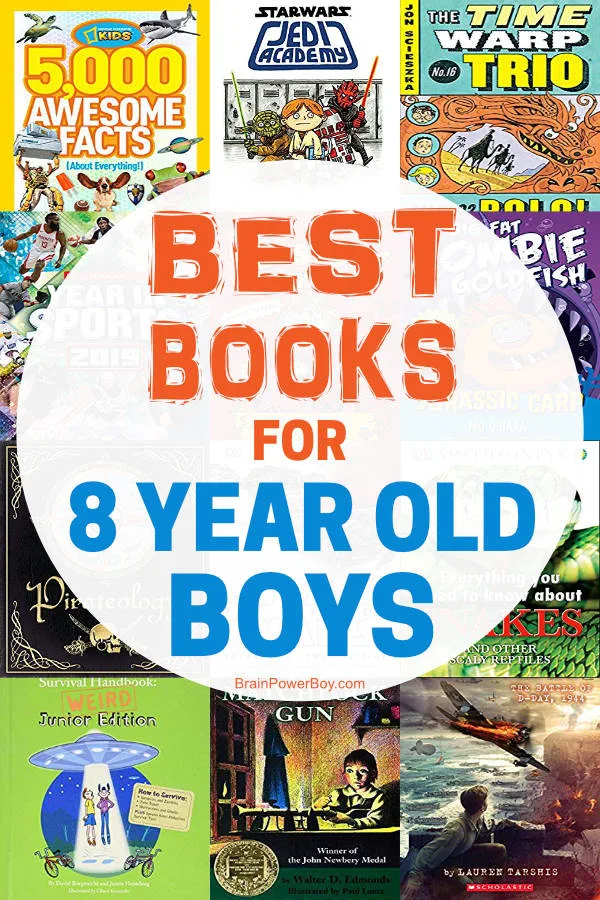 This post may contain affiliate links which means I may receive a small amount, at no cost to you, if you make a purchase through a link. All opinions are my own and I share things I think would be of interest to boys.
When I am choosing books for these lists, I focus on what boys this age actually like, and that I want boys to love reading.
I've seen plenty of book lists that are full of books that adults think kids should read. Not books that they will actually want to read. I don't do my lists that way.
Hopefully, you will find some that he wants to read and re-read. Those are the winners.
Reading Level
In all of the by-age book lists I am taking a moment to say a bit about reading level. I fully admit that I never choose books by reading level. I usually just go by the topic and find books I think would fit my son the best.
You know your boy, so take him and his likes and dislikes into account before anything else.
Readers asked for the by age lists and because I want to help, I am writing them all.
Be sure to check out the other lists close in age to this one because you will find great books there as well.
Everyone reads at different levels no matter what their age. Being eight doesn't mean he will, or even "should", be reading at a third grade level.
Just focus on your own boy and his interests and you will do well selecting just the right books for him.
Keep in mind the end goal, so to speak. We want our boys to love reading. Everything should surround that simple goal.
And now . . . the best books for boys age eight!
Best Books for 8 Year Old Boys
I have split this list into two sections. A fiction section and a non-fiction section.
Selecting from both sections is probably your best bet. Be sure to take some time to show him the list as well so he can choose his own books.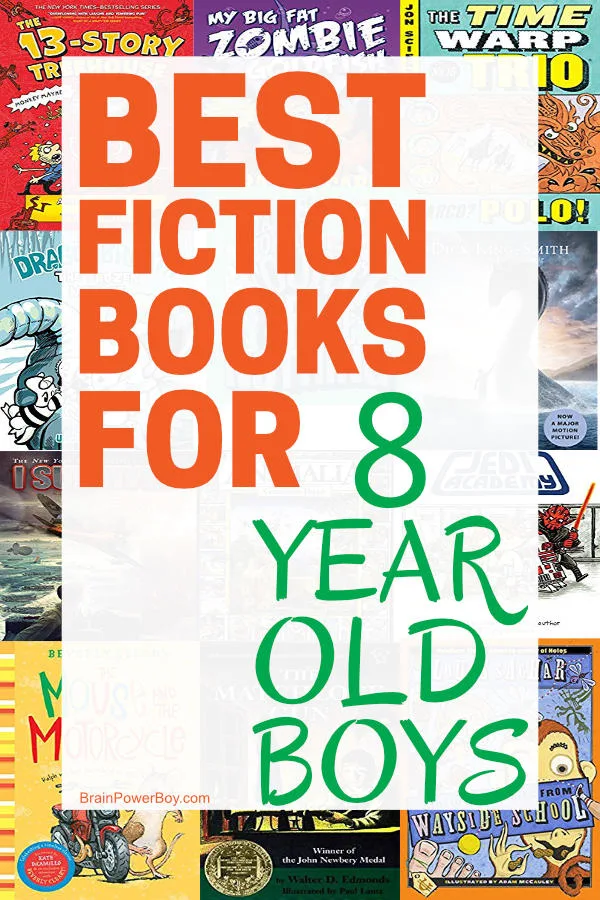 Fiction Books for 8 Year Old Boys
The books are not listed in a particular order so simply scroll through and see which ones they will enjoy.