If your boy enjoys reading he is going to love to take a step back in time and read these classic book series for boys.
Take this book series for boys list and start to pick up these books for your boys. Once you get a few, let him choose which one to start with and begin reading. These are good books. Really good books.
You may have to ask them to be patient and let you get into the story a bit before they make a decision on whether or not to continue. Don't give up! They are all winners but you have to find the ones that fit best for your boy's personality and interests.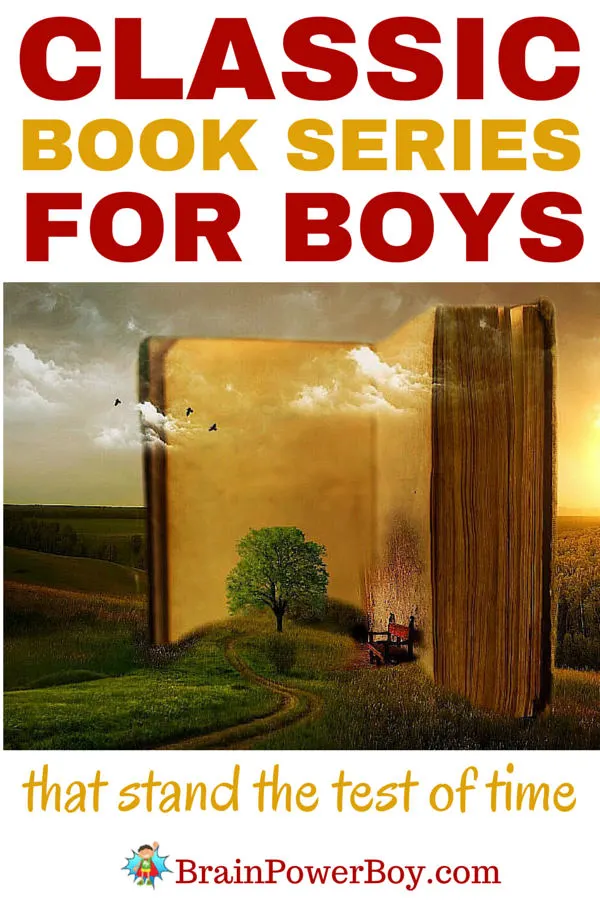 This post may contain affiliate links which means we may receive a small commission, at no cost to you, if you make a purchase through a link. All opinions are our own and we share things we think would be of interest to boys.
Classic Book Series for Boys
I am starting with one of our favorites. It is an amusing classic. A Bear Called Paddington (Paddington Bear series) features a bear that everyone will love. Traveling from the darkest Peru and landing at the Paddington train station is the start to the adventures of a marmalade loving bear that is full of silly antics and adventures. I have fond memories of reading Paddington when I was a child. I introduced them to my son when he was about 7-years-old and he loved them as much as I did. There are 14 books in this series. Paddington Classic Adventures Box Set will get you started.
Another bear classic that we are very fond of is the Winnie-the-Pooh series of books. What little boy wouldn't want to be Christopher Robin and have friends like Winnie-the-Pooh, Piglet, Tigger and the gang? Charming. There are 5 books in the series.
You have to love Pippilotta Viktualia Rullgardina Peppermint Efraimsdotter Longstocking! She is strong (really strong!) she is courageous, she is outrageous, she has very little in the way of manners and she is a total delight. This series is seriously funny and will hold many a boy's attention. There are three main books in the series, there were more written but they are much shorter additions to the series as opposed to part of the main series itself. Pippi Longstocking, Pippi Goes on Board, Pippi in the South Seas
Many boys read through The Hardy Boys (The Hardy Boys Series) quicker than mom's can get the next copies. I knew one boy who set out to read all of the Hardy Boys books in one summer – and he read all 58 by summer's end!
TinTin in America (The Adventures of Tintin) has proved one of the best series of books we have had that led to good discussion on a wide variety of topics. Each of these books is a 3 volume set. The series is written in comic book format and is very appealing. See Series Books for Boys 7 – 9 for more information. There are 24 books in the series.
The Lion, the Witch and the Wardrobe (The Chronicles of Narnia Series) is another classic set of books that deserve attention. This website covers the two different reading orders. There are 7 books in this series.
I had no idea there were so many Tarzan of the Apes books in the series. There are a total of 25 books! These are classic adventure novels with violence and statements and language which match the time they were written. These books are very readable and many boys have stayed up late to finish a book.
The Black Stallion is a classic tale of a boy and a horse (maybe the most famous literary horse ever.) It has adventure, including a shipwreck, and a glimpse into the world of horse racing. If your boy likes horses, this series of 23 books is the one to try.
Only three books long, Big Red is one of the shorter series. Big Red is an irish setter that Danny, a poor trapper who lives with his dad in a shack, knows isn't the type of dog he can afford but oh how he wants him. The descriptions of the natural world alone make the book worth a read. It is not action packed but a slow, good story that one will remember.
The Thornton Burgess Animal Stories Boxed Set (Sets) starts with 6 of the books in this 20 books series of anthropmorphic stories. I should mention that the animals are not kind and gentle as in Winnie-the-Pooh but are a way to take a good look at human nature and make for good conversations about life. They are also an interesting way to learn more about the animals featured.
The Hobbit and the Lord of the Rings Series is an amazing collection of books that no one should miss. This is one of my family's favorite series of all time. The Hobbit plus 3 Lord of the Rings books are in the series. Highly Recommended.
If you are looking for other book series besides Classic Book Series for Boys try:
Terrific Book Series That 3 – 5 Boys Will Love
Fantastic Book Series for 5 – 7 Year Old Boys
Rockin' Book Series for 7 – 9 Year Old Boys
A Dozen Spectacular Book Series 9 – 12 Year Old Boys Will Love
9 Thrilling Book Series for Teen Boys That They Won't Be Able To Put Down