It is time for a super silly book list. Getting boys reading and enjoying books is one of our big goals here on Brain Power Boy which is why we spend a whole lot of time choosing the best books for boys and putting them into handy lists for you to use.
Reading funny books is a nice way to spend some time together. Read, laugh, make your own jokes, and play around with words. It's all great fun!
These books were chosen for their underwear-ness (that is a word, right? 🙂 ) I do not know what it is about underwear that gets boy snickering and laughing but it most certainly does.
Pick up a few of these Underwear Picture Books and have a crazy reading session. Whether you call them underwear, underpants, shorts, briefs, boxers, or something else entirely, reading these books together will guarantee some laughter.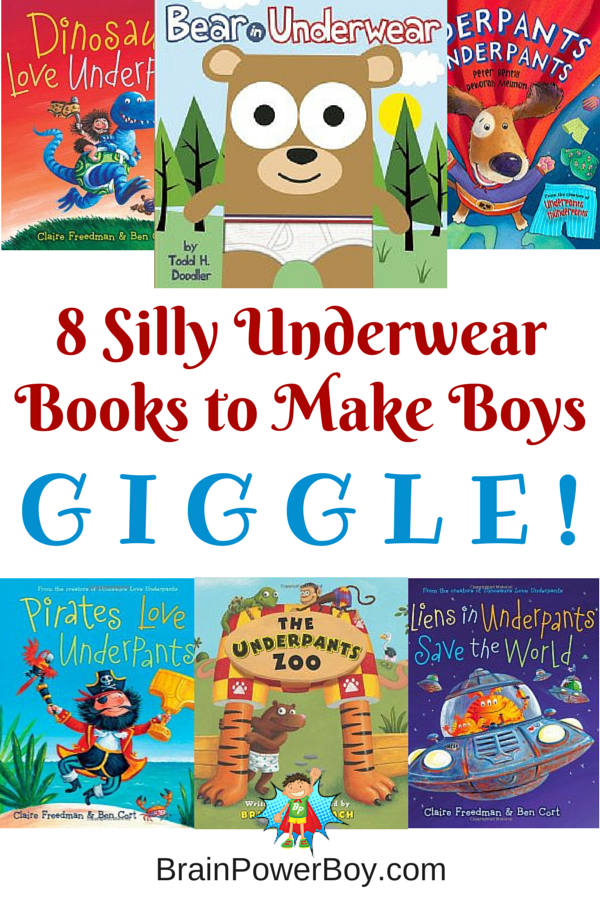 This post may contain affiliate links which means I may receive a small commission, at no cost to you, if you make a purchase through a link. All opinions are my own and I share things I think would be of interest to boys.
Best Books for Boys: Underwear!
A crazy war is started when TRex wants a caveman's underwear in this rhyming picture book, Dinosaurs Love Underpants
. Dinosaur fans won't like the ending but we are all now safe to wear underwear.
In Pirates Love Underpants
they set out to find the fabled Pants of Gold. Fun things like sharks in underwear at Big Knickers Bay, and Long-John Bridge lead you through this romping, rhyming pirate underpants book.
You do want to know how underwear saved the universe, right? Find out in Aliens in Underpants Save the World
Rhyming style and fun, crazy illustrations of aliens.
Bright, bold illustrations with a soft fabric underwear cutout on the front cover make Bear in Underwear
a fun choice. Perfect for young boys who are ready for undies or just for a silly read.
For an amusing take on Goodnight Moon try Goodnight Underwear
. It starts "In a great green forest. There was a little cabin. And a nice campsite. And a campfire . . ." Funny stuff.
A cute dog hangs his underpants on the line when along comes a storm . . .  Find out what happens in Underpants Thunderpants
.
From the same author as Underpants Thunderpants, comes Underpants Wonderpants
. The dog is now a Superhero! (see our Superhero Picture Books if your boy is a fan) He is out to help those in need, with an underpants-style rescue.
Animals in a zoo and underpants. You can't really go wrong with that idea! The underwear styles are funny–Zebra prefers ones with stars! See all of the animals in their underwear at The Underpants Zoo
.
If you want to delight a young boy who hears the word "underwear" and can't help but smile, try a few of these super silly underwear picture books soon.
Make sure you don't read for just a "brief" period of time, as reading with boys is one of the best things you can do to help them learn. That holds true even when you are reading about underwear!
For more books boys will enjoy <<<<click here.
You might also want to check out:
Free Printable Sight Word Game (played with LEGO Minifigs!)