Millions, Billions, & Trillions: Understanding Big Numbers by David Adler, published by Holiday House, 2012
David Adler has written several great math books. My favorite so far has been, You Can, Toucan, Math, which is about word problems. With over 200 children's books to his name you certainly have a lot of Adler books to choose from. Millions, Billions, & Trillions is a nice addition to his list of math titles.
This post may contain affiliate links which means I may receive a small commission, at no cost to you, if you make a purchase through a link. All opinions are my own and I never share things unless I think they are great for boys. Thanks for your support!

I like that he uses examples such as pizza, hair, popcorn and money for illustrating the huge #s in this book. Boys will be able to relate to those subjects since they intimately know them and this will give them a better concept of just how big a billion really is.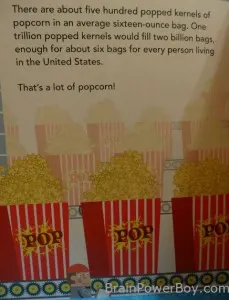 Did you know that one trillion popped kernels of popcorn would fill two billion bags—enough for about six bags for every person living in the U.S? Wow–and yum! Feel free to share that fact with your boy and see if he might like to learn more by reading this book.
Great for boys who like their math delivered in a visual way and for those who like to think about interesting questions like–just how big is a billion anyway?