For this month's Poppins Book Nook Virtual Book Club the theme is Artists. After much thought I picked Henry Matisse as our artist.
When Henry (ahn-REE) Matisse was in his early 20s he became ill and had surgery for appendicitis. His mother gave him a paintbox to help him pass the time while he recovered. It was then that he came to his love of art.
It is said that his first art teacher actually told him he would never learn to draw but he was determined to succeed. And succeed he did. He was a fabulous painter. Today, however we focus on his cut outs. When I first saw them I was fascinated by both the wonderful bursts of color and the scale of the pieces. They sometimes took up whole walls!
It wasn't until he was 60-years-old that he began to create his cut outs. From 60 – 80-year-old, at times creating his incredible cut outs from a wheelchair or from his bed, he made them. He perfected them, he changed them and rearranged them into compositions until he had exactly what he wanted. I hope you enjoy them as much as I do.
Try this Henry Matisse book and art activity with your kids. It makes for a very memorable art experience.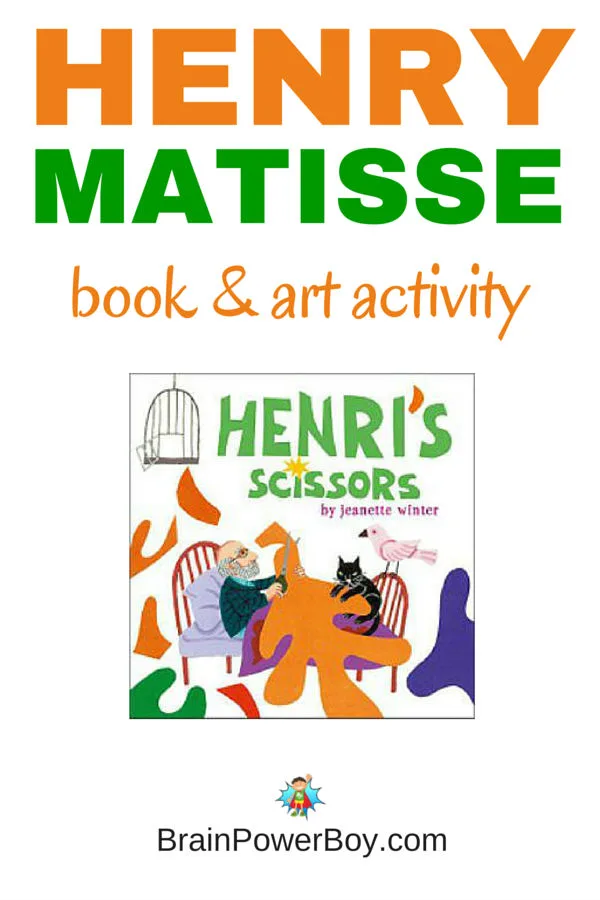 This post may contain affiliate links which means we may receive a small commission, at no cost to you, if you make a purchase through a link. All opinions are our own and we share things we think would be of interest to boys.
Henry Matisse Book and Activity
Today our book is Henri's Scissors. A lovely little book that shares the story of Henry Matisse, his childhood in France, and how he came to create his cut outs. The book is worth a read and if you pair it with the art project below I think you will all really enjoy it.
Along with our book choice we have a video for you which shares information on the cut outs and Matisse's life. This is great for getting inspired to make your own huge cutout displays.
For our activity today we made some large cut outs to put on our wall. It was a lovely project to do. I think we will leave the results up for some time to come.
Matisse used gouache (an opaque watercolor) on white paper but we decided to use colored construction paper for our project. You can certainly paint your papers before proceeding.
What you can make is very open-ended. Matisse focused on nature for some of his cut outs and that is what we decided to do as well. You could, of course, use your imaginations and make whatever you wish.

Take large sheets of colored Construction Paper and cut out a lot of large shapes.
Go Big! Our trees were 32 – 46 inches tall.
Matisse pinned his cut outs to the wall so he could rearrange them at will. We used tape as I didn't want holes in my walls 🙂
Do not be afraid to add layers to your shapes. Matisse thought of this as sculpting.
This really is an easy project to do and I hope you will try it. Read the book and do the project. It is a lot of fun!
Be sure to check out the other participants in the Poppins Book Nook Virtual Book Club below and visit Poppins Book Nook to get the wonderful book club printables available for you to use with your kids.
Enchanted Homeschooling Mom – 3 Dinosaurs – ABC Creative Learning – As We Walk Along the Road – Brain Power Boy – Chestnut Grove Academy – Embracing Destiny – Every Bed of Roses – Farm Fresh Adventures – Growing in God's Grace – Kathys Cluttered Mind – My Bright Firefly – Peakle Pie – Preschool Powol Packets – Pray Species – SAHM I am – Stir The Wonder – Sunny Day Family – Sweet Silly Sara – Teach Beside Me – To the Moon and Back – Tots and Me – Tree Valley Academy – Witty Hoots