Are you interesting in finding the best books for 9 year old boys? We went through a lot of books to find the ones that will keep their interest and keep them reading book after book!
When you are through here, be sure to check out my best books for boys page as it has many book lists to help you find super books for him.
Lets chat about finding the perfect books for your boy.
Boys age 9 are probably in 4th grade. The books they read are getting longer and have more characters. There is more to the stories and the plot. As they read the stories are a bit deeper and they have to keep track of what is happening more than they did when they were younger.
Some boys, however, are a bit put off by a thicker book. If they are, don't push them. There are plenty of good books that don't have a big increase in pages. Or, he may love graphic novels as they include plenty of images to help him move through the stories.
When books start to get more complex and longer, we need to keep in mind that we still want them to be very engaging. Letting your boy choose his own books, whether they are above or below his reading level is a great way to keep him reading.
Non-fiction is also still a big draw for boys this age. Be sure to see the non-fiction section of this list for suggestions!
While most boys are reading on their own at this age, some boys may be struggling, or they may be homeschooled and allowed to read when it comes naturally for them.
Take the time to find the books that he will be interested in and bring him to places where they have a lot of books. Libraries, new and used book stores, rummage/yard sales, book sales and other places where both of you can select books to have in your home.
Continue to expose them to books and let him read on his own and for you to read to him.
Oh! By the way, I have noticed that whenever a child begins to read on their own, the parent slowly stops reading to him. Don't let that happen! Enjoying books together can be a lifelong endeavor.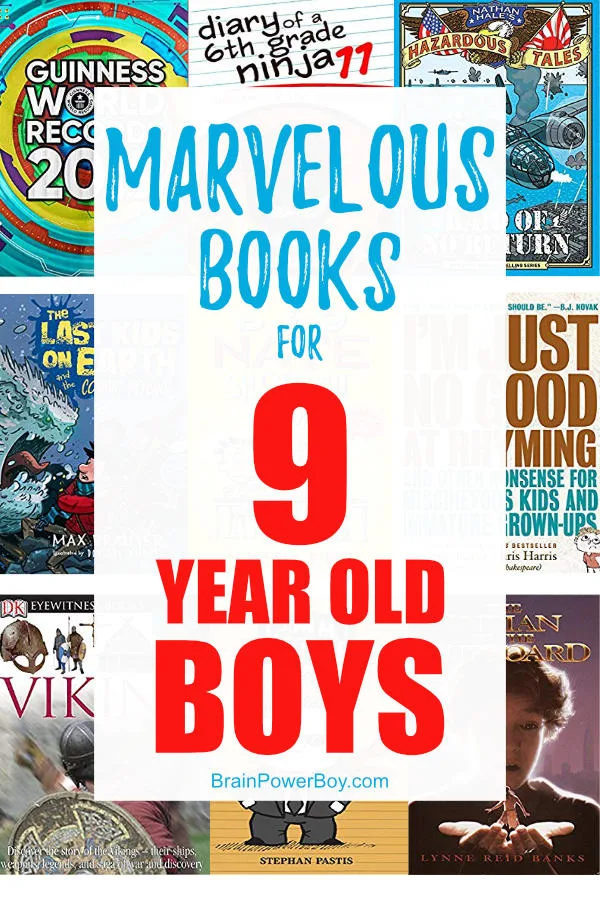 This post may contain affiliate links which means I may receive a small amount, at no cost to you, if you make a purchase through a link. All opinions are my own and I share things I think would be of interest to boys.
This list is to help you find books for your boys or the boys in your class. I don't pick books that parents or teachers want the child to read at this age, this list is for the boys. It is packed with books they will enjoy and get a lot out of.
Our goal here on BrainPowerBoy is to raise boys who love to learn and part of that is instilling a love of reading and the joy of finding the perfect book.
I hope you enjoy the list and are able to find a lot of good books that lead him to other good books.
Reading Level
I am not a reading level mom. I don't care much about it at all. I know that is contrary to what others do and say and I am fine with that.
When choosing a book for my son, I take his interests in a topic and the engagement level of the book in mind, not his age or a level. Just letting you know I don't use them.
At the same time, I am providing a list full of books that 9 year old boys will like. Not every boy is going to like every book. We are all unique! However, this is a great starting point.
You will likely want to check out the other by age lists as well because all of them have good books in them and you may well find something he likes there as well.
Keep your laser focus on your own boy and what he likes and you will do great selecting books for him to read or to give as a gift.
We have one simple, and yet somewhat complicated, task ahead of us and that is to help our boys love books and reading.
And now . . . let's see the best books for boys age nine!
Best Books for 9 Year Old Boys
I always have two parts to my by age book lists for boys. The first is a fiction section, followed by a non-fiction section.
Be sure to check out both of them, and ideally make selections from both areas.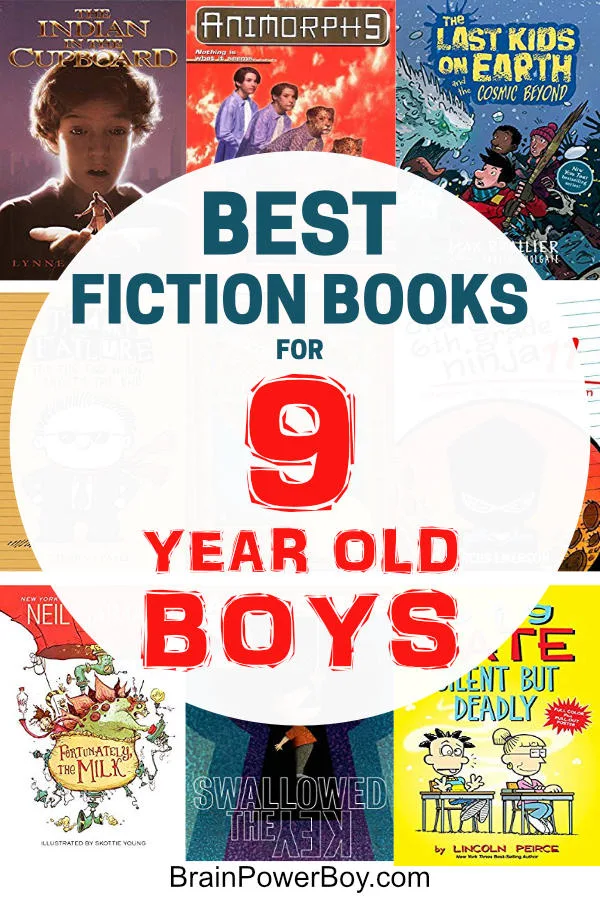 Fiction Books for 9 Year Old Boys
Scroll the list and read the book descriptions to see which ones stand out as something your reader will like.