Would you and your kids like to make a funny LEGO Valentine heart? It is super easy to make.
Grab your red LEGO bricks and get ready to create your own.  You can use our design or tweak it a bit and make one of your own. LEGO is so much fun and provides for endless design options.
We even made a video for you to make it easy to see how to put this LEGO Valentine heart together.
For more LEGO Designs pop over to our growing page.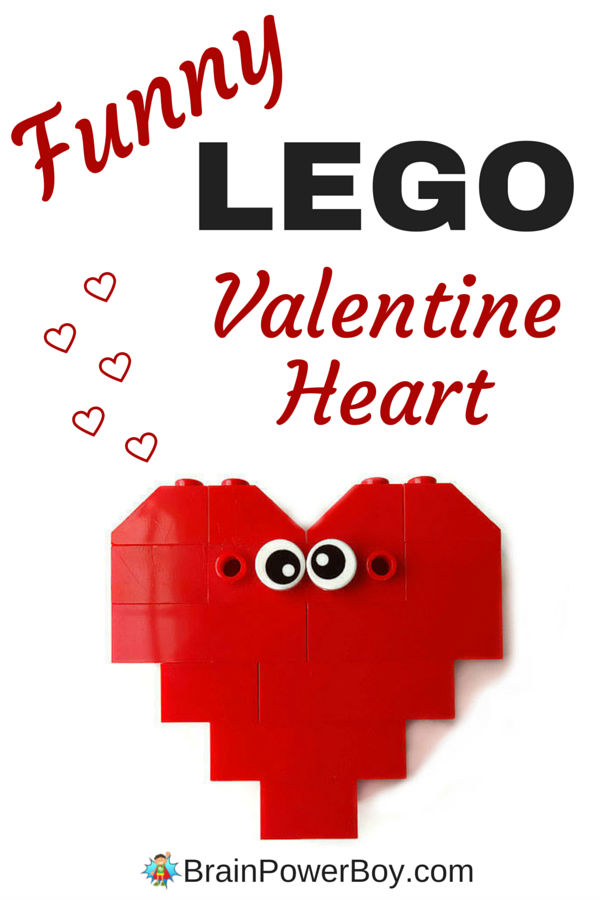 This post may contain affiliate links which means we may receive a small commission, at no cost to you, if you make a purchase through a link. All opinions are our own and we share things we think would be of interest to boys.
LEGO Designs: Funny LEGO Valentine Heart
I wanted to create a fun and easy LEGO Valentine's Day project for you and your kids. Let me tell you a bit about the process.
I started out by making a LEGO heart for Valentine's Day. And it was fine. It turned out how I thought it would but then I thought about what I could do to make it a bit more fun. What could I add to it?
So I tried adding a bit of this and a bit of that and nothing seemed to work. Bummer, right? It sometimes takes a lot of messing around to find something I want to share with you.
Then I thought what if I make the heart into a silly little guy?  I messed around with it a bit and wound up with this design. Isn't he funny?
As I said you will need red LEGO bricks. Or – make it out of whatever color your child picks. Or they can make it multicolored. Totally up to them. I went with the traditional red.
LEGO Valentine Heart Directions
Starting from the bottom and going up I used:
row 1 has 1 2×2
row 2 has 1 4×2
row 3 has 1 2×2 and 1 4×2
row 4 has 2 4×2
row 5 has 1 2×2, 1 brick 1×4 w. 4 knobs, 1 2×2, 2 eyes
row 6 has 4 2×2 roof tiles
That's all you need to make your funny LEGO Valentine heart.
Here is the video I made so you could see how it all goes together. It also shows all the pieces laid out in order to make it easy for kids to build.
I hope you enjoy making our LEGO designs!  We certainly enjoy bringing them to you.  We have more designs like this LEGO Valentine Heart planned for coming holidays. To see all of our coming videos you can subscribe to the Brain Power Boy YouTube channel.
Since people always ask me, I am including links below that will show you where we got the bricks to build our designs. Some of the boxes we bought in the past are no longer available (boo!) and we have a lot of LEGO from a lot of different places but you can check out the ideas below.
You can also buy individual bricks through the LEGO Pick-a-Brick store. Go to The Official LEGO Shop
 and visit their Pick A Brick section. Click on the link I have provided, then click "Themes" and "Pick A Brick.":
This is the set that has eyes in it (click image to see everything in it.) We have a slightly different box.

Enjoy!