This cute little LEGO Easter chick is the second in our LEGO Easter series this year.
The chick is easy to make, doesn't take very many pieces and is cute as can be.
Grab the kids, scroll down to see the directions, and make one today.
Be sure to stop by to see our other LEGO Designs.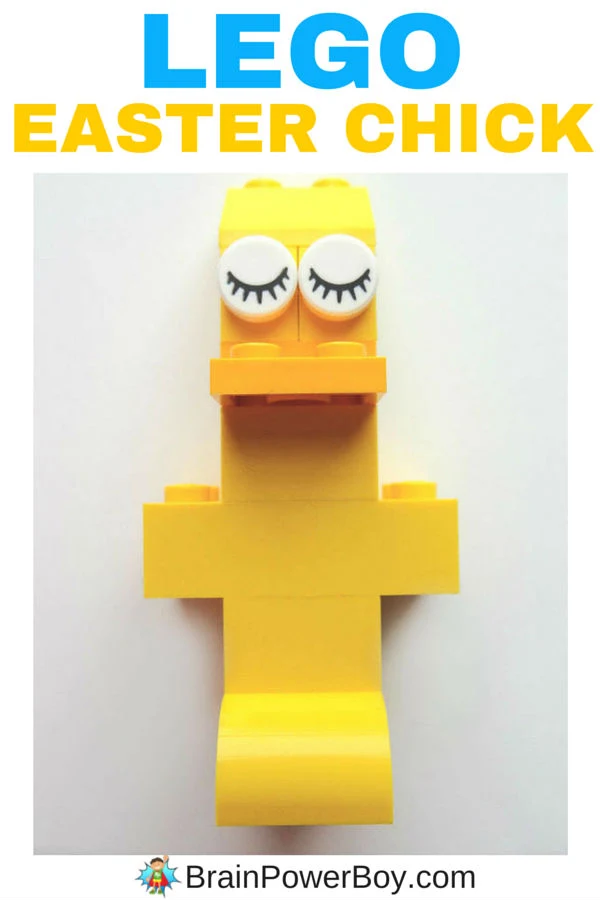 This post may contain affiliate links which means we may receive a small commission, at no cost to you, if you make a purchase through a link. All opinions are our own and we share things we think would be of interest to boys.
LEGO Easter Chick
I started out wanting to make a little LEGO Easter chick and wound up with a duck! Silly, eh? Well, I kept the duck (see link below) but went back to the drawing board for the chick.
This is what I came up with and you can make it too. Don't worry if you don't have all the pieces. Just improvise and switch things around a bit.
The LEGO chick is 6 bricks and two plates high. You will need yellow bricks, dark yellow plates and two eyes.
Starting from the bottom:
Feet: one 2×3 curved top brick.
Body: stack 2×2, 2×4, 2×2 yellow bricks.
Beak: one 2×3 dark yellow plate with one 2×2 dark yellow plate on top.
Head: (see image for details) 2 yellow 1×1 w/stud on one side (for attaching the eyes,) one 1×2 yellow brick for behind eyes, and one 1×2 slope for top of head.
Eyes: We used the cute eyes with eyelashes.
The eyes are the same as those found in the LEGO box shown below.
There, isn't that easy? It goes perfectly with our other LEGO Easter designs. If you like this LEGO Easter Chick see our other LEGO Easter Designs.