Many of you do not know this but my husband is a professional magician. Pick a card, any card, is a constant part of my life.
He started doing magic when he was a young boy and picked it up again as an adult. Since then he has been performing in libraries, at festivals, and many other venues. He also volunteers by performing magic at nursing homes and assisted living facilities.
My son does a bit of magic as well though he was more into it when he was young than he is now.
I talked to my husband and asked if he would join me in providing magic lessons here on the website and he said yes!
Many of the tricks we are going to do can be done with simple materials that you have at home. Grab a dollar bill, a pencil and a piece of paper and you are all set to perform this pencil magic trick.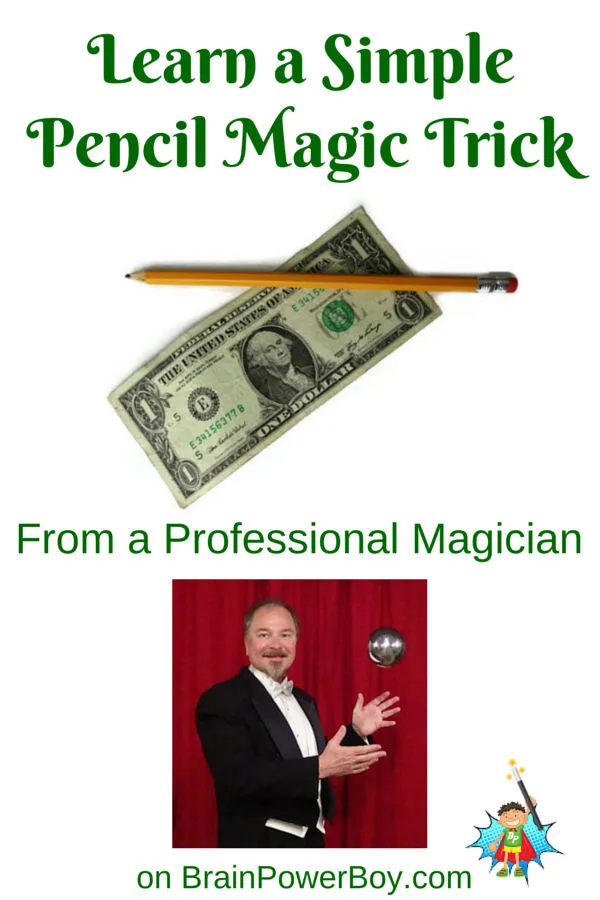 Pencil Magic Tricks: Billatration!
We talked about the best way to teach a trick. He said that when learning a trick you should see the trick first, learn the technique and then practice it many times.
This video has a presentation of the trick pencil through dollar bill, the explanation of how the trick is done and then the trick performed silently.
Magic is a wonderful way for boys to learn. Learning occurs with everything from first seeing the trick performed to researching how to do it, learning the techniques needed to perform it, practicing the trick (again and again!) and then there is also a lot of learning that takes place with scripting and presentation.
If we get the response we are hoping for we will be doing this on a regular basis. You can help by sharing this article through social media–pin it, tweet it, share on FB or G+.
If you have any questions about performing the pencil magic trick pencil through dollar bill, please feel free to leave a comment and we will get back to you right away.
We have more fun activities for boys on the site as well as a lot of posts on LEGO and books for boys. Be sure to take a moment to check them out.
If you liked this video please subscribe to our YouTube channel so you don't miss the next magic lesson! Don't forget to share!