I am sure that by now, everyone is aware that fall is in full bloom. The leaves are displaying their lovely reds and oranges and the air is getting cooler and crisp. Just because the weather is cooler does not mean that you should bundle up in your home and hide.
Today I will be sharing a few fall activities for preschoolers with boys in mind. If you have a daughter, she can definitely join in on the fun.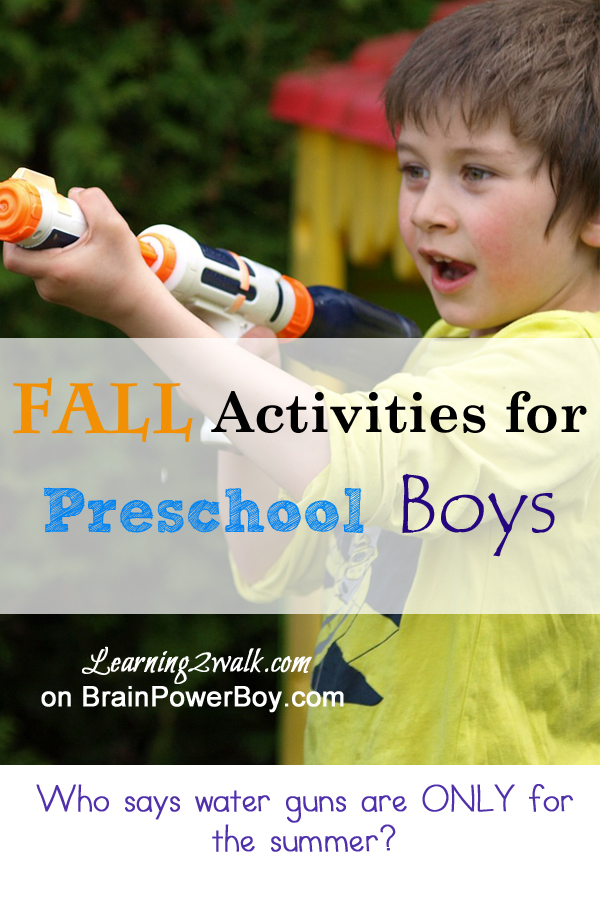 This post may contain affiliate links which means I may receive a small commission, at no cost to you, if you make a purchase through a link. All opinions are my own and I share things I think would be of interest to boys. Thanks for your support!
Fall Activities for Preschoolers:
Pumpkin Target Practice
This activity can be done in two ways.
For the first version, you need the following items:
A water gun

Orange paper cups
, or cups painted orange
A flat elevated area to place your cups
The aim of the game is to knock the pumpkins (cups) off the elevated area with your water gun.
In the event that you do not have a water gun available, here is an alternative.
You will need the following items:
A spray bottle
Orange pom poms (ages 3+)
The aim will still be the same. The spray bottle replaces the water gun and the pom poms replace the orange cups. Try and see how many pumpkins you can hit.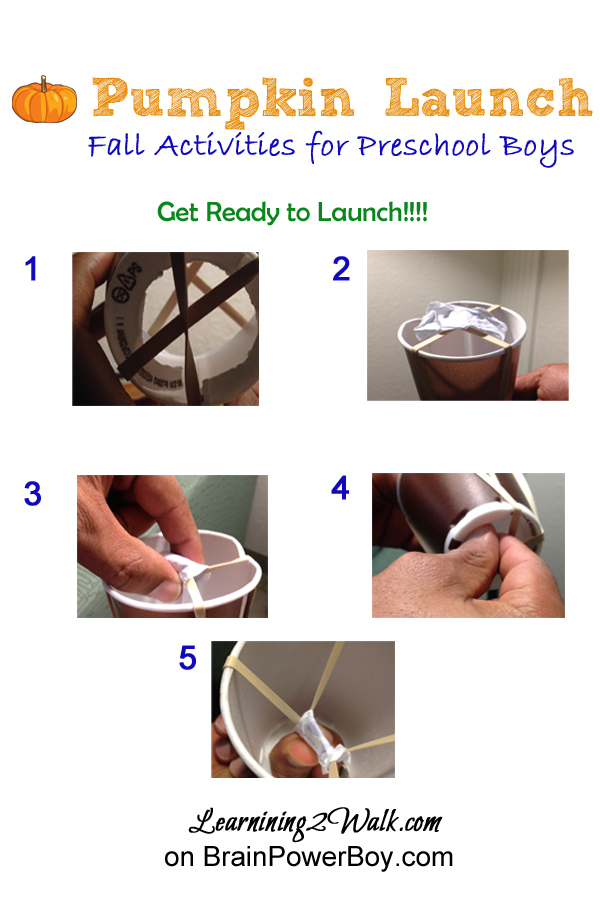 Pumpkin Launch
You will need the following items:
Sturdy paper cup with the bottom cut out
2 wide rubber bands
Small folded orange constuction paper
bundles
First, remove the bottom of the cup by cutting it out. Then place the first rubber band on the cup lengthwise, ensuring that it covers the bottom and the top of the cup. Place the second rubber band lengthwise as well. Ensure that an X is created (see image.)
Fold paper into a rectangle that is slightly smaller than the width of the cup. Then hold it on top with your left hand. Ensure that the paper is folded over the rubber band.
Place your right hand through the bottom of the cup and with 2 fingers, and grab the paper "pumpkin." Pull the rubber band back and when you are ready, let go. If the rubber bands start to slide off just put some tape over them to hold them in place.
To really have some fun, you can try aiming at targets. Choose your designated target or area that you will launch your pumpkins at.
As always when doing any activity, especially one that deals with projectiles, caution and safety must be exercised. Please ensure that when launching no one is in the vicinity and that you properly show your preschooler how to do the activity before letting them have at it. Pom poms should only be used under supervision as they can be a choking hazard.
Well there you have it, two simple fall activities for preschool boys that can be adapted in so many ways. What fun activities have you done with your boys to celebrate fall?
Note from Brain Power Boy: Thanks Alecia, for some fun fall activities.
Here are a few other ideas for water gun play in fall:
Use a squirt gun or water gun to draw pumpkins on the sidewalk
Tie leaves to a string, hang between two chairs and spray the leaves.
After Halloween, right before you dispose of your pumpkin, use it for target practice.
You might also enjoy:
The Simple Fall Learning Activities I posted on Alecia's site.
Acorn Sensory Bin from Alecia.
and this big list of fun activities for boys.
Thanks for stopping by. If you would like boys' learning activities sent to your inbox, sign up for our newsletter.