Get your guys laughing with these funny father son picture books. They will love bonding together while reading these amusing titles.
There is nothing like laughter and a good book to create a memorable moment between father and son. With these books, reading time can be a special time together and a time to laugh and laugh.
Dads and their boys are totally going to enjoy these best books for boys selections.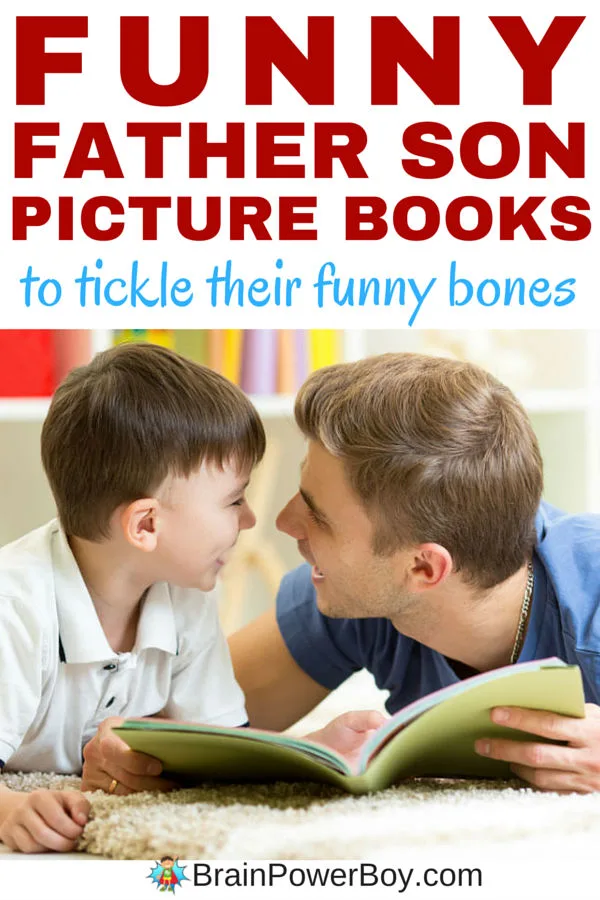 This post may contain affiliate links which means we may receive a small commission, at no cost to you, if you make a purchase through a link. All opinions are our own and we share things we think would be of interest to boys.
Funny Father Son Picture Books
Darth Vader and Son
We will start out with a personal favorite! Darth Vader and Son. Seriously a winner through and through, this amusing Star Wars tale is perfect for SW fans young and old. Anyone up for light saber baseball?
Because I'm Your Dad
For a super (not scary) monster father son book try Because I'm Your Dad. It is funny and the illustrations are colorful and amusing. Think of dad feeding his young son rocky road ice cream in the bathtub and you've got this one down.
My Dad Thinks He is Funny
This one is for funny dads – or ahem, those who think they are funny – and their sons. My Dad Thinks He is Funny is a perfect book for those who enjoy bad groaner dad humor such as dad taking a slice out of a cake, taking the big piece and saying "What is everyone else having?" and so on. They will laugh together at these silly dad jokes.
My Dad is Big and Strong
Here is a twist in the normal bedtime tale where the dad just doesn't want to go to bed and his son has to get him to do so. My Dad is Big and Strong, BUT . . . A Bedtime Story Funny stuff!
My Dad at the Zoo
A follow-up to the book above, My Dad at the Zoo is a hoot. The son takes his dad to the zoo and his dad acts a bit zany. The book has all the normal issues that the son now has to solve – dad has to go to the bathroom, he gets upset when he can't have an ice cream, he can barely stand in line and so forth.
These books are a lot of fun and I was happy to find them.
I hope your family will enjoy these funny father son picture books. They are certainly worth a look. My son and his dad have read so many books together and the funny ones have been a hit and get read again and again.More Father Son Ideas
Father Son Activities: To Have Fun, Bond, and Build Memories!