Got a boy who loves rockets? This is the perfect book list for you. Rocket books is packed with goodness for kids who can't get enough info about rockets.
These books deliver great information for your space lovin' kid. Look through the list and grab a few today.
See our best books for boys list for more great books.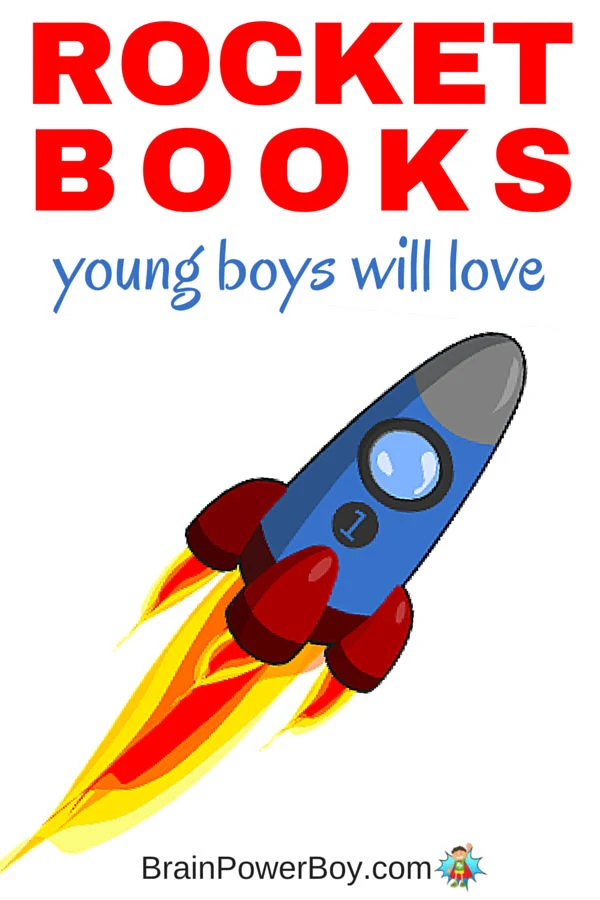 Rocket Books
Rockets are a fascinating subject and so many boys go through a rocket phase.
This book list starts with rocket books for toddlers and moves on through to books for boys about 5 to 6 years old. We will be putting out a rocket book list for older boys soon.
Countdown to blastoff with On the Launch Pad a counting book about rockets. The book features interested facts with each number as you count your way down to the big rocket launch. Bright colorful pictures top off this good book.
You can't go wrong with Curious George! Curious George and the Rocket is actually a story from Curious George Get a Medal. If you already own that book just find the part where he goes to the moon. If not, this board book edition has nice coated pages perfect for younger readers.
While the text in This Rocket is very simple and meant for preschoolers, there are end papers that include detailed illustrations and information about rockets. I also really like how it shows that not all rockets look the same. So, this is a good toddler rocket book but I think boys up to 4-5 will enjoy it as well.
Cute illustrated animals are the astronauts in this fun rocket book. Roaring Rockets provides a lot of facts (except about the gravity boots) and is an enjoyable read.


Spaceships and Rockets a level two reader has color rocket images and easy to read text. Discover the history of rockets, learn about launches and other spaceship and rocket facts. This inexpensive book is not very long, but it is DK, and of high quality.
For specific information about how rockets work, try Think Like an Astronaut! How do Rockets Work? This book just came out and we have not gotten a chance to see it yet. However, we got a look at their Engines book and it was filled with drawn illustrations as well as photographs for a unique and educational look at the topic. The books are very well done.
This DK level three readers includes neat rocket experiments for you to do at home. Hands-on learning is awesome and this book is tops for teaching about rockets in an engaging way Get DK Rocket Science. I like how they present material but get kids thinking at the same time.


I hope your young space fan likes the rocket books list we pulled together. There are some wonderful titles here. Grab a few to read to them or for them to read themselves.
Don't miss:
Stellar Fiction Astronaut Books for Your Space Fan and