The Sportline Sport Timer Stopwatch 226 has all the basic features and is really easy to use. It has time of day, calendar, different time options (minute, second) and the stopwatch will register 1/100th-second for 30 minutes. There is also an alarm mode and a split time measurement.
This post may contain affiliate links which means I may receive a small commission, at no cost to you, if you make a purchase through a link. All opinions are my own and I never share things unless I think they are great for boys. Thanks for your support!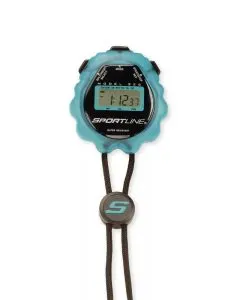 Stopwatches are a lot of fun and can be used for a more than just timing a race. Think math, science experiments, in nature to time animals, for cooking etc. We have used it mostly for running races and to see how fast we can get things done–which makes some of the more mundane tasks a bit more fun.
We got the water resistant model as it was only slightly more money and we thought it was a nice feature to have. This model fits in all of our hands quite well. The buttons are easy to press but click down so that just bumping them won't start the stopwatch before you are ready.
The face is big enough that the numbers are easy to read in good light. It is hard to read in low light and this model doesn't have a backlight–not an issue for us but if you need one with a backlight you might want to check out the Sportline 228.
We recommend it for daytime use. Stopwatches are great fun to have around the house. Yes, there is an app for that (there is an app for most everything!), and there are online stopwatches as well but an actual physical stopwatch is a nice tool for a boy to have.