Can you Canoe? A Mississippi River Adventure Album (and DVD) by the Okee Dokee Brothers, 2012
What do a turtle laying eggs, flying fish and a real life River Rat have to do with a music CD/DVD? They all make an appearance in the latest offering by the Okee Dokee Brothers.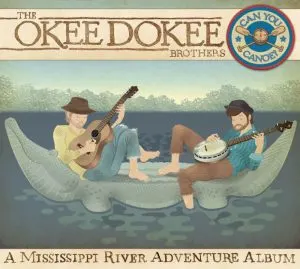 Joe Mailander and Justin Lansing share their 30 day camping trip down the Mississippi by providing us with a canoe side view of the scenery and wildlife on their trip.
This post may contain affiliate links which means I may receive a small commission, at no cost to you, if you make a purchase through a link. All opinions are my own and I never share things unless I think they are great for boys. Thanks for your support!
Can You Canoe? is entertaining and has a folksy feel. Banjo and guitar with great vocals make this CD a great addition to the family playlist for traveling or just hanging out in the backyard relaxing. I found myself humming Can you Canoe the other day—and many other times as well. 🙂 Enjoyable.
My favorite lines from the many compelling lyrics in this album are:
We don't need no outlets, we don't need no wires

Primetime entertainment will be lightnin' bugs and fires

—Can You Canoe
In addition to a CD, Joe and Justin have included a DVD of their trip down the Mississippi. It features the songs from the album but so much more. These boys enjoy life and seem to have a "do what you love" type of spirit about them. The beautiful videography deserves special mention. The nature shots are incredibly clear and vivid. It makes you want to take your own trip down the Mississippi.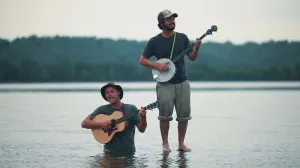 We enjoyed the hilarious How to Build a Campfire in 13 Steps (don't forget the burn ointment.) The interview with Kenny Salway, The Last River Rat really stuck with me. He has been a hunter, trapper, angler, and root & herb collector and more for 28 years. His word of wisdom about children, magic, and nature are "worth the price of admission."
As an extra bonus you can see how childhood friendships made by young boys can lead to lifelong passions and connections. My family found new favorite performers in the Okee Dokee Brothers.
It is a wonderful CD/DVD set and well worth purchasing for your nature and/or music lover. Also available in MP3 format.