LEGO sets are awesome. There is no denying that fact, right? Well, that depends on who you talk to.
For years, people have been decrying the proliferation of LEGO sets. They feel that LEGO sets stifle creativity. They have four main anti-creativity arguments against sets.
How did adults come up with these arguments? Are they are thinking a bit too much like adults and not like enough like kids? Are they correct in thinking LEGO sets are a problem?
Do LEGO sets stifle creativity? Let's take a look.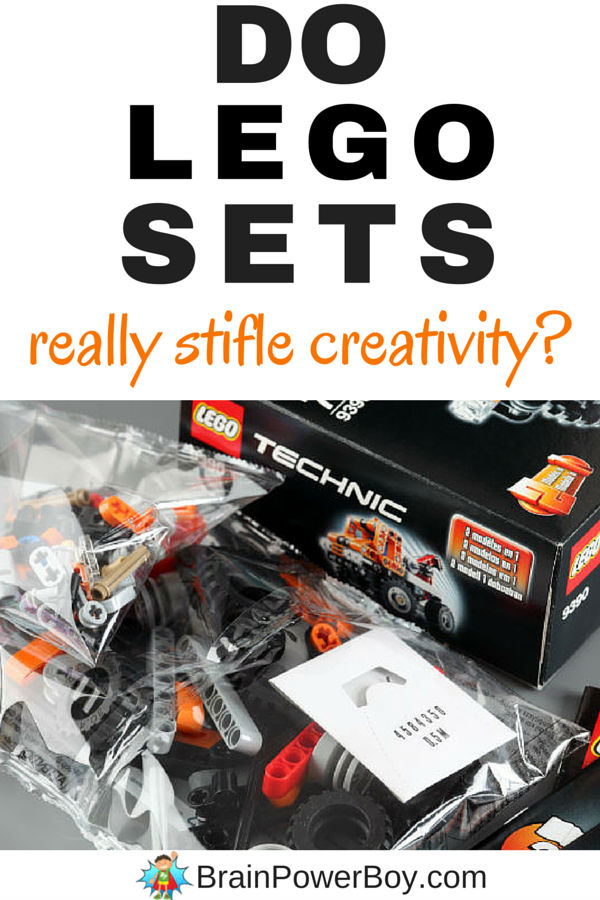 This post may contain affiliate links which means we may receive a small commission, at no cost to you, if you make a purchase through a link. All opinions are our own and we share things we think would be of interest to boys.
For those of you who follow this site you know that I am all about open-ended play and natural learning. (To those of you who are new here – Welcome! Visit this page to learn more about our site.)
Children learn best when they are interested in something and that providing open-ended toys and other free-play opportunities supports both their creativity and their learning.
With that said, what about LEGO sets? Are they bad for your kids?
Do LEGO Sets Stifle Creativity?
Argument 1: LEGO Sets Limit Creativity Because You Can Only Build What is On the Box
The first argument against sets is that you can only build one thing with them.
British blogger, Chris Swan, complained: "The problem is sets that only make one thing like a dragon or something licensed from a movie." The argument goes: you build the item on the box and you are done.
I cannot understand this argument at all. Once you build a set you can take it apart and build something new. You are not required to build the set and never take it apart. Who thinks that? Well, apparently some people do!
My son has made awesome, detailed builds that looked nothing like the original item pictured on the box out of the pieces in a set.
As you can see from the LEGO Creator Rainforest Animals set below there are also several different building options in some sets.
Others provide pieces for a specific build but you are certainly allowed to, and by the very nature of LEGO encouraged to, build whatever you wish with those pieces.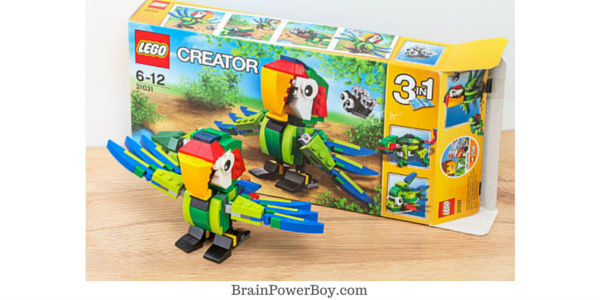 Argument 2: If You Build With Sets You Are Not Using Your Imagination
The second argument against LEGO sets is that if you build with sets you are not being creative and you are not using your imagination.
Sets come in a wide variety of topics. That is certainly not going to stifle creativity.
Plus the addition of LEGO Minifigures to sets takes creativity beyond the brick and adds a storytelling element to it.
You are able to create whole new worlds for the characters you like and create story lines surrounding them. For example, you can have Batman pilot an AT-AT Walker from Star Wars or build a jungle scene for your classic space minifig.
Speaking from personal experience these worlds can get rather large and the stories go on for days, weeks, sometimes even months.
Utilizing the pieces from sets along with the minifigs, this highly engaged play usually involves a lot of time building items for your world and a wide variety of storytelling. Talk about setting your imagination loose and using your creativity!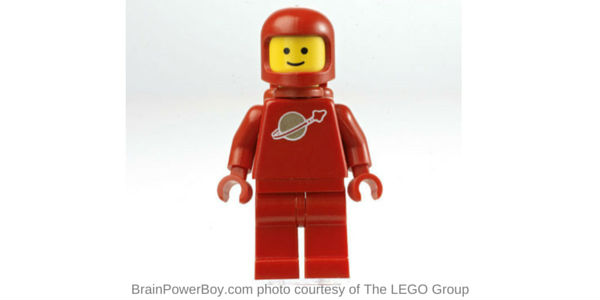 Argument 3: You Just Follow Directions in LEGO Sets
The third argument against building with sets is that you simply follow the instructions and thus you are not being creative or thinking about the building process.
TV personality and adventurer Ben Fogle said "Where once Lego offered a whimsical form of escapism into the world of the subconscious, encouraging creativity and imagination, it's transformed into a rigid 'box ticking' discipline where children are encouraged to build by conformity."
He is wrong. By building with sets you are learning how LEGO pieces go together. You are learning about design and construction techniques. You are learning about how to create new configurations.
You are learning about the elements and the building pieces, the way they go together and most importantly you are discovering possibilities you never knew existed. By following the set directions you are finding completely new ways to use LEGO pieces to build more creations.
Can you learn these things with a regular box of bricks? Well, to a point, but set instructions allow you to see how they construct a wheel base for a race car and take that same base to new levels when you create your own cars. You can't build a car like the one below from standard bricks, that is for sure and what you learn from using the instructions found in sets aids you in building creations that are more complex.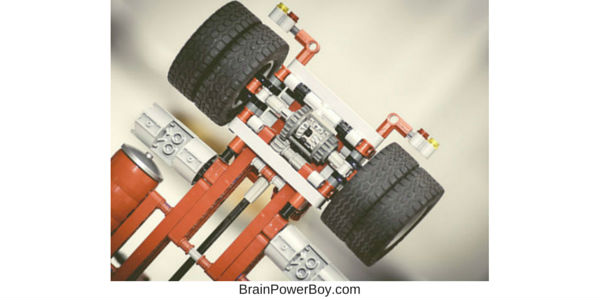 Argument 4: LEGO Sets Come with Specialized Pieces That Can Only Be Used One Way
The fourth argument against LEGO sets is that they come with specialized pieces that have very limited uses. That, my friends, is limited thinking!
One of the very best thing about sets is the specialized pieces. LEGO bricks are wonderful. They are. But . . . bricks are bricks, they are blocky and it is very hard to build the item of your dreams with standard bricks alone.
The specialty pieces are incredible. They make building much more fun and actually let kids build something that is closer to what they have pictured in their minds.
These pieces are often used in creative ways that were not intended. Take a look at this slick toothbrush made out of LEGO specialty pieces.
People argue that basic bricks are more adaptable than specialized pieces and while I disagree why must it be either or? Add them both together and you have over 8000 different types of pieces to choose from.
In reality, specialty pieces take building to a whole new level and allow for expanded creative building opportunities.
So, Do LEGO Sets Stifle Creativity?
No, LEGO sets do not stifle creativity. If anything, they enhance it.
Personally I think that sets provide the opportunity for greater creativity than boxes of bricks. Feel free to disagree, but that is what I have seen in my home and I know a lot of moms who will agree with me.
LEGO spokesman Roar Rude Trangbaek also denied that sets are less creative. He said: "Children still get bricks and they can combine them. The bricks will probably end up in big boxes in homes and that acts like a pool of creativity." I love the pool of creativity phrase, don't you?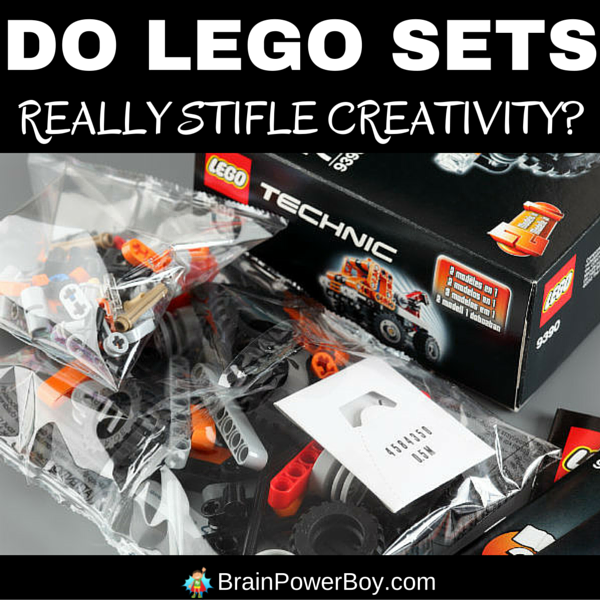 The creativity of children is not hampered by the set. Think about it. LEGO is a creative toy. It is all about how you combine the pieces to make whatever you want to make. Then, after you make it, you use your imagination to play with what you have created.
Yes, you can build a set and put it on a dresser and admire it. You can leave it there as long as you like. But kids are not afraid to take apart their sets and make something new. In fact, that is, and always has been, the appeal of LEGO. Sets didn't ruin that.
The Arguments Against Sets are Based on Adult Thinking, Not Creative Thinking
Argument 1: You can only build the thing on the box. False.
You can build whatever you want with the pieces you are given.
Argument 2: When you build with sets you are not using your imagination. False.
Sets have minifigs and cool pieces that lead to open-ended play and storytelling.
Argument 3: You are only following instructions and not doing creative thinking. False.
You are learning construction techniques and being exposed to new building ideas.
Argument 4: Specialized pieces can only be used one way. False.
Specialized pieces can be combined with other pieces and they take building to a whole new level.
The arguments saying that LEGO sets stifle creativity are based on adult thinking, not creative thinking. LEGO sets lead to open-ended opportunities and provide an even greater chance for your children to be creative.
LEGO sets do not stifle creativity. Do not listen to the naysayers. Sets are not bad for them. Go buy your kids some sets and let them unleash their creativity to their hearts content.
Get a set for yourself as well so you are sure not to slip into that crazy adult state of mind that doesn't understand what true creativity is, gets confused and thinks that LEGO sets are a problem, and misses out on the wonderful possibilities LEGO sets offer to kids of all ages.
Thanks for reading! If you are a fan of LEGO sets, please share the post with others by using the sharing buttons below and take a moment to read:
Awesome Ideas to Encourage and Enhance LEGO Learning and
LEGO Learning: What They Learn When They Play