If teaching your boy to type is like pulling teeth, you are going to be happy you found this post because we found some fun typing games!
In school, most kids learn to type in a typing or keyboarding class. I can tell you right now that when I took typing it was deathly dull, and from what I could see when I worked at a school, it still is.
Even if your boy is learning in class he may need/be required to practice and using games will be the "key" to getting him interested.
Some homeschoolers don't teach typing until later, and others let the child choose if and when to learn.
Whether he has not yet learned to type, or he could use some practice, you may want to give these fun typing games a try.
My son learned to type by playing around on the keyboard and also by playing typing games.
It was a great way to practice without the tedium normally associated with learning to type.
Games are always a wonderful way to learn and these are perfect for boys because they feature topics they enjoy.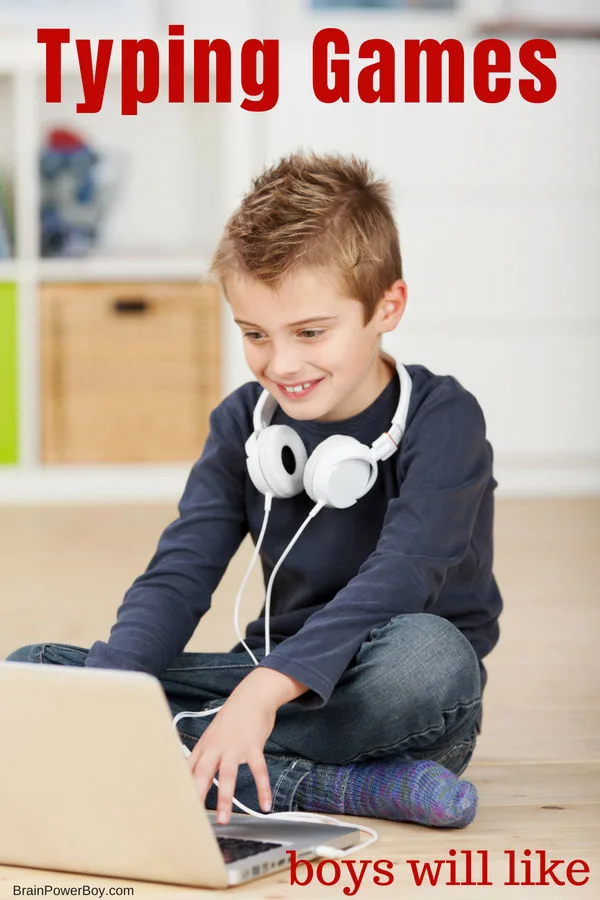 Special thanks to KidzType for sponsoring this post. All opinions are my own–of course.
Fun Typing Games
If teaching your boys to type has been a struggle, why not give a few of these choices a try from KidzType.
I'll give you the scoop on the different free games so you can decide which ones would be best for your boy.
Violence
Note: some of the games include violence. I know some of you are not going to be ok with that. I mention what is violent, and whether or not the game has blood, in the descriptions below.
Not all of the games I am sharing are violent, so simply choose the ones that work best for your family.
Either way, these games will keep your boys engaged much longer than the normal way of teaching typing which is basically rote learning.
Car Race Typing Game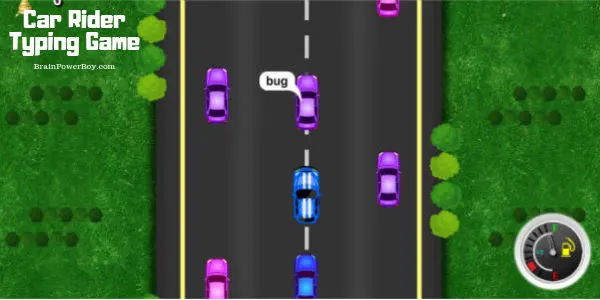 In Car Rider you drive along and cars pull in front of you (like in real life 😉 ) When they do, you need to type the word above the car.
By typing the words you gain fuel which you need to get to the finish line. If you run out of fuel the game is over.
I would like this one a little bit better if you actually crashed if you got a certain number of words wrong or ran out of gas, because I think boys would find it more interesting and fun. But it is a good racing typing game if your boy likes cars.
Alien Typing Game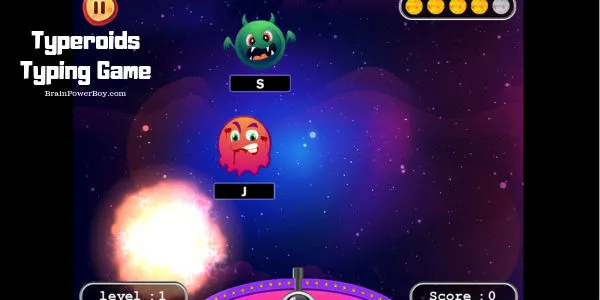 Typeroids (instead of Asteroids – get it?!) is a fun space themed typing game. There are five different levels with increasing difficulty.
This one has some crazy looking aliens in it! They are super funny. You shoot them down with your spaceship.
If they get you, you use loose a planet or moon (not sure what they are suppose to be.) If you lose enough lives . . . game over.
There are two different games and you can choose from top row and home row. Hopefully they will be coming out with bottom row soon to complete the series.
Airplane Typing Game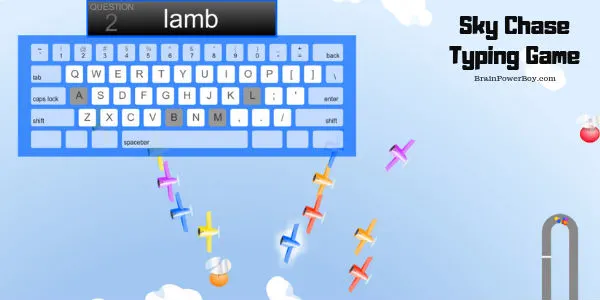 If you have an aviation fan on your hands, try KidzType Sky Chase. It is pretty neat.
You pilot a plane and with each word typed correctly you get a boost and when you make a typing mistake, your plane slows down.
It is a fun one to play as the faster you try to go the more likely it is that you will make mistakes which will in turn slow you down.
Tip: for boys who get frustrated easily, tell them slow and steady wins the race – not a bad lesson overall.
Vampire Typing Game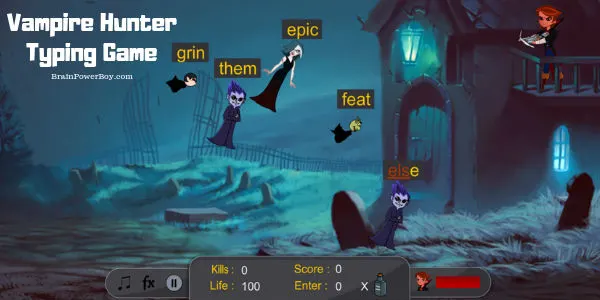 In the vampire typing game called Vampire Hunter there is an archer (you) and vampires (obviously!) which are out to get you and come in waves.
There are options for easy, medium, and hard words, and top, home and bottom row practice.
Uses the word kills in the scoring.
The archer has a crossbow and shoots at the vampires which sort of go poof and disappear when hit. If the vampire hits you, you loose a lives, after you lose enough, you die.
Shooting Typing Game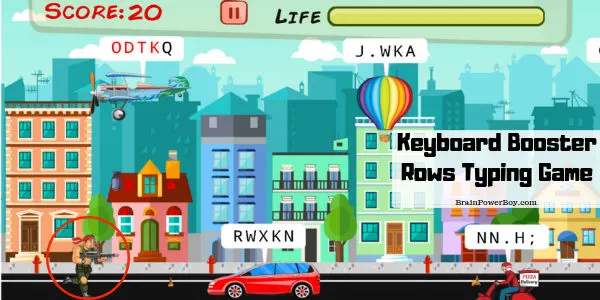 I was a little surprised when I opened Keyword Booster Rows as I had no idea it was going to be a shooting game since the title and image don't exactly give that away.
There is a little Rambo-looking character who is running with a weapon which shoots out orange balls.
In the air are planes and hot air balloons that drop bombs and there are vehicles on the road. You type the words above them and they explode.
If your character runs into the vehicles or has a bomb dropped on him, again there is an explosion. After a certain number of times he falls over.
Ninja vs. Zombies Typing Game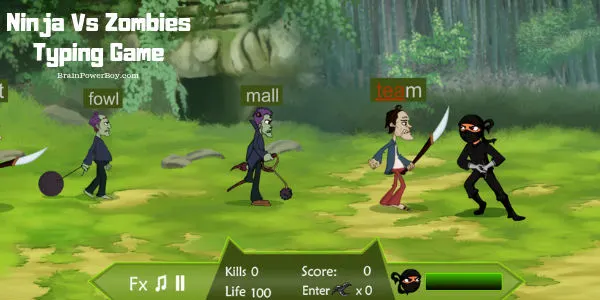 When Ninja vs. Zombies is loaded, the game lets you choose from easy, medium, and hard words, as well as, home, top and bottom row which allows them to work on the area they want to cover.
There are zombies with weapons coming toward the ninja (you) and to kill (their word) the zombies you need to type the words correctly before the zombies reach you.
When you type the word correctly, the ninja throws a morning star at the zombie and kills it. When you are typing the letter to the words turn red.
When the zombie gets up to the ninja because you have failed to type the word correctly there is a splat of blood and the ninja collapses (dies.)
Here is a little instructional video on touch typing in case you need it.

KidzType actually has 16 games (at the time this was written) in all. If you have kids of different ages, be sure to check out their other selections, such as Dance Mat typing here.
I hope you and your boys will try these fun typing games, and more than that I hope they help you teach your boy to type in a way that he will actually enjoy!
For more games for boys <<< see our post with over 100 additional ideas.