Planning a wedding shower quickly might seem a bit stressful but it can actually be fun and exciting if you know how to go about it. This step-by-step guide to hosting a last minute bridal shower will help!

Since you need to throw a shower in a short time frame you may be wondering . . . how in the world am I going to pull this off?! Don't you worry though, we will help you navigate everything. There are ways to easily work through everything you need to do and host an amazing shower.
Quick tips for those who don't even have time to read the full post!
Pare down the list of people invited to family and friends
Choose a popular and simple theme
Plan a potluck-style meal or a dessert bar
Opt for simple decor
Keep it casual
Host it at home
Send out digital invitations
Focus on simple activities
Ask for help

With a little bit of creativity and careful planning you can have a beautiful and memorable event without breaking the bank and pull it together in no time.
Before we begin, I want you to keep this in mind:
Ultimately, the most important thing of all is that the guest of honor feels surrounded
by the people she loves and who support her during this special time in her life.
Shower her with love, gifts and good wishes and you will have a successful event!
I've laid things all out to make it super easy for you. After reading this you will come away with a solid plan and know exactly what to do in order.
Planning A Last Minute Bridal Shower
If you are trying to plan a last-minute bridal shower you need to be organized. Don't skip the planning! Even though you are going to pull this together quickly and probably feel like planning will take too much time, hear me out. Planning ahead can actually save you time, money and stress. It won't take long if you follow the steps in this post and it is totally worth the effort.
Here is your step-by-step plan with additional details later in the article:
Choose the date and time of the event
Pull together the desired guest list
Set a budget
Find a location or venue to hold the event
Discuss an overall theme
Order Invitations
Create a notebook or use an online planner or calendar to ensure that everything is in order and that every detail is taken care of.
Don't stress too much about the details and focus on creating a casual and relaxed atmosphere. Guests will appreciate the chance to catch up with the bride-to-be and enjoy each other's company.
That said, there are many things to consider, such as the decorations, food, and party favors which we will go into below.
If you need help, ask for it! People are always willing to chip in and help out. This includes during the planning stage and at the event. Assign tasks like setting up the food table, decorating the space, or taking photos so you don't have to do everything yourself.
When planning, keep in mind that since time is short you may want to decide to have a shorter duration shower as well since longer events may require more planning and preparation.
If you have your planning list handy at all times, when the big day comes you can check things off and look like a professional instead of running around being (and looking!) stressed out.
Planning is the best way to make sure everything runs smoothly. It also alleviates stress and ensures that everyone has a great time!
Picking the Best Date
The bride's schedule and preferences should be the main focus when selecting potential dates. It's also important to consider the schedules of the bride's mother, maid of honor, and bridesmaids.

If it's difficult to find a date that works for everyone, consider compromising on a date that works for the majority and finding a way to include those who can't make it. For example, you could invite them to join via Zoom.

The ultimate goal is to find a date that works for most everyone so they can attend and celebrate with the bride-to-be.
Who Should Be Invited To The Bridal Shower?
The first thing to do is to decide who to invite. Why? Because everything else really depends on who is coming and the number of guests you will have! You can't plan for location, food etc without this information.

You don't have to be exact but you should try to land on a number to work from.

Because you don't have a lot of time, consider choosing to limit the number of guests invited. This will help keep thing manageable. It will also make it easier to find a place to host the event.

The guest list should include members of the bridal party, bridesmaids, maid or matron of honor, as well as close family members and friends of the bride. You should ask her who she wants to invite unless you are throwing a surprise shower.
Deciding on the number of people to invite
Just a quick note that once you go over the general idea of who should be invited you need to try to pick a number of people you will invite. Sometimes that number is already set because this group of people need to come and other times you have some flexibility.

Keep in mind her preferences for size as well as budget and venue location choices.
Setting Your Budget
If you have a budget for the shower, be sure to set it ahead of time. This is important since you are going to be doing things fast. Because of this it is possible you may incur additional charges such as for booking last minute or for expediated shipping. But, the more organized you are, the less you will have to spend extra.
Choosing the perfect location and venue
I have a whole post on choosing the perfect location for your bridal shower and you can check that out if you need more ideas. Here I'm sharing the ones that will work best for you under these circumstances.

The options for venues are endless but don't spend too much time on this. Look throught the list below and choose a few to explore. Make some phone calls to see if your date and time is available. That will help you to narrow things down.
Here are some popular venues:
A friend's or family member's home: This is the least expensive option and can be a great way to create a warm and intimate atmosphere.
A tea room or cafe: Many tea rooms or cafes offer private rooms. You can enjoy delicious food and tea in a cozy atmosphere.
A restaurant: Many restaurants have rooms for events. This can be a convenient option if you want to also include a meal and not have to make it yourself though that will likely cost a bit more.
A pretty backyard or public gardens: If the weather is nice or you have the option to go indoors in case of poor weather, consider someone's backyard or garden. This can be a lovely, low-cost option.
A community park or pavilion: Many communities have parks or pavilions that can be rented for a small fee.
It's important to keep in mind the theme of the shower when selecting a location. You want them to mesh.
Bridal Shower Invitation Wording
All of the invitations I'm sharing below have the proper wording. If you would like more information about bridal shower invitation wording you can read our longer post where we go into detail.

Here are a few tips for the information you are adding.
If the shower is casual, use the bride's first name only.
If more formal, use her first and last name.
Be sure to add a date for the RSVP as well as an email or phone number
Don't forget to add registration information! Pick her top two if possible.

Triple check the invitation before ordering. This is always important of course but with a shortened timeframe it is imperative that you do so.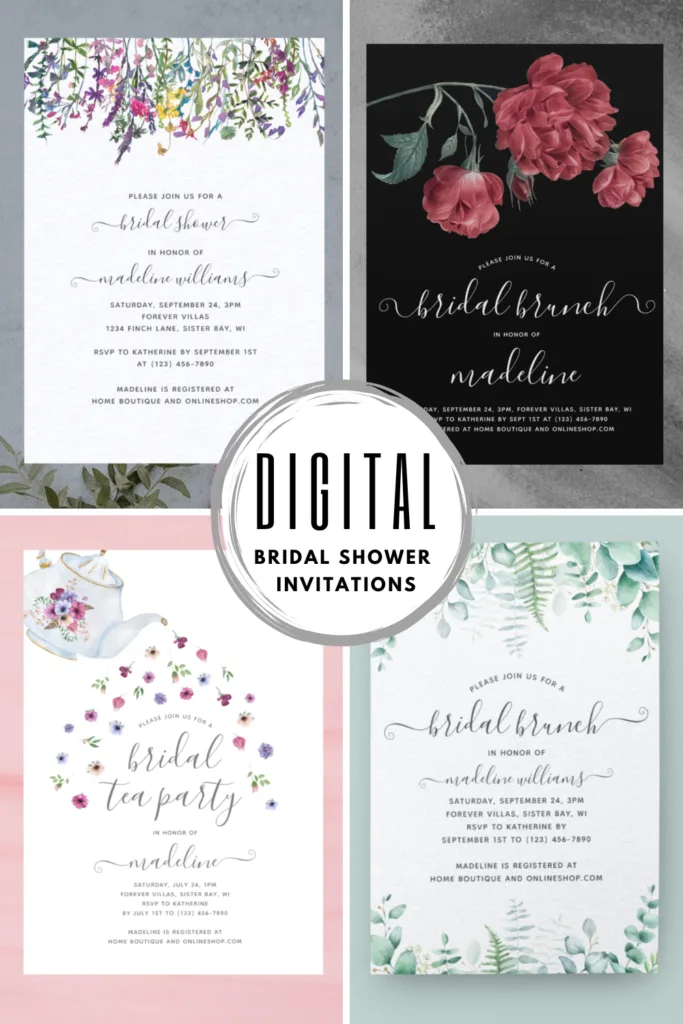 How to Get Shower Invitations Fast!
The very fastest way to go is to order digital invitations. All of the digital invitations I am sharing below come printed and can also be ordered as digital invites!

Digital invitations can be sent via email, social media or messenger, but can also be printed either at a print shop or from home in case you need to send a few out.

Digital is a good value! They are usually much less expensive than traditional printed invites.

Not only do you get the files immediately, but you do not need to wait for an order to be shipped to you, then address and stamp envelopes etc. Plus you don't need to spend money on postage.

Going digital saves you time and money.
Choosing an Amazing Shower Theme
There are so many ideas out there so I decided to pull together a list of popular ones that people are really liking right now. I did this for several reasons.

The first is because they are popular it is easier to find food ideas and decorations that go with the theme. The other reason is because they are already proven to be wonderful themes!

Plus, as I'm sure you are aware, when it comes to bridal shower theme ideas, the options are endless! Using this list will save you a lot of time and you can order right from here by clicking on the items you want to see.

While it's tempting to go all out with a lavish theme, it's best to stick to something simple that you can execute easily and quickly.
Bridal Shower Theme Invitations
Wildflower Theme Invitations
A popular choice for a spring or summer bridal shower is a Wildflower theme (I love it so much I would use it year round), with bright and colorful floral decor throughout the venue. Wonderful for indoor or outdoor showers.
Typography Theme Invitations
For a trendy theme, try Typography. With beautiful and unique font styles they are classy and minimalistic. It is very easy to decorate with this theme and a good one to choose if you don't know what decorations you want to use yet. They can go with just about everything.
Boho Pampas Grass Theme Invitations
For a bohemian vibe, a Boho Pampas Grass theme can be beautifully executed with natural textures and earthy tones. If you are looking for boho, try one of these. Such a beautiful shower theme!
Gold Foil Theme Invitation
A touch of luxury can be added with a Gold Foil Effect theme, using metallic accents and shimmering details. Metalic plates, tablecloth and more can contribute to the lux look.
Citrus Lemon Theme Invitations
A refreshingly bright and cheerful theme is the Citrus Lemons. Use lemon-inspired decor and themed snacks and drinks. We have some ideas in the food section below!
Vintage Florals Theme Invitation
Vintage Florals bring a classic and elegant touch and adding floral decor is wonderfully easy to do. You can add florals and plants around the food for a simple and showy buffet.
Eucalyptus Theme Invitations
Eucalyptus decor adds a fresh and modern element. It is so popular right now too. Get dried eucalptus and greenery which is really easy to decorate with. Goes with any food selections.
Tropical Floral Theme Invitation
For a tropical twist, try a Tropical theme which can include bright florals and lush greenery. Match plain plates and napkins in bright colors and grab foods such as pineapple, kiwi and papaya as well as shrimp, kabobs and simple foods. Cocktails would be a nice touch. Luau style decorations are easy to find.
Tea Party Theme Invitation
Finally, a more traditional option is an Afternoon Tea theme, with delicate teacups and plates, floral patterns, and dainty treats. You can grab mismatched tea items at a thrift store if you don't have a set. Honestly, this is quick one to pull together with tea sandwiches (cucumber, egg salad, and watercress), scones, mini quiches, petit fours or macarons. So lovely.

No matter the chosen theme, a bridal shower is sure to be a memorable event with the perfect decor and details.
Planning The Shower Menu
I recommend keeping the menu simple. That said, when it comes to planning, food is one of the biggest factors to consider. You want to choose something that is easy and quick to prepare yet still nice, good looking and most of all delicious!

Consider these options, then plan the menu:
appetizers
just snacks
dessert bar
pot luck
charcuterie board
Make them yourself, have people pitch in to bring things or order them from a grocery store or cafe. No matter which you select, I'm sure the guest-of-honor will love it.
You can also ask each person attending to bring a bottle of wine or cocktail to share. Or to bring their favorite soda.

Look through these ideas and see what stands out to you:
Food Menu
Finger sandwiches: These can include classic favorites like cucumber and cream cheese, egg salad, or chicken salad.
Crudité platter: A platter of fresh vegetables such as carrots, celery, bell peppers, and cherry tomatoes, served with a dip like hummus or ranch dressing.
Cheese and crackers: A simple but elegant option, a selection of cheeses and crackers can include brie, cheddar, and goat cheese.
Charcuterie board: A selection of cured meats, cheeses, and crackers can be a great option for a more substantial spread.
Pasta salad – A light and refreshing pasta salad with fresh vegetables and a vinaigrette dressing is a great addition to a luncheon spread.
Dessert Menu
Chocolate-covered strawberries: Classic and romantic, chocolate-covered strawberries can be a sweet way to celebrate.
Mini cupcakes: Miniature cupcakes are perfect because they are easy to eat and can be customized with a variety of frosting and decoration options. You could even have a few different flavors to choose from.
Mini fruit tarts: These small tarts are easy to make and look beautiful on a platter. Fill pre-made mini tart shells with a simple custard made from cream, sugar, and vanilla extract. Top with fresh fruit like berries, kiwi, or sliced peaches.
Lemon or lavender shortbread cookies: These cookies are simple to make and can be infused with flavors like lemon or lavender for a touch of elegance. Roll out a basic shortbread dough, cut into small shapes, and bake until lightly golden.
These options are easy and quick to make. Additionally, you can add a little extra touch of elegance by using nice serving platters or decorative bowls to present your food.
Overall, by choosing the right food ideas, you can impress without spending hours in the kitchen.
Drink Menu
You will need to decide whether you want to serve alcoholic or non-alcoholic drinks. You can always have water with lemon or soda in addition to other choices.
Punch Ideas for a shower
Sparkling citrus punch: Mix together equal parts of orange juice, lemon-lime soda, and sparkling water. Add in slices of fresh lemon and orange for a pop of color.
Strawberry lemonade punch: Mix together strawberry Kool-Aid, frozen lemonade concentrate, and water. Add in fresh strawberry slices and lemon wedges.
Rosé sangria: Combine a bottle of rosé, lemon-lime soda, sliced citrus fruit, and chopped strawberries in a large pitcher. Let the mixture sit in the fridge for a few hours to let the flavors meld together. Serve over ice and garnish with additional fruit slices.
Don't forget to have a toast! See our nice ideas here.
Last Minute Bridal Shower Decorations
Using simple decorations to create a themed atmosphere can be done quickly. Don't skip decorations because of time though as setting the atmosphere really does add to the enjoyment of the shower.
Instead of going all out with elaborate decor, choose a few key pieces to make the space feel festive. For example, a balloon garland, a floral centerpiece, or some simple banners or streamers can add a lot of impact without taking too much time to set up.
Make sure you are checking shipping times if you are ordering online so they get there in time. Leave a few days extra and have a backup plan.
Balloons garlands are popular are a popular since they really stand out doing one can take care of a lot of the decorating at once. Consider using metallic balloons for an extra touch of glamour. You can order them or do it yourself.
Tablecloths and table runners: A simple way to add color and interest is with tablecloths and table runners. You can easily find options in a variety of colors and patterns to go with your invitations.
Photo booth props: Set up a photo booth area with fun props like hats, glasses, and mustaches. You can purchase pre-made props online or make your own using cardstock and craft supplies.
Flower arrangements or greenery: Flowers are classic decor for any event. Consider purchasing affordable bouquets of flowers or ordering greenery and arranging them around the room. Use fresh or silk. If in season, cutting flowers from your garden can be lovely too!
Adding a bit to the decor will help make the event seem planned out and I'm certain the bride will appreciate the effort you made to make her event more memorable.
Fun games and activities
There are two options here – either have some simple games and activites or skip it altogether. I would opt for choosing one or two things that are easy to pull together.

Pick selections that don't require a lot of materials or props.

These are good ice breakers and usually provide some fun and there ends up being a lot of laughter. I've chosen things that don't take a lot of prepping ahead of time.
Bridal Bingo: Create bingo cards with common shower gifts or wedding-related items. Mark off items as the she opens her gifts.
Advice cards: Set up a station where the ladies can write down advice for on pretty cards or notepaper. Collect the cards at the end of the shower and present them to her in a pretty box or album.
How Well Do You Know the Bride?: Have her write down some fun facts about herself, such as her favorite movie, her celebrity crush, or her most embarrassing moment. Ask them to guess the correct answer, and whoever has the most correct answers wins a prize.
What's in Your Purse?: Create a list of items that those attending may have in their purses, such as lipstick, hand sanitizer, or a pen. Whoever has the most items on the list in their purse wins a prize.
Ideas for party favors
Finding party favors at the last moment can be a bit overwhelming, but there are still plenty of options available.

If you're short on time, buying party favors is your best option. I know you are moving fast, but if there is time and you can personalize them that is a nice touch. You can personalize with the name or a wedding date.
Miniature bottles of champagne or wine
Personalized tote bags
Gourmet chocolates or candy boxes
No matter what you choose, party favors are a great way to thank them for attending and to add an extra touch of joy and celebration to the event.
Conclusion
Sometimes things come up suddenly and you find yourself in charge of planning a fast bridal shower. You need to move quickly and get things done asap. But that's ok! Just embrace it and do your best to make it all about the bride.

The key to making this a memorable experience is remembering the reason for doing it. Keep her in mind and you can have a unique and fun event that will allow guests to bond with the bride-to-be and shower her with love and gifts.

With a bit of creativity and effort, a last-minute bridal shower can be just as unforgettable as one that was planned months in advance.