Are you ready to give your mom a gift that'll touch her heart and show your love? In a world of mass-produced presents, there's something truly magical about a gift that's been customized and thoughtfully crafted.
We've scoured Etsy to find the most touching and sentimental personalized gift ideas for the most special women in our lives—our moms. These gifts will not only bring a smile to her face but also warm her heart.
So, take a look as we explore the world of heartfelt personalized gifts for moms and get ready to be inspired to choose a gift that she'll treasure forever. Scroll down now and let's make her day unforgettable!
This post may contain affiliate links which means I may receive a small amount, at no cost to you, if you make a purchase through a link. All opinions are my own and I share things I think would be of interest to you and your family.
Custom Linked Circle Necklace for Mom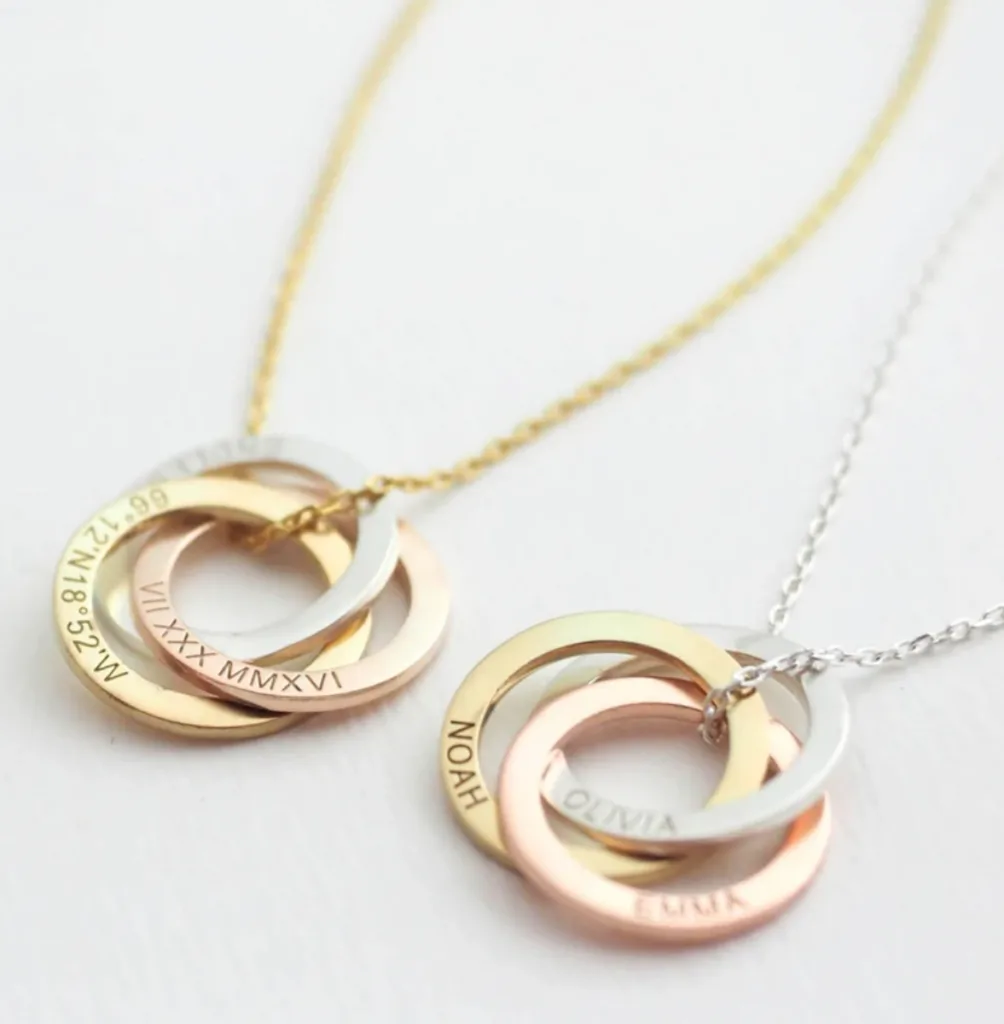 Beautiful circle design necklace customized with Roman Numerals, Messages, Coordinates or Names! Available in sterling silver, 18K gold or rose gold. You can add up to 8 circles. This special necklace is very popular and sure to bring the misty eyes from mom.
Wear My Heart On My Sleeve Sweatshirt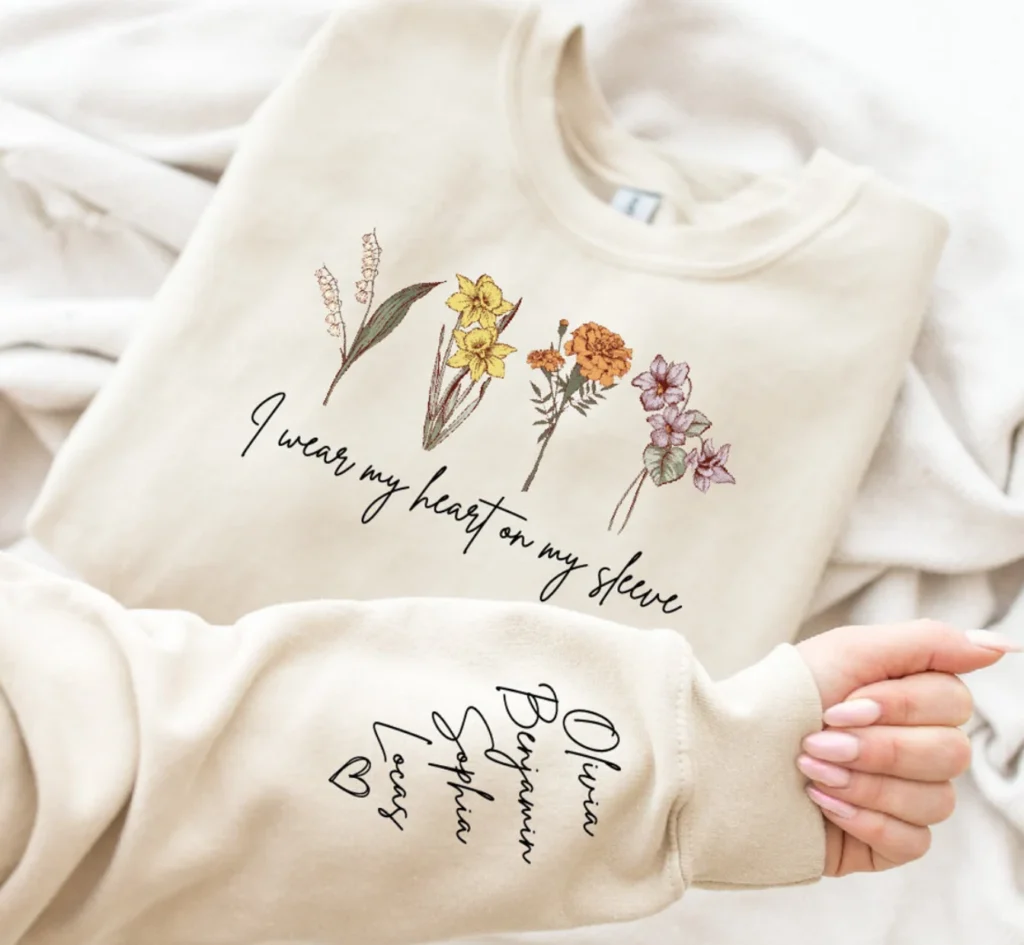 This is an awesome choice for a mom who loves flowers (and her kids!) Choose the birth months and they will add the birth month flowers, then add children's names which go on the sleeve. Comes as a lovely sweatshirt or hoodie in trendy and regular colors. Get the I Wear My Heart On My Sleeve Sweatshirt here. This one will warm her heart.
Custom Wooden Mom Sign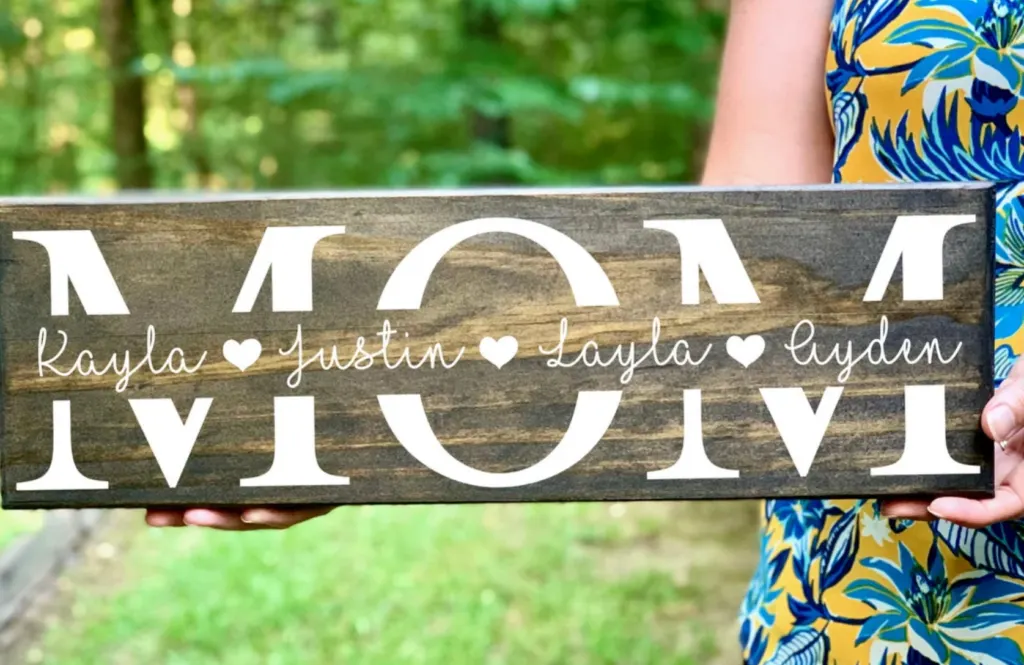 Personalized mom wood sign with kid's names in script across the word. They print the custom sign on real wood to provide high quality detail of design. Looks awesome and she will love looking at it every day. Perfect for the mom who enjoys home decor and decorating.
Hand Written Letter to Mom Nightlight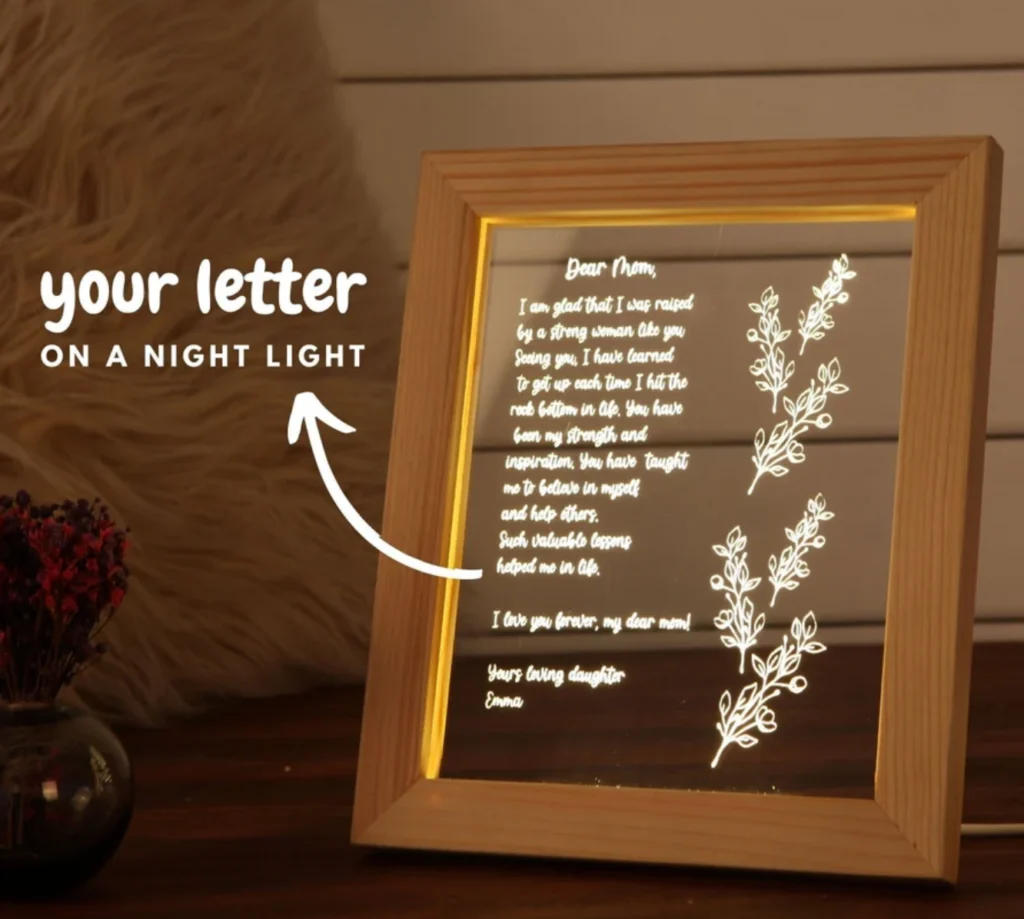 Write a special and heartfelt message to mom! A handmade wooden frame night lamp is made to order and can be personalized with the words of your choice. Your message can have up to a 400 character limit! Trust me when I say she will always remember this gift!
Personalized Wooden Recipe Book Binder
Beautiful wooden recipe book! Great for moms who love to cook for their families. She can add her favorite family recipes and create a keepsake. There are 9 different types of paper and any engraving on the cover. A great thing about it is because it is made by you and just for her, no one can repeat your gift 100% which is what makes it a truly special gift. You get free personalization of the front and back covers.
Custom Name Casserole Dish for Mom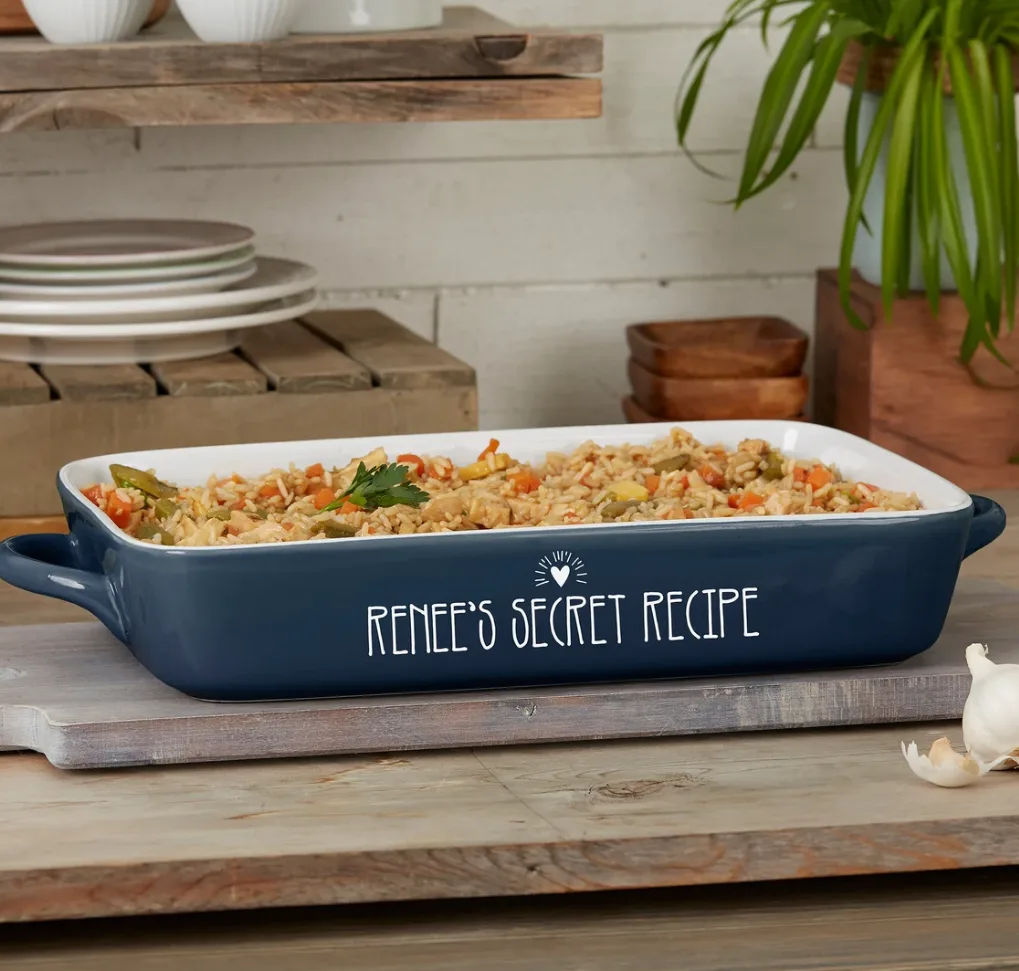 Another great gift for moms who love to cook is this personalized ceramic bakeware. The hand glazed stoneware can go straight from oven to table for a beautiful table presentation. You choose your phrase! Try Made with Love by (Name) or (Name's) Secret Recipe or any other message up to 44 characters. There are two colors available. She will know how much you love her cooking with this one.
Charcuterie and Cheese Cutting Board with Initial and Name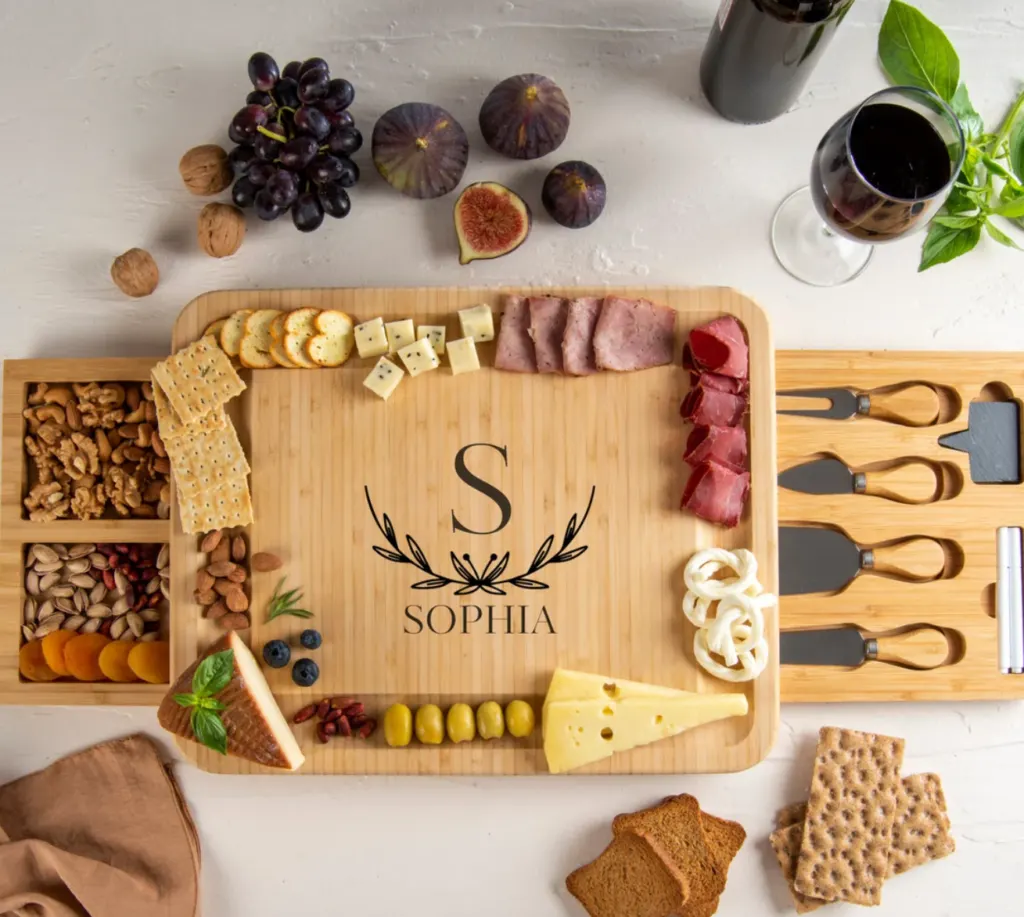 I could hardly believe this gift idea! It has a lot of wow factor to it. The charcuterie and cheese cutting board is dual purpose and has so many nice features. For the mom who is all about memorable moments, she can use this when she entertains or has family over. You can get engraving on the board or on the board and the utinsils as well! With 9 engraving styles to choose from you are sure to find the perfect one.
Personalized Song Acylic Plaque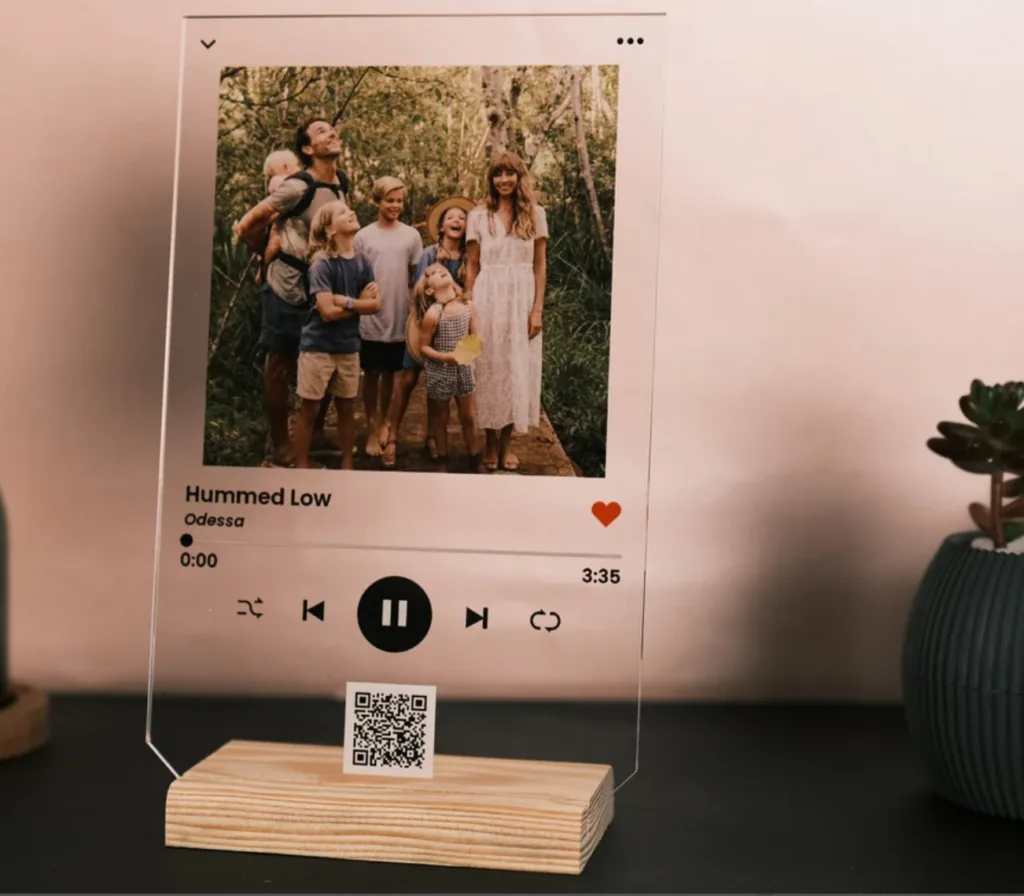 Grab your favorite photo and a song that has meaning and you have yourself an incredible gift for mom! This is such a touching idea as songs and photos really tug at the heartstrings. Read the description to see how it all works. I'm sure she will tear up a bit when she opens it.
Birth Month Flower Personalized Outdoor Flower Pot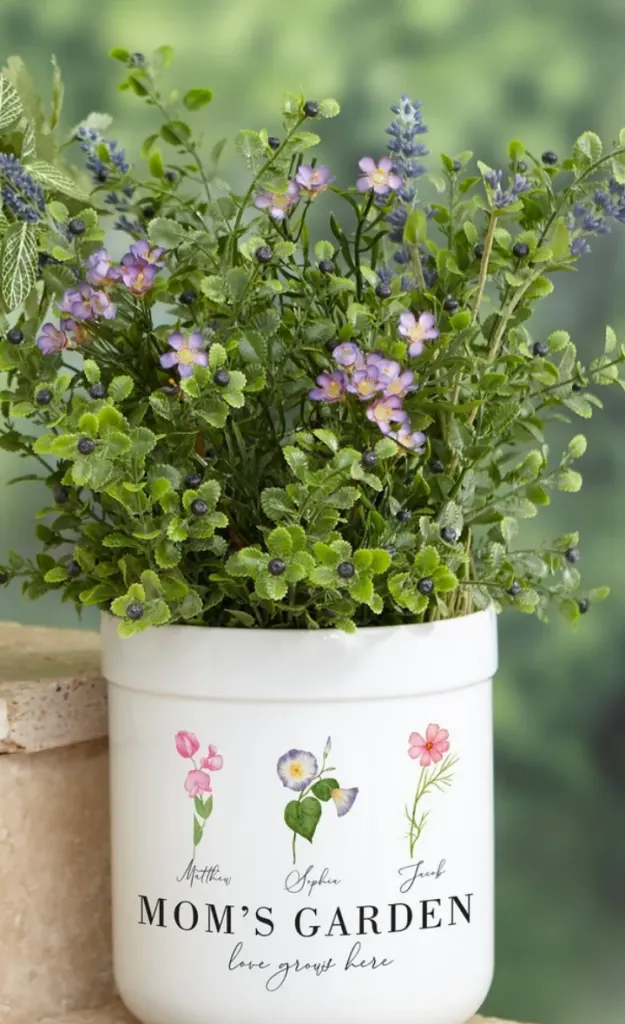 I saw this and had to add it to the list. It is so pretty and moms who love to garden will really appreciate your thoughtfulness. The flowers are birth flowers and you can add children's names. I just love the saying love grows here in that gorgeous script font. You can add 2 – 6 names.
Mom's Name Cozy Throw Blanket
The super soft and cozy name blanket comes in sherpa or minky fabric. I love the colors pictured but you can actually choose from 49 pretty colors and 39 different fonts! I'm sure you will find just the right combo for your mom. I would suggest the 50 x 60 or the 60 x 80 size. These blankets are VERY popular and ship fast.
Mom Mama Mommy Customized Tumbler with Straw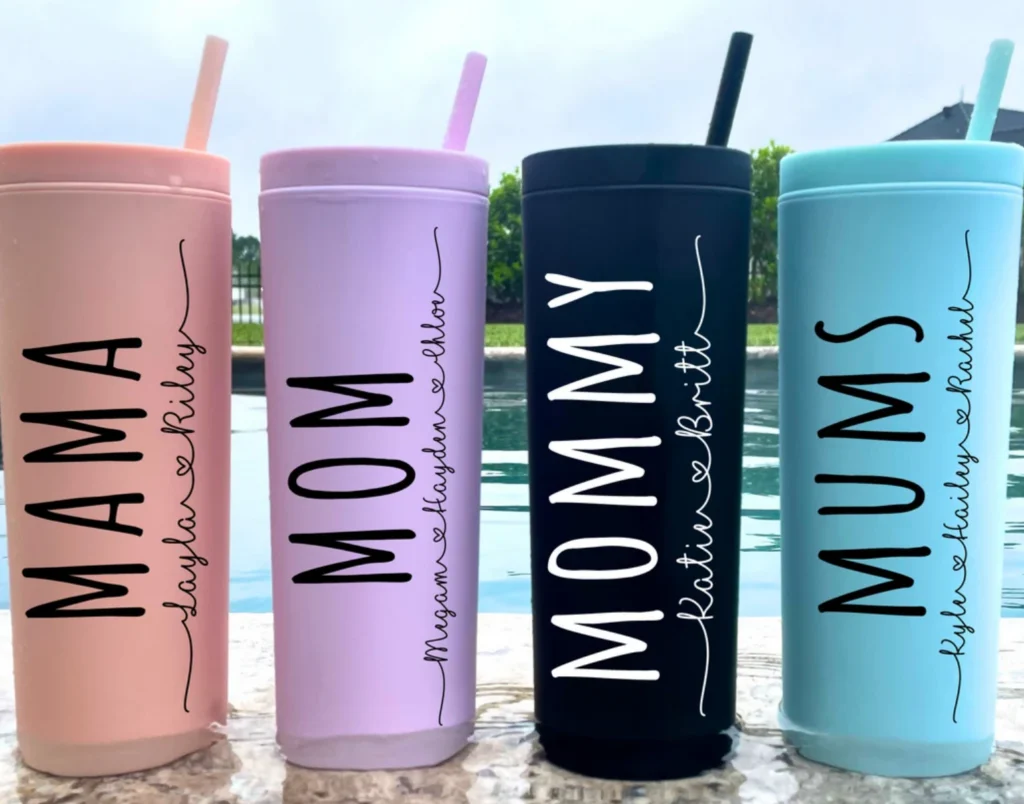 If your mom is a tumbler fan, she will really like this gift. It is super quick and easy to order and not expensive. Comes in a variety of colors with white or black writing. Add kids names to personalize and make it even nicer. She will think of you every time she uses it (which will be often!)
This gift guide is filled with the best heartfelt personalized gifts for moms! I hope you've found inspiration and ideas to make your mom's day extraordinary.
Remember, it's not just the gift itself, but the thought and love you put into it that truly matters. Personalized gifts have a unique way of touching the heart and creating lasting memories. So, whether it's a custom necklace with her kids names, a binder to put her cherished recipes in, or a handcrafted keepsake, the joy of giving and the love it represents are what truly count.
Now, it's your turn to make her day unforgettable. Choose a gift that speaks to her heart and shows just how much she means to you. xo ~Sheila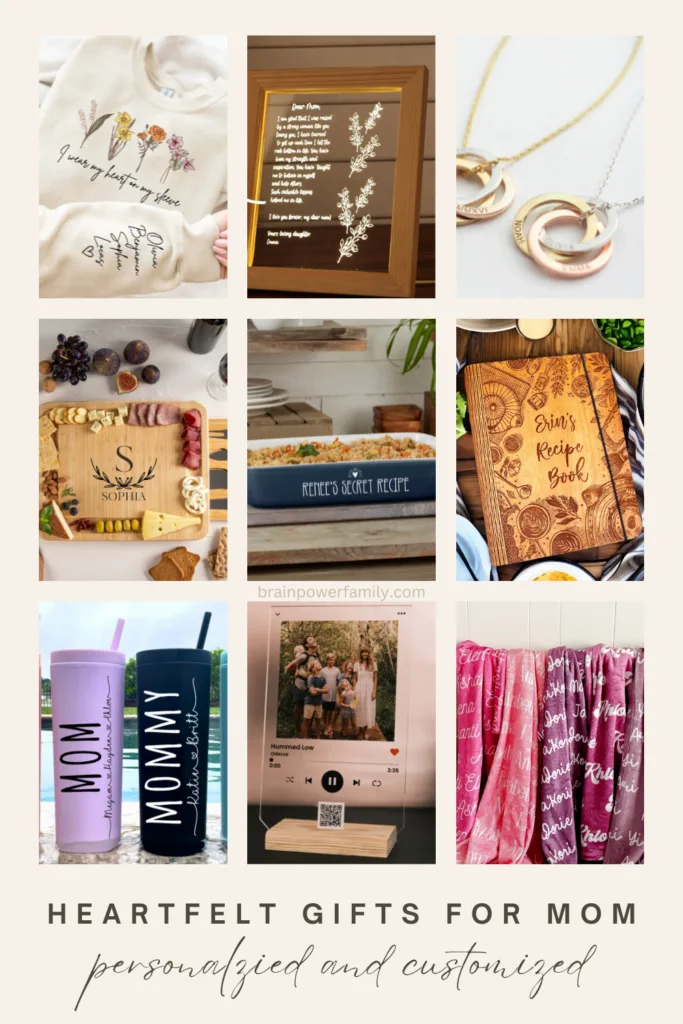 Don't see exactly what you are looking for? For even more gift guides see:
Make Your Mom Feel Special with These Personalized Gift Ideas
Editors Picks Page on Etsy
Boy Mom Gifts: Perfect, Thoughtful, Wonderful!
50+ Gifts for Homeschooling Moms