Interested in learning all about this fun book from DK? Read our LEGO Star Wars Build Your Own Adventure Review.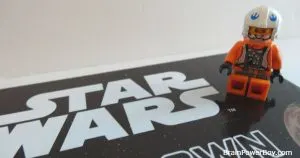 We were excited when we opened the mail the other day and saw what was inside!
Read on to hear about all of the details including the exclusive set and minifigure that come with the book.
When you are through be sure to stop by and see all of the LEGO book info we have on our site. There is a lot!!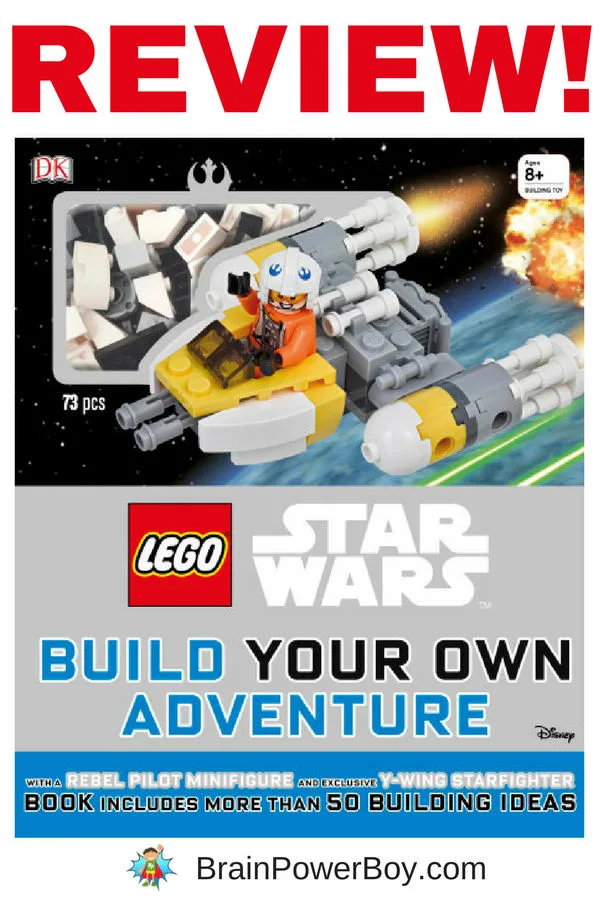 This post may contain affiliate links which means we may receive a small commission, at no cost to you, if you make a purchase through a link. All opinions are our own and we share things we think would be of interest to boys.
Special thanks to DK for providing a review copy of this book. All opinions are my own–of course.
LEGO Star Wars Build Your Own Adventure Review
LEGO Star Wars: Build Your Own Adventure
Book With Pieces and Minifigure
LEGO Star Wars Build Your Own Adventure is a cool book that also comes with LEGO bricks and a minifigure.
What you will really like about it is:
The minifig has a neat helmet and a weapon.
Zin (the minifig) is exclusive to this book!
Includes exclusive Y-Wing building set.
DK publisheshigh quality books.
It includes a lot of awesome ideas for additional Star Wars building.
This title is packed full of color pictures.
There is a lot to like! Plus you can get it for a great price here.
&
What Is In the New Build Your Own Adventure Book?
When you first take a look at the book you notice a slipcover with two items in it. One is a nice hardcover book with 80 pages in it and the other is a box.
The box includes the LEGO bricks and minifig. Note that the box looks like it includes a lot more pieces than it does and when you open it you see the plastic bag with the LEGO in it.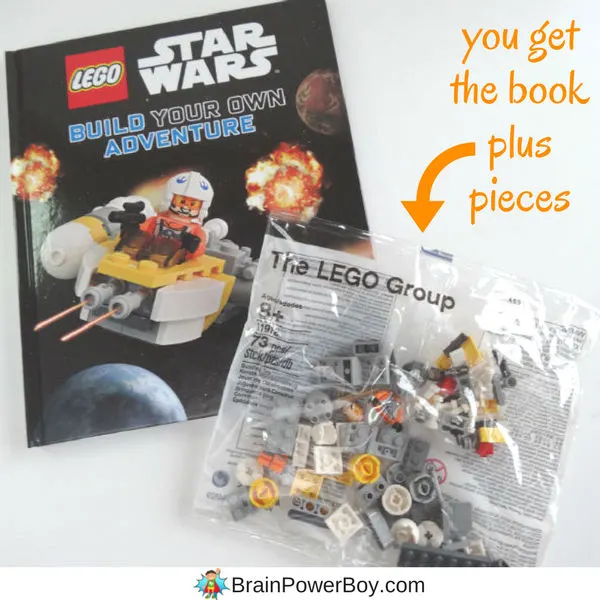 While that seems a bit disappointing at first, I am sharing with you exactly what is in there so you will know ahead of time.
This new series from DK appears to be replacing the LEGO Brickmaster books. The packaging for this new series is way better than it was for the Brickmaster books.
You end up with a hardcover book that you can keep and use again and again. So all in all it is a better way to put the book and the pieces together.
You Get an Exclusive Minifig and Y-Wing Fighter!
It is tough to say if the book or the exclusives are the best. We love both.
With this book set you have an exclusive minifig that is not sold elsewhere and you get all the pieces to make his exclusive Y-Wing starship.
There are not a lot of rare pieces in this but we did like adding the yellow pieces to our collection and, of course, another minfig is always welcome!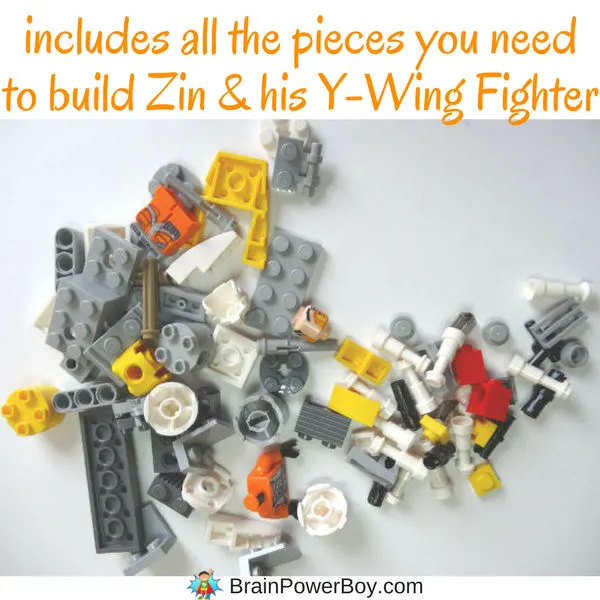 Building Instructions for the Y-Wing Fighter
The book includes step-by-step building instructions and all of the pieces for the Y-Wing Fighter. You can see in the picture below of my son building the set that they are somewhat similar to the instructions that come with LEGO sets.
The only difference is for some reason the instructions go from top to bottom instead of left to right. But that is easy to figure out quickly and didn't stop the building fun.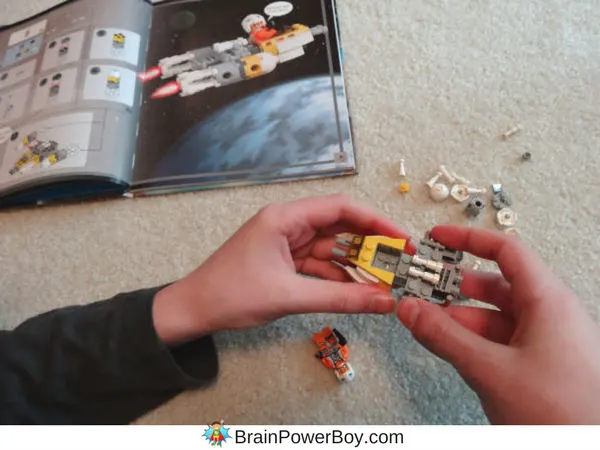 A Peak Inside LEGO Star Wars Build Your Own Adventure
Here is a page spread from the book. As you can see it is full of great images and has a lot of details included. The whole book is like this! Psst – see our video below for even more info.
It is packed with ideas for building. You may have to improvise on what pieces you use as even those with pretty decent sized LEGO collections are not going to have every piece.
If you have a lot of LEGO Star Wars sets you may have more pieces to use. Either way, there are some really great things you can learn to build.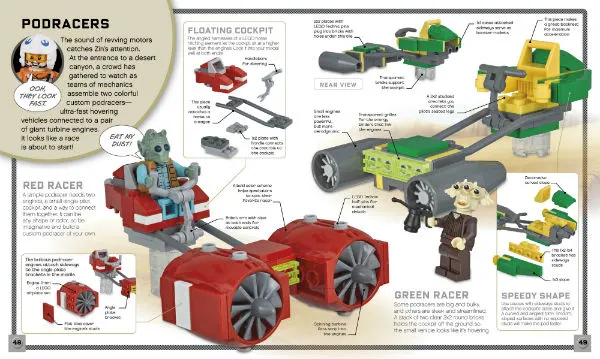 A special thank you to DK for the use of the image above.
Also take note that this book has a storyline as it goes along and it has a great comic book-like feel that I know kids are going to love.
The Finished Minifig and Set
We wanted to include the completed minifig and set in our LEGO Star Wars Build Your Own Adventure review so you could see for yourself. What do you think? We like it a lot 🙂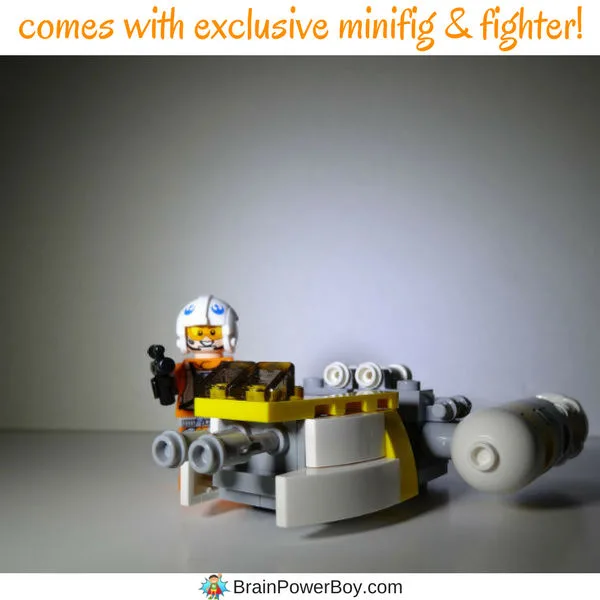 Don't Forget the Back of the Box!
We almost missed this. As I was picking up the packaging material from this book set I noticed that the back of the box was a landing pad for the ship. I love little details and that was a very nice touch. Your kids can keep it and have something to use to start playing with their new set right away.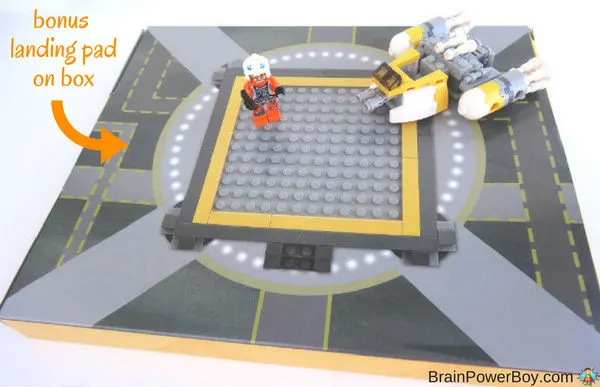 All in all we are super happy with the book and will be taking a look at other Build Your Own Adventure books in the future. I know I say this every time I include a DK book in a list, but honestly, DK always puts out excellent books.
Video Review of LEGO Star Wars Build Your Own Adventure
More Build Your Own Adventure Choices
LEGO City: Build Your Own Adventure
LEGO NINJAGO: Build Your Own Adventure
LEGO Star Wars: Build Your Own Adventure
You might also enjoy:
Star Wars Learning Activities That are Out of This World!
Incredible LEGO Star Wars Designs You can Build and