Here is a fun (and secret — shhh!) way to join two paperclips together without touching them using magic!
You can call this trick linking paper clips or jumping paper clips. No matter what you call it, you will love the effect as the paperclips join together magically. How cool is that?
Using only simple household items, this is an amazingly fun and simple magic trick for kids.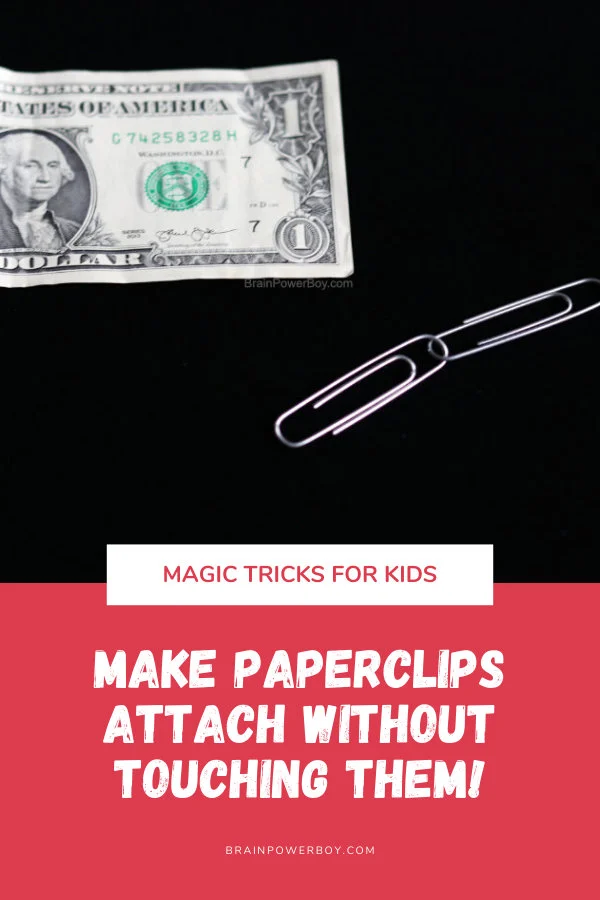 To get started all you need is a dollar bill, or a piece of paper cut to the approximate size of a dollar bill, (technically, 2.61 inches wide X 6.14 inches long but it doesn't need to be exact) and two paper clips. We use the larger clips as they seem to work better.
My husband is a professional magician and he made a video for you to make learning the trick easier.
Be sure to watch the video directly below a few times to get the hang of how to place your paper clips because that is the key to the secret.
Watch closely where the paperclips are placed on the dollar bill and leave the paperclips sticking up a little bit.
Video will either play immediately or after a very short ad.
The key to getting good at magic is to practice . . . practice . . . practice.
Practicing before preforming is something all magicians do!
They want to make sure the trick is performed properly so they can amaze their audience.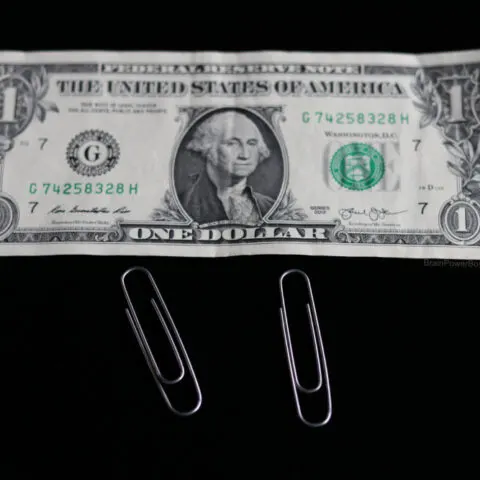 Linking Paper Clips Magic Trick
Additional Time:
5 minutes
Join paperclips together without touching them using magic! You only need a dollar bill and two paperclips to do this simple magic trick. It looks amazing but is easy to do once you know the secret trick.
Materials
1 Dollar Bill
2 Large Paperclips
Instructions
Hold your dollar bill in your hand. Fold it over about 1/3 of the way. Insert your first paperclip to hold the fold in place.
Turn the dollar bill around and fold it 1/3 of the way. Now you should have an s shaped dollar bill. Add your second paperclip to hold the fold in place.
Make certain your paperclips match what you see in the video and the pictures.
Grip each side of your dollar bill.
Tell your audience that you will link the paperclips without even touching them. Or use the script in the video. Say a magic phrase or word - abracadabra always works! Next, pull quickly and steadily (but not wildly) on each side of the dollar bill.
If you did it correctly, the paperclips will link and be joined when they land.
Lay out the dollar bill and the linked paperclips. Bow and take in the applause from your amazed friends and family!
Notes
TIP: Leave the paperclips sticking up off the dollar bill a little bit when you are attaching them.

Practicing is the way to make this trick amazing. You need to do it a lot of times so that you can easily set it up and have it work each and every time.
A couple of extra tips about doing magic:

Never do a trick more than one time in a performance. Otherwise your audience may be able to see how you did it.
Take your time. Go slowly and build up to the trick.
Hold out your hands and do a little bow when you are done. This shows the audience it is time to clap.
I hope you enjoyed the linking paper clips magic trick.

Want to try another trick? See Billitration next!
Stay Tuned! A Fun Magic Class is Coming Soon . . .