The LEGO Movie, a big hit with LEGO fans young and old, is currently on sale at Amazon.
The LEGO Movie got great reviews and our family watched it when it came out of DVD. We all enjoyed it. In case you are not familiar with it The LEGO Movie features a construction worker named Emmet, a rouge girl named WildStyle and an interesting cast of characters including LEGO Batman (a favorite here) who all try to save their world from President Business. There are a lot of funny scenes and the movie runs through different LEGO built lands.
The basic plot is that "The Special" needs to save everyone from the Kragle. Since it is rumored that some people have not yet seen the movie I won't go into details. One time I told my mother-in-law that I really wanted to see a particular movie that she just gone to. I told her I didn't want to know anything about it and she, yes really, told me the ending. Yikes!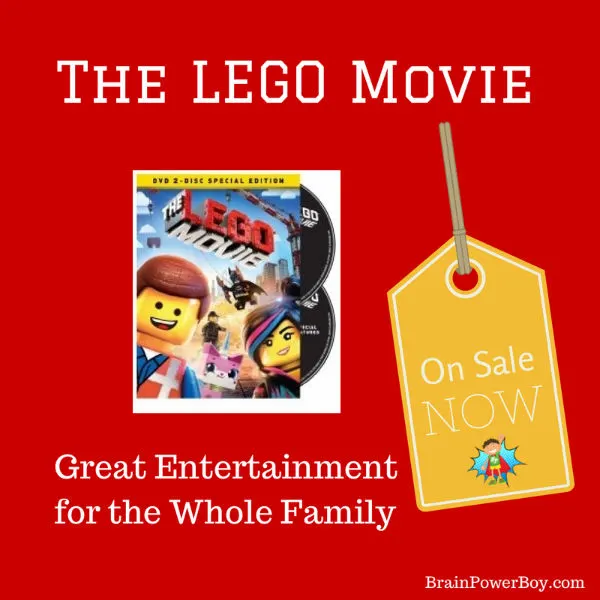 This post may contain affiliate links which means I may receive a small commission, at no cost to you, if you make a purchase through a link. All opinions are my own and I share things I think would be of interest to boys. Thanks for your support!
In case you are wondering, The LEGO Movie 2, which was inevitable once this movie did so very well at the box office is now out!
Get to know Emmet, WildStyle, LEGO Batman, and President Business all over again with this DVD 2-disk Special Edition, or see it for the first time. The DVD set that is on sale right now is The LEGO Movie (DVD + UltraViolet Combo Pack). It qualifies for free shipping with Prime or free shipping if you spend over $35.00. It has a 4.4 out of 5 star rating at Amazon and is rated PG.
This is a good deal as it was $28.99 and the cheapest price I have seen. Amazon prices are subject to change at any time–and they change quite frequently. Be sure to check the price before purchasing. If you are interested in the deal, click through now for your best chance to get it.
You might also like:
Best Books for Boys: The LEGO Movie
Artist in LEGO Bricks: Interview with Bruce Lowell (see his builds from The LEGO Movie)
Thanks for stopping by! Did your boy enjoy The LEGO Movie?