Ah, Summer. Long days with nothing in particular to do and other days when you really want to get out of the house and have a new experience.
We've got you covered with these fun and free summer activities for boys. There are a lot here to choose from!
I tried really hard to think of fun things that boys would enjoy doing this summer. I am frugal and enjoy finding great things to do that don't cost a lot of money.
I hope you and your boy find some awesome summer activities to do and that there are some fun ideas here that you may not have thought of.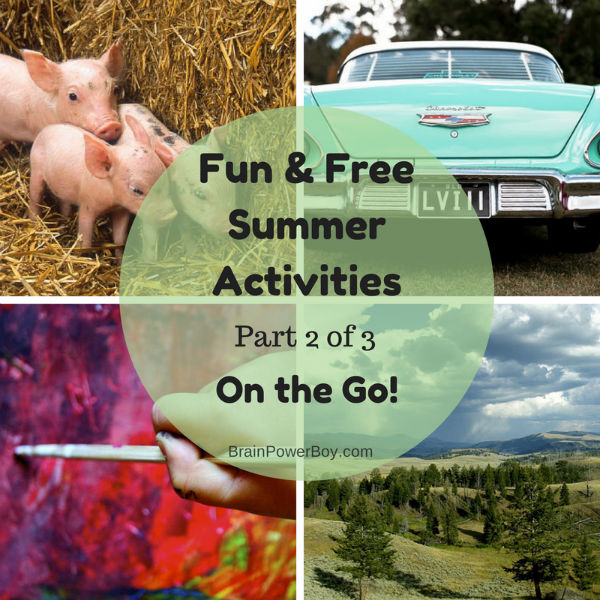 This post may contain affiliate links which means we may receive a small commission, at no cost to you, if you make a purchase through a link. All opinions are our own and we share things we think would be of interest to boys.
Activities for Boys: On the Go
See Something Old or New in Museums:
Bank of America or Merrill Lynch credit or debit cardholders receive free admission to over 150 museums across the country. No museums are included in my fine state of Wisconsin but perhaps you will have more luck. This program is also something to keep in mind while traveling this summer.
Target offers free or reduced (I saw some that had fee of $1.00) admission to art events, children's museums and other museums in major cities. This is an awesome deal as some of the museums listed charge $14+ apiece to get in.
Check the Internet for free museums in your area. Some historical museums and houses offer free admission. Other museums have free days. We have a free car museum near us. Pick a topic your boy is interested in and search to see if there is a museum you could visit. Quite a few in the Chicago area do this—just in case you are traveling there this summer.
Store & Business Tours: Local grocery stores, bakeries, art galleries, florists, cheese factories, popcorn factories, confectionaries (a fav!), and pizza factories are all fun choices. Wineries and breweries can also be interesting places for boys to visit. Some parents wouldn't agree but we went on a winery tour and it was very educational and they had grape juices for the kids to try afterward.
Some businesses such as martial arts venues, and children's art studios, offer open houses where kids can learn a new hobby. I have seen many that are free. This is a nice way for a boy to try something new.
Boys and Their Trucks and Cars:
Firestations often have open houses that allow boys to stop by to see the trucks and equipment, meet firefighters, have a snack and some even let you use the fire hose! Last time we went my son got a plastic firefighter badge and hat. Cute.
Many young boys love cars and trucks. We went to a great truck event when my son was young. They had construction vehicles, firetrucks, ambulances, police cars, K-9 vans, monster trucks and many more types of trucks and vehicles. It is a lot of fun.
There are also auto shows and races. We have seen a few of those for free. Watch for special family nights or free kid admission nights.
Some A&W restaurants and Culvers' have classic car nights where you can go and see neat cars (eating there is optional–we use our summer reading free meal tickets.)
The Great Outdoors:
National and State Parks usually have free days. Google ""your state" free state park day". Click for National Park days for a list and links. Remember to do this if you will be traveling. You may be able to see some neat State or National parks while on your vacation and it won't cost you a dime.
Trail Link and American Trails both list hiking, biking and walking trails (plus equestrian trails and more) in your area. There is a paid option on these sites with added benefits but you can use these resources to find trails for free.
National Fishing and Boating Days are in June. Most states offer free fishing. See Take Me Fishing for details in each state. Fishing is a great summer activity for boys. Even if they don't get anything on the line they can certainly enjoy the experience of being near the water and getting to spend some time in the great outdoors.
Nature centers are great places for boys to explore. Many have small animals or animal skulls, skeletons and pelts to touch and feel. We love these hands-on learning wonders! Many are free—check before going.
Have a Park Hop. See if you can visit all of the local parks in your area. We live in a rather small place but there are still a lot of parks around. Not all have equipment, some have statues or are just a grassy area. Bring a picnic and some balls or a science backpack and enjoy getting out and seeing something new. You can always go to another community nearby and do the same thing.
Sing, Dance and Experience the Arts:
Concerts in the Park. If your community offers concerts in the park, I suggest you give them a try. Great for families with kids of all ages; you can hear some great music for free. Also look for lunch in the park series or summer concert series. Bring your dancing shoes!
See if your university or college has concerts that are open to the public. We have seen some super concerts for free this way. You sometimes need to get tickets in advance.
Art Festivals are a great family outing. See art, find ideas for projects you might want to try, and enjoy talking with artists. Many art festivals have a children's tent where kids can create their own art through hands-on projects—for free!
Visit an artist. Call around to see if there are artists that welcome a visit from children. Many artists love to share what they are doing and enjoy encouraging kids in their art as well. Try stained glass artists, photographers, artists who make sculptures or jewelry or paintings and so on.
See if your community, or one nearby, offers an art walk where you can visit a series of stores in an area and see different art.
Go to a play dress rehearsal. Many theater groups allow families to attend dress rehearsals for free, contact your local theater groups or check with universities and colleges.
Free movies. I have been seeing more and more communities put on free movie nights to try to build community spirit. Many families bring supper, chairs or blankets, a few small toys and enjoy a movie under the stars.
Visit with the Animals:
Small Zoos and Wildlife Sanctuaries. We love to go to a small farm run by nuns in our area. It is a working farm but they also have lemurs and other unusual animals. We have a wildlife sanctuary with wolves, cougars, deer, otter, hawks, owls, turkeys and more nearby. They are both free but we leave donations to support their work.
Birdwatching Hikes. Boys who love birds will enjoy these hikes that are usually guided by a naturalist. You can learn about different species of birds, how to find them and the best times for bird spotting. Bring binoculars and bug spray! Check with your local/state or national park system.
Visit bird sanctuaries, waterfowl preserves, or bird rescue rehabbers. All great for bird loving boys. For a list of rehabbers try Wild Life Rehabber but also search on Google. I had the best luck on the site searching by state.
Try Googling "ornithology" and "your state" for additional ideas. Our Ornithology society has a nice website with field trips, festivals and bird events listed. In case you are in Wisconsin: Wisconsin Society for Ornithology.

Earth and Sky:
Stargazing Events. Google "your city" and "Astronomy Events" or "Astronomical Society" to see if groups are setting up telescopes to view the skies. Ask for the rules. You may need to be quiet upon approach and bring flashlights (pointed down) to get to the site.
Go rock hunting or visit a quarry. Free rock digging sites (limited, only certain states) You could also check with your natural resource department to see if they know of any free sites where you could do some free (and legal) rock digging.
Kite festivals offer some high flying fun! We went to a kite fest and flew some new and different types of kites (like these!).
Get Moving with Sports:
June 21th is National "Go Skateboarding Day" Some communities have free events. If your community is not participating just go out to a skateboard park and make some fun of your own.
Play tennis at the park. We have found court use to be free if you go to a local park. Nice way to try it out. If you don't have rackets see if the park district does or if you can borrow a couple from someone. Tennis Court Directory.
Watch a team practice. Baseball and football teams often have open practices. These can be a lot of fun for boys to go watch. They get to see some big players and learn while they are watching them go through drills, practice different skills etc. See if you can tour their facilities as well. Many places have free tours on certain dates.
Disc Golf is a fun, and usually free, activity that we love to do. I hope if you and you boys have not tried it yet you will grab some discs and have a go. You could also use Frisbees if that is what you have on hand. Read the rules of the course before playing. Find courses on the PDGA site.
Fun Runs, Pet Walks, Bike Races and more. Watch for these kids activities in the paper and see if your boy is interested in trying one out. These are usually short distances and some are free for kids.
Keeping Cool with Water Fun:
Swim for free with free community nights, and open swims. Our village has a free evening each year. Call around and see what ways you can swim for free.
Splash pads. Some communities have a free splash pad area for kids to get WET! We had one where we used to live. I wish we had one now for those hot summer days when we just want to get out for a bit and cool off.
No free swimming available in your area? Why not head to a lake or stream. There are many lakes in our area and quite a few have a sandy area for wading or swimming. Build a sand castle while you are at it.
Ooo, Ahh . . . Fireworks, Parades and Fairs:
Fireworks: Head out on the 4th of July for a picnic supper and fireworks. Many communities have free firework displays and they are sometimes on different nights which means you can go to more than one!
Parades: Check the newspaper for parades around the 4th of July or throughout the summer. We live in a small community and they have a cute parade each year in June with fire trucks, the library, clowns, and local businesses—they even throw candy which is why my son likes to go 🙂
Family Friendly Fairs: Some big fairs have a family night with free admission. There are also small local community fairs or festivals that provide a bit of fun. We have enjoyed corn roasts, village fests, Irish festivals, summer festivals, fish fests, firefighter's picnics, and more — all for free.
Dig these Garden Ideas:
Botanical gardens are wonderful—see if they have a free day or if kids get in free.
There are also many avid local gardeners who would love to take interested boys on a tour of their gardens. Some will even share plants with boys who are interested in learning more about starting a garden.
Call your local Master Gardener's program or an extension office and ask if they have any programs for kids.
There are also teaching gardens that welcome families. We went to a university-run garden that was really beautiful and each plant was labeled with kid friendly information telling what animal, bird or butterfly it attracted to the yard. We also went to another garden that was on a private lot.
Check out the local farm & flea scene:
Farmer's market: Our market has entertainment and a kids "shopping" list that they can use to find unusual items. If your market doesn't offer these things, why not get involved or make a suggestion.
Visit a working farm or make arrangements to see a local farm. Many give tours or are happy to have you and your family stop by for a bit. Search "farm tour" + "your state" Farm tours can be a very nice learning experience for boys. Each farm does things differently but here are a few of the things we have been able to do at various farms. Milk a goat, climb up on a tractor, visit a milking facility, pet baby animals, feed calves a bottle, climb in the haystacks, and tour different areas of farms.
See some unusual animals. Around us we have a lama farm, elk farm, an emu farm, and more. Just Google it. Example: elk farm" + "your state"
Visit a flea market. These can be very interesting. Looking is free 🙂 Check out antiques and figure out what you think they were used for, look at old fishing lures, old comics, and antique toys.
More Tips for Finding Places to Visit:
Most people can find communities nearby that offer many of these great activities. We sometimes have to drive a bit for them but it is always worth it.
If your area doesn't offer places for boys to explore you can certainly check out directories for areas nearby or take a day trip to a place that has several of these fun and free summer activities for boys.
Don't forget to take a look at this list before you travel. You can find many, many fun and free summer activities in the area you will be traveling to by planning ahead.
As I said in some of the entries above use Google to search for your "topic" + "state" or "community name" to find specific events or activities.
Boys, especially, learn by doing. If you and your boy get out and try just a few of the things on this list he will be learning a lot while having fun.
Life is full of great ways to learn new things. Just experiencing new things can lead to new interests.
Note: I really hope you enjoyed this because it took me forever and a day to write this series – lol.
See also Fun and Free Summer Activities for Boys: Part 1, Store Programs and Part 3: At Home. You can also check out these Great Summer Reading Programs for Boys for some quality programs that are fun and free.
Hang on to this list so you can use it this summer or while traveling by sharing it to your Pinterest, G+ or FB account. Use the handy sharing buttons below.