I remember how much I used to love summer. It was a time when I actually got to do what I wanted to do instead of what others said I must do.
Making the summer a joyful event that they will remember for a long time is easy.
Pick a few memorable summer activities to do that they will enjoy and try something new as well. Be sure to leave plenty of downtime for them to find their own passions and explore.
If you are looking for fun and free activities for boys this summer you have come to the right place. This is part one in a three part series listing some great ideas for summer fun.

Activities for Boys: Stores and Businesses
Home Depot has had a building program for many years now. The workshops are well attended so I suggest getting there early. The kids even get a cute little orange Home Depot apron. My son has built a few things through this program and it was always a lot of fun.
Bowling has gotten a bit expensive lately. Sign up to bowl 2 free games a day all summer with this neat program from Kids Bowl Free. Shoe rentals are not included but you can bring your own bowling shoes. If you plan to go often you might want to invest in a pair for your boy(s) as the costs of rentals can add up. Age varies by bowling alley.
AMF offers 3 games of bowling a day, with shoe rental not included. Ages 15 and under.
Go roller skating with the Kids Skate Free program this summer. Skate rental is not included but you may (depending on location) be able to bring your own skates. Check the map for participating rinks and sign up through the website. Specific hours are set for the free passes so make sure you check with your rink. 10 and under.
Bass Pro Shops are offering their Family Summer Camp again this year. To give you an example of one program included in the camp: The fishing program includes "finding out what fish eat and how to identify fish." They also have information programs on bird watching, archery, camping etc. We have not gone yet as the nearest Bass Pro Shop is pretty far from our home. They do have some hands-on activities in store as well (depending on location.) Family Summer Camp is set to run from June 27 – July 26. Check local stores for details. Here is a short video from 2013 showing Family Summer Camp.

If you are lucky enough to live near and Apple store or a Microsoft store your boy can attend a tech camp.
Apple has a movie camp where you shoot some footage, create your own song and make a movie. It lasts 3 days and sounds really awesome. Click through to sign up for notification when camp opens. Ages 8 – 12
Not to be outdone, Microsoft came up with a tech camp as well. Last year they have 2 levels, 8-10 and 11-13. They have a larger selection of classes: gaming, coding, movie making and photo taking. I do believe their program is changing as the link I had is only pointing to a store index but Google it to see if it is going on this year. It seems like they are doing something – just not sure what it is yet.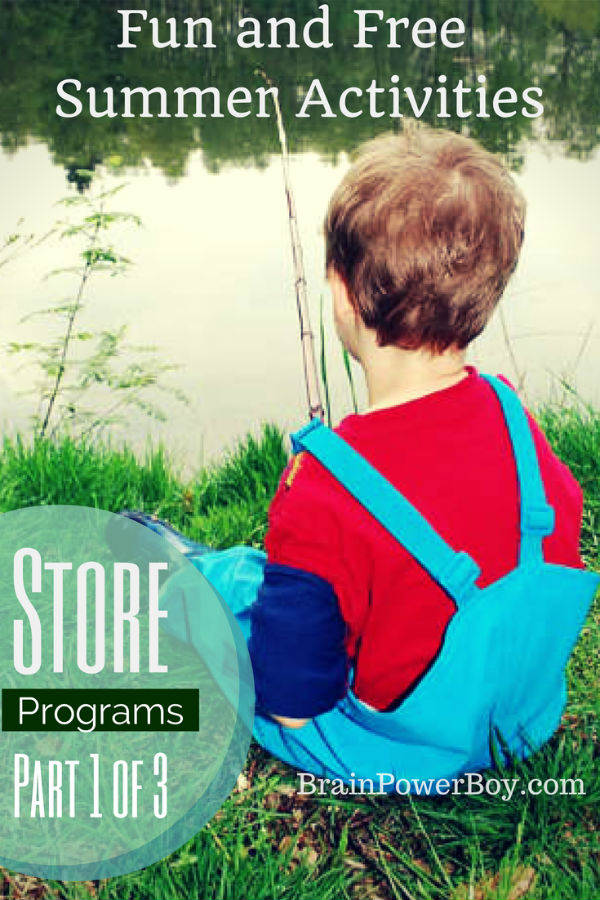 Are you and your boys planning to participate in any of these summer activities for boys? I think you will be surprised at how much learning can come from just doing some of these super fun activities.
You can also check out these Great Summer Reading Programs for Boys for some quality programs that are fun and free and be sure to see parts 2 & 3 of the series for more fun things to do this summer.