If you and your kids like interactive books and geeky things you guys are going to go crazy for these Geek Pop-Up Books.
There is oh so much goodness in this one list that I bet it is going to be hard to choose just one title. The great thing is, you don't have to!
As you will see by the selection, all the favorite geek topics are there. Be sure to check out our best books for boys page for many more book lists.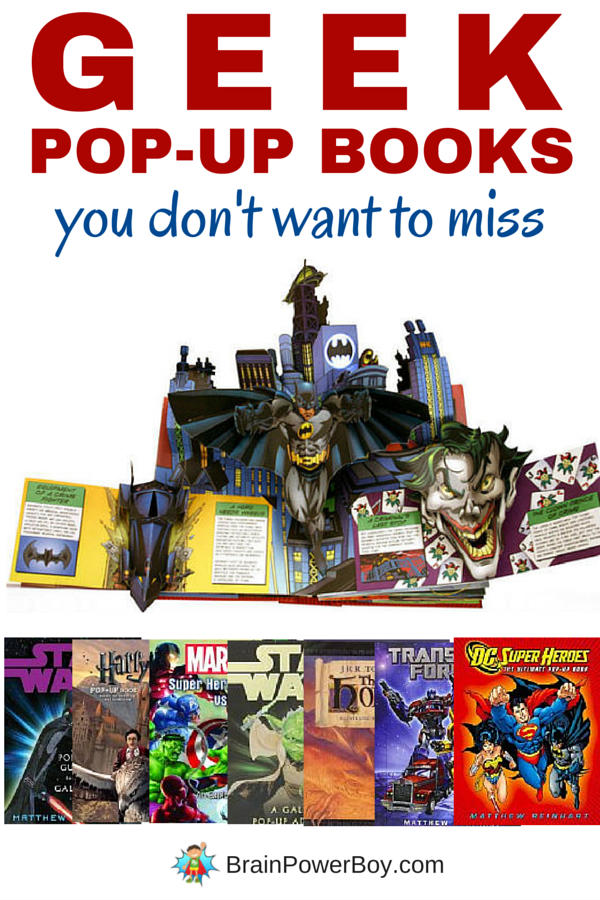 This post may contain affiliate links which means we may receive a small commission, at no cost to you, if you make a purchase through a link. All opinions are our own and we share things we think would be of interest to boys.
Geek Pop-Up Books
When we think of pop-up books we think of kids. But these geek pop-up books are not just for kids. Yes, kids will like them – a lot! But they are also great for teens and adults who are into geeky things.
Star Wars Pop-Up Books
Let's get started with a Star Wars title. The Star Wars: A Pop-Up Guide to the Galaxy is so cool. This interactive book has it all. From plenty of pop-ups to pull-tabs to working light sabers – really! The whole book is packed with details. The pop-up ships are our favorites. Click the link to see the video showing highlights from the book.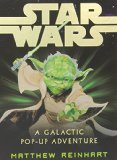 Our other choice for a great Star Wars pop-up book is by the same author as the one above. Paper artist Mathew Reinhart is incredibly talented. The amount of work that went into these books shows just how much he loves Star Wars. This title features information and characters mainly from the three SW prequels. Star Wars: A Galactic Pop-Up Adventure
Harry Potter Pop-Up Book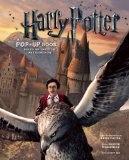 Oh my. This is a must for Harry Potter fans. The book is based on the magic of the Harry Potter movies and features original artwork by the concept artist for all eight of them. The Diagon Alley pop is my favorite, but then there's Hogwarts Castle . . . so hard to choose. There are envelopes to open and pop-ups within pop-ups. This is a beautiful book. Harry Potter: A Pop-Up Book
The Hobbit Pop-Up Book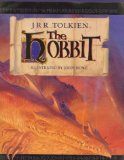 If you want it, you are going to have to pay up. Sadly this book is oop and only available used. I so wish it was still in print because it is very well-done. The illustrated 3D effects are wonderful. If you want to have a peak at the book here you go: The Hobbit: A 3-D Pop-UP Adventure The spreads show Bilbo on 5 adventures and includes pull-out scrolls with excerpts from the book.
Superheroes Pop-Up Books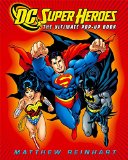 We are DC fans and this book is a winner. DC Super Heroes: The Ultimate Pop-Up Book has over 25 pop-ups and includes all your favorite superheroes like Superman, Batman, Wonder Woman, The Justice League, Green Lantern and more. Teen Titans even make an appearance. You are going to love the light-up Bat-Signal.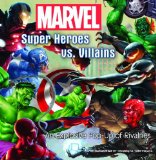 As I said, we lean heavily toward the DC superheroes but for those of you who like Marvel, no worries, I found a book for you as well. Marvel Super Heroes Vs. Villains says it is an "explosion pop-up of rivalries" and that is a fact. There is a whole lot of 3D fighting going on. There are eight popup spreads which means that they cover two pages (impressive) and within those spreads there are flaps and pull-tabs with even more popups. It's pretty packed.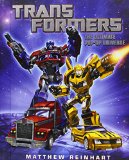 The last highlighted superhero pop-up book is Transformers: The Ultimate Pop-Up Universe. Transformer fans rejoice! You are really going to get into this book. Yes, the pop-ups actually transform! How they did it, I don't know, but they created a transformers book where when you pull on the tabs the 3D paper creations of Autobots and Decepticons change from vehicles to robots. Totally neat to watch. You really won't be able to stop switching them back and forth.
Note: You can also check out Marvel Avengers: Age of Ultron pop-up. It is very good but it is rather short. However, if you are into Avengers, I'm sure it would be worth the purchase.
Thanks for stopping by. These are incredible geek pop-up books that every geek should own. Pick your favorites, click through the links and check them out.
You might also like:
L is for LEGO, Raising Well-Rounded Geeklings